The high-precision line is popular in jewelry, medical, and dental applications. Solidscape will become a wholly owned subsidiary and remain in New Hampshire.
Additive manufacturing system maker Stratasys has acquired Solidscape, Inc. for $38 million plus certain purchase price adjustments.
Solidscape, based in Merrimack, New Hampshire, is a manufacturer of 3D printers serving investment casting applications in the jewelry, medical, dental and industrial markets. The company's technology produces patterns that are used to cast highly precise metal parts. Solidscape is widely recognized as the leader of high-precision 3D printers for lost-wax-investment casting applications that require superior accuracy, ultra-fine feature detail and a smooth surface finish. The company sells into several markets and holds a dominant competitive position within the jewelry design and manufacturing industry.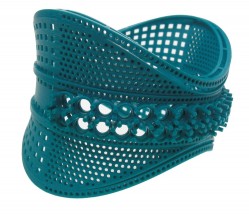 The company had revenues of $13.4 million and generated approximately $4.3 million in earnings for calendar year 2010. Stratasys CEO Scott Crump says the plan is to expand business in the "under-penetrated jewelry market and the relatively undeveloped medical, dental and industrial markets. Solidscape's 3D printers are used in the manufacturing process, which is consistent with our strategy to pursue new markets for direct digital manufacturing applications."
Stratasys says Solidscape will continue to operate from its base in New Hampshire as a wholly owned subsidiary. Solidscape leadership and management will stay with the company. Stratasys expects the acquisition of Solidscape will add approximately $0.04 per share to earnings in 2011.
Stratasys reports 1Q11 results tomorrow.
What we think
Dental products has been a growing, lucrative market for 3D Systems, whose sales were up 54% in the first quarter. Stratasys obviously wants in on the action. Several quarters ago, when 3D Systems was having trouble bringing new products to market, Stratasys CEO Scott Crump said he wished 3D Systems' business would improve, since strong competition pushes innovation. It seems he got what he wished for, and is now having to compensate.