Global file system addresses construction collaboration pain point. Autodesk CEO joins advisory board.
Venture-funded startup Panzura has in recent months found a ready market among architecture and construction firms for its cloud-based global file management technology, and has decided to pivot its business to focus on AEC.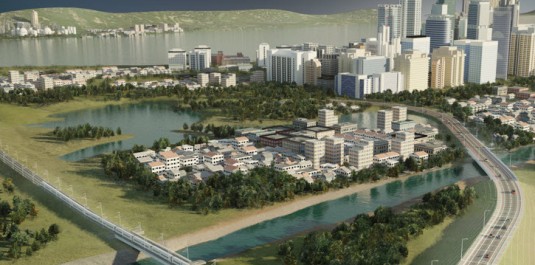 "We have traction in AEC because we uniquely solve an issue that has been around since BIM," says Rich Weber, Panzura chief strategy officer. In a conversation with GraphicSpeak, Weber said the company saw 1200% revenue growth in one quarter among AEC firms, moving its AEC-related income from 13% to 60% of total revenue in one quarter. The privately held firm does not release specific revenue numbers.
Panzura offers a global file system using cloud technology that acts like a local file system to the user. Consider the act of opening a copy of Autodesk Civil 3D, one product in use on the Panzura network by some clients. On a single workstation, the 3D model will call perhaps thousands of file references which quickly become part of the model's data framework. But if the file is called from a remote system, the need to attach these same references brings performance to its knees. "the system is slowed by the latency of the link," says Weber. "At 40 milliseconds for each link, or 80 milliseconds for an open/close, it can become overwhelming." Panzura technology makes sure all such operations happen locally. Weber says a remote file that takes 20 minutes to open on a remote connection can open in 8 seconds using Panzura.
Panzura technology is based on three patents related to global deduplication, cloud NAS, and file-level system management. "We can deliver data from the local system with file-locking technology nobody else offers," says Weber.
In recent months Panzura has gained several new AEC clients, including Bolton & Menk, C&S Companies, Mead & Hunt, Clark Nexsen, exp, BWSC, Milwaukee Tool, and Graef. "It's critical for our users to be able to access complex project data files, regardless of the office in which they reside," said Eric Quinn, IT manager at C&S Companies. "We had a 10-megabit MPLS network and had implemented WAN optimization, but despite these measures, only Panzura made it possible for our workers to access and share complex data files at LAN speeds from any of our offices."
To help in its new focus on AEC, Panzura recently added Carl Bass, CEO of Autodesk, and Eric Wolford, Venture Partner at Accel Partners and former president of the Products Group at Riverbed, to its board of advisors. Riverbed WAN acceleration hardware is popular in AEC, but does not address file-locking from remote sites.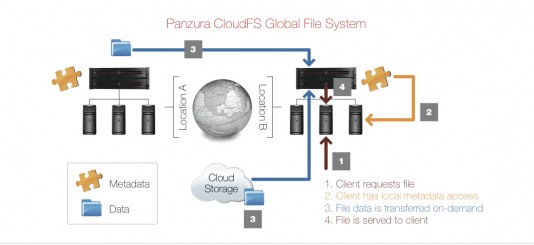 What do we think?
Panzura is coming to the AEC market the same way Riverbed did, by creating a general-purpose file sharing application that AEC firms took a strong liking to. Customers in many markets can benefit from remote file locking, but the pain points are much worse when using the intense graphics-based data in today's 3D CAD files. Panzura wasn't purpose-built for BIM, but may well find it greatest success in catering to construction, where its ability to cache with authority and intelligence sets it apart from other file-sharing approaches.
Panzura says it is studying manufacturing, but right now as a small company it sees AEC as a way to close a high-percentage of leads quickly.