110% license sales growth and another round of VC funding. Ford gives its seal of approval. We compare SpaceClaim to the early days of SolidWorks.
Privately held SpaceClaim is not required to report its financial results, but every year it lays out a teaser just to remind people how well it is doing. This week the mindshare leader in 3D direct modeling announced that new license sales increased by 110% in 2011, compared to 2010, which was also a rocket ride based on what SpaceClaim told us then (new licenses sales up 188%).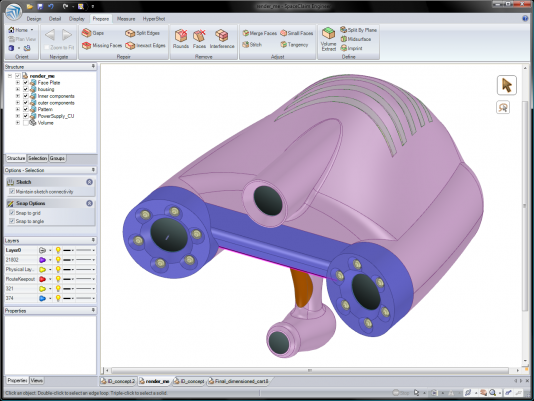 Deep in the GraphicSpeak archives we have a spreadsheet detailing the growth of SolidWorks from Day 1, and the comparison to SpaceClaim is interesting. By the end of 1996, after a full year on the market, SolidWorks had sold a total of 5,170 seats.  One year later the total was 14,591, an increase of 182%. The following year total SolidWorks licenses (excluding seats sold to education) hit 26,000, an increase of 78%.
Given the amount of venture capital funding (now at $41 million), the growing sales channel, and the variety of strategic partnerships in place, we will estimate first full year sales for SpaceClaim at 3,000 seats.  (We are splitting the difference between a high estimate of 4,500 and a low estimate of 2,500). Before we go any further with this line of reasoning, remember that the last three rounds of venture capital funding have been accretive, which means the investment was designed to maintain the same percentage of ownership as was achieved with the original investment. In other words, investors were trying to keep pace with SpaceClaim's growth.
Starting from the first year seats, and using the growth percentages supplied by SpaceClaim, it is reasonable to assume SpaceClaim is on pace with the early growth of SolidWorks:
SolidWorks Year Two growth 182%, to 14,591 seats;
SpaceClaim Year Two growth 188%, to 8,640 seats;
SolidWorks Year Three growth 78%, to 26,000 seats;
SpaceClaim Year Three growth 110%, to 18,144 seats.
During 2011 SpaceClaim announced new customers Ford, Bosch, Eaton, and Carl Zeiss. The Ford announcement is especially intriguing. Dr. Richard Riff is in charge of engineering software deployment for all of Ford, and he runs a tight ship. Insiders have told us the process from initial demonstration to pilot deployment to full approval was incredibly fast, a matter of weeks not months.
During 2012 a custom version of SpaceClaim will come from Trumpf, a global leader in sheet metal fabrication and industrial production technology. This could lead to a huge spike in sales, as will the continued sales of OEM versions from Ansys, Comet Solutions, and others.  The SpaceClaim reseller channel is now more than 100, a key ingredient of sales growth.
SpaceClaim announced several new partnerships in 2011, including direct integrations with CAE providers COMSOL (LiveLink for SpaceClaim), Noesis Solutions (Optimus), ESTECO (modeFRONTIER), Comet (Comet Performance Engineering Workspace), as well as a direct integration with Geomagic Studio 2012. SpaceClaim also announced new OEM agreements with C&R Technologies, which provides comprehensive solutions software for heat transfer analysis and fluid flow design, and ITP, which provides a complete thermal analysis solution to the aerospace industry.