Net income in 2011 was 119% higher than in 2010. High-end 3D printers for manufacturing continue to lead the way.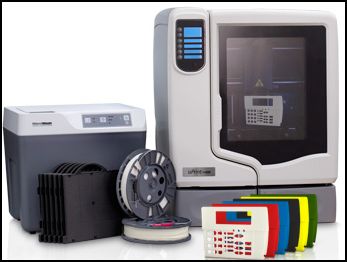 Stratasys (NASDAQ:SSYS) set another quarterly revenue record with its fourth quarter results, announced today. For the three months ending December 31, 2011 the maker of 3D printers reported revenue of $43.6 million, up 28% from a year earlier.
System shipments totaled 700 units for the fourth quarter of 2011, compared to 632 units for the same period last year. Net income in the quarter was $5.8 million, up 34% from the year-earlier period.
In May 2011 Stratasys acquired Solidscape Inc.; the unit contributed $3.2 million to revenue and 68 system sales in the quarter.
Product revenue in the fourth quarter totaled $36.2 million, compared to $27.4 million a year earlier. Services revenue in the fourth quarter was $$7.4 million, compared to $6.5 million a year earlier.
For all of 2011 Stratasys reported revenue of $155.9 million, up 32% from $117.8 million for the same period in 2010. The twelve-month period in 2010 included a $5.0 million one-time non-cash charge against revenue, a payment to HP regarding their distribution agreement. System shipments totaled 2,602 units for the twelve-month period in 2011, compared to 2,555 units for the same period last year.
Net income for all of 2011 was $20.6 million, up 119% from $9.4 million in 2010.
Stratasys says it ended 2011 with a record backlog, including more than $12 million in pending sales. The high-end Fortus fused deposition modeling printers led the way, with growth of nearly 80% in the quarter, compared to a year earlier.
During a conference call with Wall Street analysts, Stratasys CEO Scott Crump said recent and upcoming changes inside the company are expected to result in higher margins and increased sales of its low-end units. In late December 2011 Stratasys "substantially increased" the distributor margin on its uPrint line of low-cost 3D printers. Manufacturing changes in the uPrint line will be phased in during the second quarter of 2012, which Crump expects will significantly reduce the cost of manufacturing.
Cash per share on December 31, 2011 was $0.95, continuing a rising trend from a low of $0.72 six months ago.