Solidworks 2016 is delivered with pride by CEO Gian Paolo Bassi at a small gathering in Boston.
The SolidWorks team is moving forward with energetic CEO, Gian Paolo Bassi. The company rolled out the new SolidWorks 2016 at a small but classy event at the Edward M. Kennedy Institute for the U.S. Senate. Giving the SolidWorks speakers an opportunity to reveal the product in a room built as a model of the U.S. Senate chambers.
Bassi told the audience that this is a new SolidWorks. After a generation of the early SolidWorks executive team Jon Hirschtick followed by John McEleney, and after the purchase of SolidWorks by Dassault, the company was helmed led by Jeff Ray and Bertrand Sicot, both very competent leaders who came to their lead role in SolidWorks from sales and marketing. All those company CEOs have built a tradition of focus on the customer with a requirement that execs visit and talk to customers all over the world. The customers' wish list is a prime directive.  That tradition will continue, it is cooked into the company's DNA, but Bassi comes from the engineering team and he says he's also thinking about what customers need as well as what they want.
Before he was appointed CEO of SolidWorks he headed R&D at the company and he has over 25 years experience in design tool innovation. On one hand, Bassi is even more attentive to the demands of customers. At the product introduction, Bassi said, "We have a responsibility to introduce new features that help users, not just introduce new things. When we lose touch of that, we get into trouble." Bassi wants improve SolidWorks to make it easier to use, more efficient, and better suited to modern workloads. "Our passion is to make difficult problems easy to solve," says Bassi and to do that, he's not afraid to innovate.
For instance, SolidWorks has fully committed to Windows 10 even if many users still cling to Windows 7. While Windows 10 is getting good reviews and a fast uptake, many professional users will bide their time. Nevertheless, the SolidWorks engineers believe this is the right time to make the move because monitor sizes are going up as the industry moves to 4K resolutions and they believe Microsoft's whole-hearted support for touch and tablets will be important for SolidWorks users. As a result, SolidWorks officials said it was time to take a major step of updating the interface. Their existing ribbon interface just wasn't going to cut it any more. As one presenter said, "our previous UI would like like crap on a 4K display."
The team is also very proud of their implementation of a bread crumbs feature that is cleverly implemented. The SolidWorks Breadcrumbs are little icons that do the work of a heavier interface in previous versions, and a click of the mouse brings the bread crumbs to the cursor. It's a very slick interface improvement.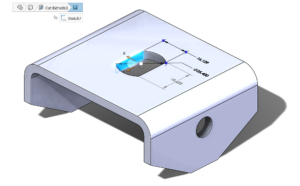 In the last couple of years, SolidWorks has expanded dramatically — the company has added on multiple modules. Rather than bulking up the core SolidWorks program, the company has been concentrating on building complementary modules for specific tasks. These modules are being built on Dassault's 3DExperience technology, which is also at the core of Dassault's enterprise products including Catia. At the company's introduction of SolidWorks 2016, Bassi said they no longer look at Solidworks as a product, they look at SolidWorks as a platform. It would not be inaccurate to describe the Dassault/SolidWorks vision as becoming something of a continuum as products are built on the 3DExperience base.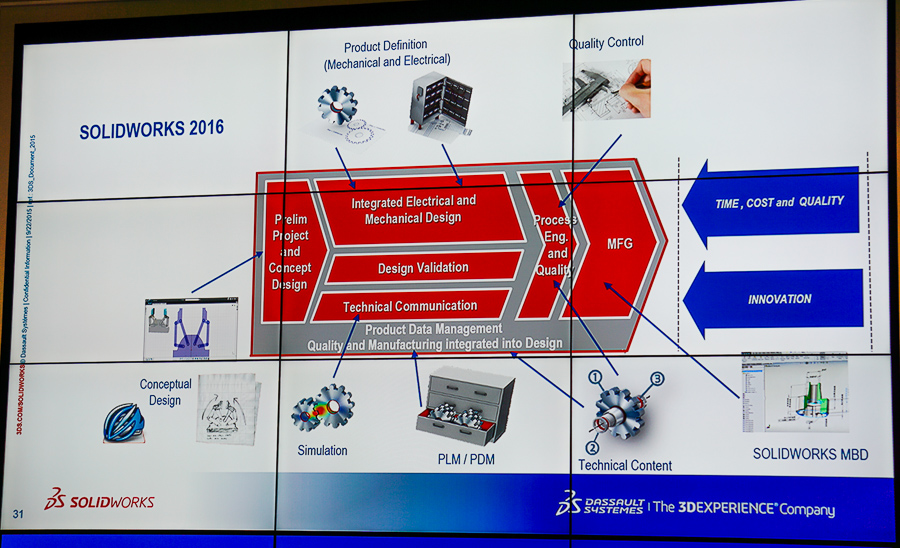 What's new
At the SolidWorks rollout, the company highlighted the top user-requested features, which they organized under four major bullet points:
Design over Software: The improvements in SolidWorks 2016 are meant to provide easier, faster design with fewer commands. For example, the new Breadcrumbs feature dramatically reduces mouse travel with single click access.
Solve complex problems quickly: SolidWorks wants to make its simulation tools easier to use and more accessible for all users. As an example, they cite the new flatten everything feature, enables users to flatten geometry for manufacture and in the process see the strains that might occur when forming shapes into 3D surfaces. Relief cuts can be added to avoid stresses and compression.
Streamline the parallel design process: The parallel design process means enabling collaboration, communication and concurrent workflows for teams, individuals, contractors and suppliers. SolidWorks is adding on tools for mechatronics and electrical/mechanical design.
Fast-track designs through manufacturing: SolidWorks's Director of Product Portfolio and Business Development, Andreas Kulik, said good design gets manufactured. The latest version of the software is designed to ease the path to manufacture with more detailed information for manufacturing. This includes MBD for less ambiguous design information in 3D. Also, the tools to improve the design process in terms of speed, simulation, and analysis all contribute to more predictable manufacture.
Cleary, MBD (model based definition) is an important focus for this release. For SolidWorks MBD is both an add-on tool as well as design philosophy. Senior Product Manager Craig Therrien told the audience the day is coming when, people will not use drawings, but until that time, SolidWorks is making the relationship between 2D and 3D easier to understand and navigate with their add-on MBD. In a quick interview Craig Therrien said that he sees SolidWorks users moving to modern design approaches like MBD because they now have the tools to work with since its introduction in 2014. "That's the thing," he said, "when you get technology into the hands of people, then they understand what it is and whether they want to use it or not."
Bassi said the previous release of SolidWorks made major improvements in simulation. This time they're refining and improving those new tools, and this time they're also focusing on visualization. SolidWorks unveiled the new Visualize module, which has been built on Bunkspeed, which came along with Dassault's acquisition of RTT in December, 2013. The company has a tantalizing blogpost on the Bunkspeed blog that promises new rendering capabilities in 2016.
New purchasing options
SolidWorks is moving cautiously into subscriptions vs. perpetual licenses, but, as Bassi pointed out this really isn't such a difficult concept for SolidWorks users (or CAD users in general). Bassi says 95% of SolidWorks customers have a subscription agreement. On the other hand, the company recognizes that ownership is important for some people, and especially in some cultures, and SolidWorks wants to respect those attitudes. Taking an obviously irresistible swipe at competitor Autodesk, he said "our competitors want to put their partners out of business. We don't." Here Bassi is talking about the world class and (mostly) loyal vendor network built by the original SolidWorks founders and adopted by Dassault as a key advantage for the company.
But, says Bassi, there are brand new startups popping up everywhere and these young companies are interested in reducing their overhead for software and equipment. They're open to such things as renting software, maybe even renting it by the hour.
SolidWorks demonstrated the basic SolidWorks tool running in a browser. Right now, they're using it to allow product demos, but Bassi says it makes sense for different purchasing models. The company has nothing to announce, but you can be sure they're headed in that direction.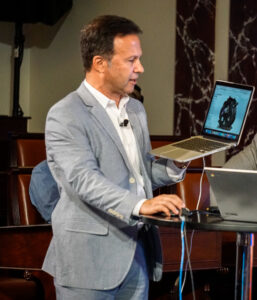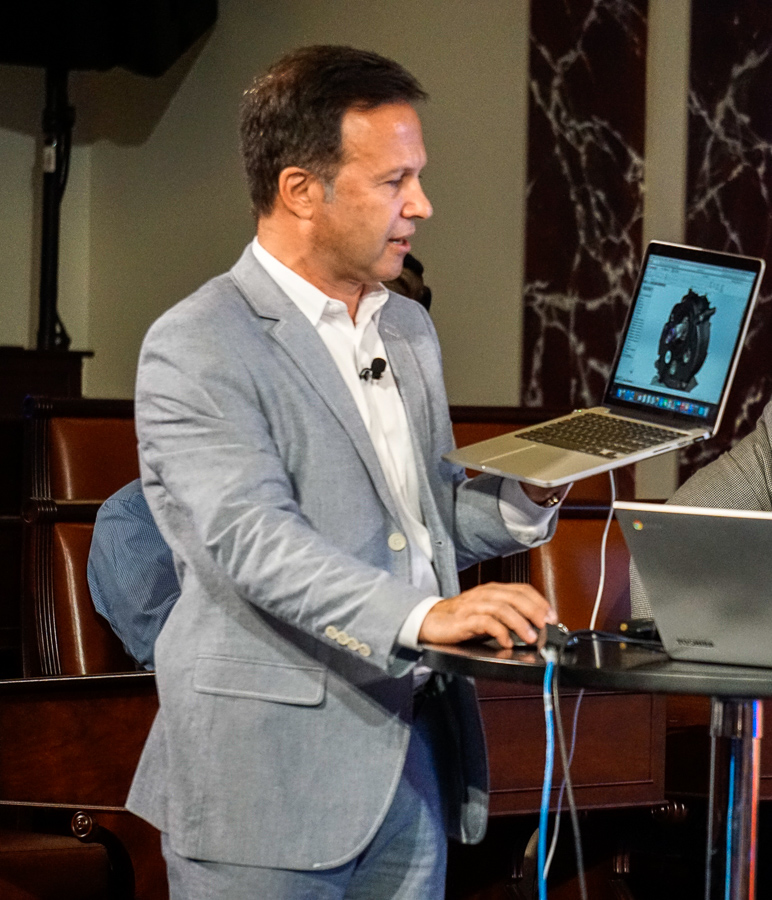 We have been told the company has been working with Fra.me, developers of a WebGL platform for browser-based applications. That's possible: Siemens has also been working with Fra.me to deliver NX in a browser. There are several companies vying for this business including Fra.me, Numecent, and Sphere3D. (We'll be talking about the dynamics of software delivery at our Virtualize conference at the end of October.)
What do we think?
Dassault has been careful to protect the legacy of SolidWorks even as they try to bring the company's many software products into alignment through the grand 3DExperience umbrella, which is part platform, part technology and totally a philosophy for Dassault. So far, when it comes to add-on modules like Conceptual Design SolidWorks users are not necessarily signing on just because it's a SolidWorks product. The door is open for other products including the cloud-based OnShape, or Autodesk's Fusion360.
Meanwhile, Bassi's enthusiasm is infectious, and his engineer cred will take him a long ways with SolidWorks users. He recognizes there is a big opportunity with young companies and individuals eager to build and make new products.