The latest SolidWorks has a little something for everybody, but mostly CEO Gian Paolo Bassi works hard to keep everyone happy.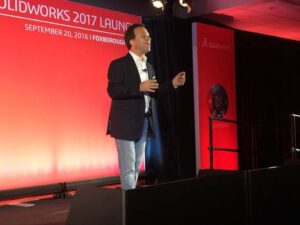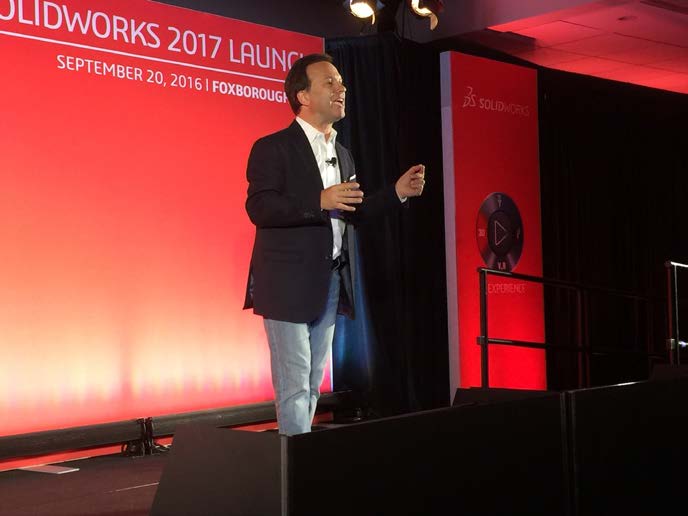 Dassault Systèmes rolled out the latest version of SolidWorks with a live stream and event for users, press, and analysts. Clued-in users were not surprised by much in the announcement, since SolidWorks has been walking their base through the changes to come for some time. In general CAD users hate big surprises.
But, whether they like it or not big waves of change have been transforming the CAD industry for the last five years. And, during times of change loyalties may shift. The users are up for grabs especially because CAD is becoming integrated into production and encompasses more functions than ever before. If the CAD model is to truly be the digital twin of the products it is describing, it has to have information about all aspects of the design.
SolidWorks claims more than 3.1 million users, which includes education. Dassault Systèmes is also claiming around 3 million registered users for its DraftSight drafting tool, which they now say is getting a user base of its own and not just as an alternative to AutoCAD.
As for SolidWorks itself, the company has, as always, focused on usability with more little tweaks to features like context-aware tool tips, improvements to breadcrumbs, and alerts for problems in the models that highlight the actual problem so users can go straight in and fix it. It has enhanced support for large assemblies, magnetic mates and improved tools for chamfers, fillets, and holes.
New features
As always this latest release has a wealth of new features requested by SolidWorks' long-time users, but one of the most significant features is 3D Interconnect.
3D Interconnect is SolidWorks' answer to the perennial problem of dealing with multiple CAD programs within the same project. Kishore Boyalakuntla, senior director product portfolio at SolidWorks, says around 60% of SolidWorks customers are working with models from differ­ent programs in addition to SolidWorks. Interconnect allows SolidWorks users to work with both neutral and native CAD data from other programs. The models brought in are not translated but maintained in their own formats, and updates happen across programs. The first file is kept open and maintained through the PDM environment. When applicable, design constraints are maintained.
Visualize is a new product SolidWorks users didn't know they wanted. It's a new rendering tool that's available in addition to the older PhotoView, based on The Foundry's Modo. Solid­Works says it will continue PhotoView, but the focus is on Visualize, based on Bunkspeed. If you'll remember, Bunkspeed was acquired by Dassault with the acquisition of German visualiza­tion company RTT. As an incentive to customers, three additional licenses of Visualize will be available with every subscription of SolidWorks. CEO Gian Paolo Bassi says they've realized that very often the people doing the rendering are not the ones who are creating the models. They're artists and may often work in the marketing department or elsewhere. So the licensing plan gives access to these adjacent seats.
SolidWorks PDM—updated to improve the ability of teams to manage and collaborate on designs by maintaining the most recent versions and controlling design data. SolidWorks has added enhanced support for SolidWorks MBD (model-based definition) with auto-generated 3D PDFs, lists native CAD files in the SolidWorks PDM Vault check-in structure, and keeps track of where they are used and overwrites versions to minimize clutter.
SolidWorks PCB—SolidWorks offers PCB tools to enable designers to understand how a board might fit into designs including IoT devices, machines, etc. It has some capabilities for electrical design, but in addition, the company has worked with ECAD company Altium to offer the PCB Connector, which leaves the nitty gritty of PCB design to the spe­cialists and enables a connection to the SolidWorks model and SolidWorks PCB via the PCB Connector.
3DDrive is the engineer's answer to Dropbox and other de facto file sharing tools that are appearing in companies. 3D drive is a cloud-based repository where models can be shared and maintained. Bassi also mentioned that it is a useful bridge between content from SolidWorks and Catia V6.
Threading the needle
SolidWorks has been talking about the flexibility of its licensing. The company will continue to have perpetual licenses, and new with this release, the company is offering a flexible subscription offering to allow people to license SolidWorks for a year or a quarter. There will also be the regular subscription—basically, a maintenance deal that requires an annual fee to keep getting the latest tools and additional goodies that come with subscription. SolidWorks experimenting with cloud access a free streaming version of SolidWorks as a demo on the Fra.me platform.
Last year SolidWorks talked a bit about Xdesign, which Bassi suggested might be a streaming modeling tool with collaboration and design tips. At this year's SolidWorks launch event, he said the company is rethinking that idea. Bassi says the company is pulling back from Xdesign. He asks, "Do customers want a CAD system in a browser?" Bassi says, he's not so sure, but "we want to be ten times better than anyone else."
The problem for CAD tool vendors right now is that better can also mean wider; companies are having to choose where in the ecosystem they're best able to go to market with an installed base of customers who've gotten them this far. SolidWorks is part of Dassault. Ideally, the company would like to see a continuous path between SolidWorks, DraftSight, and its universe of Enterprise tools 3D Experience including Catia, Enovia, Simulia, etc. Oh yeah, and the cloud.
On the other hand, Bassi is not forgetting his customers represent small companies, often startups who dream of becoming large companies, and contractors who may work with or compete with larger companies. He told the audience at the SolidWorks 2017 rollout that in order to survive companies have to innovate faster. Bassi hopes to leverage compute power to improve the ability of his customers to get to solutions faster—and that means collaborating better, updating faster, easy simulation, access to new skills. The argument around subscription is all but done but SolidWorks customers appreciate SolidWorks' courtesy in not ripping the option of perpetual licenses away from them. Access to cloud-based tools and content is also a foregone conclusion but Bassi seems content so far to work his way there gradually along with his customers.
Now, more than ever, there's a lot to learn in design and that goes for the vendors as well as the end users.