The virtual desktop infrastructure uses Nvidia GRID. Turkish Aerospace has already deployed the system.
Siemens PLM now offers its NX 3D design software in an optional private cloud environment. This allows NX to run inside a corporate data center, increasing security and improving the efficiency of administration compared to the support of desktop installations.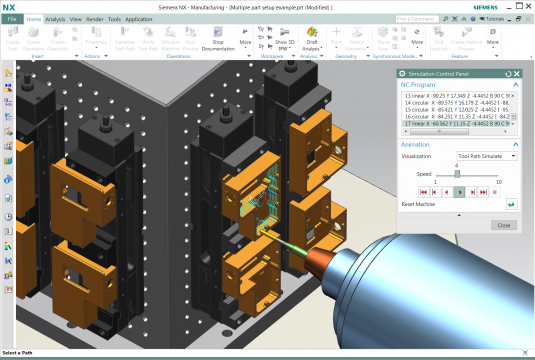 The NX private cloud uses Nvidia GRID technology; Siemens PLM has worked closely with Nvidia to obtain GRID VDI (virtual desktop interface) certification for NX. GRID is designed to support high-performance graphics from a central server environment when equipped with Nvidia's GRID appliance, which uses its market-leading graphics processing (GPU) technology.  Siemens says the VDI certification eliminates the need to install NX on each local client in an enterprise.
The first deployment of NX in a private cloud was for Turkish Aerospace Industries, Inc. (TAI), a joint customer of both Siemens PLM and Nvidia. "By deploying Siemens' NX in our private cloud using the Nvidia graphics environment, we can optimize resources and eliminate strains on IT," said Serdar Kaya, IT System Engineer, TAI. "Virtual desktop infrastructure and dynamic allocation of graphics processing power for designers and engineers working with NX is a necessity for supporting our vision of moving 400 engineers to virtualized desktops and applications. We are constantly expanding, and our engineers require varying amounts of graphics power each day from project to project. Simply buying and maintaining more workstations and more graphics cards is costly and unmanageable. NX in our private cloud enables us to avoid these costs and to simplify the complexity of management while increasing our user density."
VDI solutions offer the ability to support server based accelerated 3D graphics plus remote display and user interaction. The major server OEMs are all coming on board with support for VDI solutions like the Nvidia GRID. As a result, applications such as NX can run within a company's corporate datacenter and remotely display the graphics to clients running low power PCs, tablets or even mobile devices. By keeping the compute and graphics processing within their own datacenter the customer gains improved security, easier administration of small sites and faster access to the data residing on the server or local storage systems.
What do we think?
Manufacturers like to save money, same as anybody else. They are also very sensitive about security issues. Cloud technology and virtual desktop interfaces are all the rage in enterprise operations, but the engineering and manufacturing divisions have been dragging their heels.  The NX private cloud advances the idea of using cloud technology to control costs without using an off-site third-party vendor to supply the cloud infrastructure.