The global report includes definitions, market data, evaluations, and in-depth analysis of market growth dynamics.
Jon Peddie Research today releases a new market study exploring and quantifying the growth of "System on a Chip" mobile CPU/GPUs and the intellectual property behind them. The report, "Dynamics in SoC, GPU, and IP markets" closely examines overall market sizes, expressed in millions of units per time, the suppliers, and their relative market shares.
Mobile devices—most often thought of as smartphones and tablets—have followed Moore's Law in their capabilities, performance and price. Today all mobile devices which include handheld game consoles use a highly integrated, very powerful, heterogeneous system on a chip with multiple DSPs, a dual or quad core CPU, and multicore GPU. With the market growing as rapidly as the mobile devices market is, exceeding hundreds of millions of units a year, the demand for high-performance parts has never been greater. Several companies offer Application Processors (APs) or Systems on a Chip (SOCs) and others still offer designs for the GPU and CPU in the form of intellectual property (IP).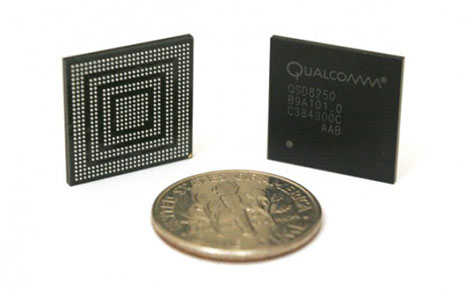 The report contains the following main sections:
Executive Summary: What you need to know about this market
Clear definitions of the components being used in mobile devices
The worlds of GPUs
Market data on all portable GPUs, SoCs, and the IP in them
Market forecasts and market growth dynamics
Clear, high-impact summary for where the market is headed
The market consist of three classes of suppliers: companies that are vertically integrated and develop their own GPU design, companies that buy GPU IP designs and then develop a SoC, and companies that provide the GPU IP.
Three companies are providers of vertically integrated SoCs: Nvidia, Qualcomm, and Zii Labs. In Q4 of 2012 AMD will enter the ranks of the vertically integrated. Fifty one other companies make some type of a SoC used in mobile devices based on merchant CPU and GPU IP from the IP suppliers. Four companies make GPU IP and sell to the others.
The report offers a comprehensive analysis of mobile and personal portable platforms, including the major players such as Apple, Nvidia, Microsoft, Samsung, Qualcomm, and the IP suppliers.
Also included is in-depth analysis and data on the SoC and GPU market for important aspects including:
Current status of the market
Long-term growth outlook
Competitive dynamics
Strategic impact on incumbent players in the industry
Usage associated with tablets.
The report is global in scope, with more than 60 figures and tables. There are also market forecasts (2012 to 2016) covering the most important aspects of the mobile devices.
For more information on this 106-page PDF report visit Dynamics in SoC, GPU and IP market study.