It's a happy day for SolidEdge users. Siemens PLM Software has introduced the latest version of its mainstream 3D CAD product, Solid Edge ST3.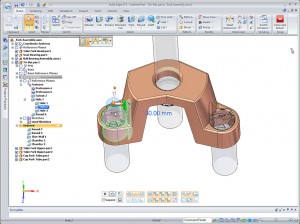 This is a significant release of SolidEdge with substantial refinements to the company's breakthrough Synchronous Technology, a flexible approach to associative design. It's also a significant release because the roll-out demonstrates Siemens' renewed and energetic commitment to Solid Edge and the Velocity Series of products.
Solid Edge slipped from first-tier contender status as Siemens' assimilated the Unigraphics division and concentrated on its NX and Teamcenter products for the enterprise. And, in all fairness, Unigraphics actually started the cycle of neglect before the acquisition.
Those days are over, says Siemens. The Velocity Series, which includes Solid Edge, Teamcenter Express, Femap, and CAM Express product lines, is getting renewed focus from the company. In a series of presentations to the press and analysts Siemens introduced Karsten Newbury as the senior vice president and general manager of the Velocity Series and Solid Edge business. The company also had many presentations of ST3 and the company  has been reaching out to users with regional events. Newbury is a Siemens man. Previously he was Vice President, Integration and managed the Unigraphics acquisition. Before that he was General Manager at Siemens Energy and Automation.
Solid Edge ST3
The new Solid Edge ST3 features an updated interface with enhancements to the ribbon bar including customization.  The ribbon is consistent with Office 2010 and while there has been some generalized grumbling throughout the CAD world where the ribbon has appeared, the complaints seem to have quieted down – customization will help. By now at least, people have found their favorite commands. ST3 has also gotten transparent feature and part management dialogs and  a customizable radial menu that accesses the most commonly used commands. It puts the commands you are most likely to need where your mouse is.
The Solid Edge developers say they have worked from a long laundry list of features requested by users in specific areas including sheet metal, piping and frame design, assembly management, and drafting. The company has enhanced the dimensioning and annotation features.
The main focus for Solid Edge, of course, is Synchronous Technology, which features flexible editing and the ability to create associations throughout the design process. Siemens describes it as part-to-part associativity. ST has been extended throughout the new Solid Edge release. Users can work with synchronous and non-synchronous features within the same design. Models can be imported from other CAD products and integrated into the design. In previous versions, decisions had to be made up-front about what mode to work in – synchronous or not. Now, users are free to choose the appropriate method for the part they are working with.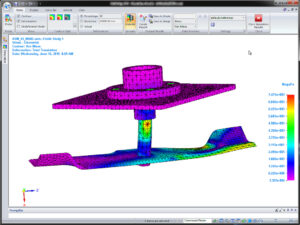 Siemens has added integrated simulation capabilities and has automated some tasks to make simulation easier for all users. Models can be simplified for analysis, constraints added, and a mesh is automatically generated. The company notes that ST makes it easy to adjust a design in response to simulation results. At the end of the process a report is generated.
Throughout their introduction of ST3, Siemens has stressed the productivity enhancements that save time and enhance design exploration.
The Self-Contained Velocity
The company is developing on Microsoft SharePoint. ST3 takes advantage of SharePoint 2010 for scalable data management. The company says the SharePoint relationship gives them a common platform for CAD and non-CAD workers who want to access content for a variety of applications including project management, to create bill-of-materials, collaboration, and review. The ability to access information through the design process lets workers refine product related information as a product is readied for market.
Similar to the way Dassault has managed SolidWorks, Siemens has built a full range of products for design and product management line around Solid Edge. It sees Solid Edge as a product for mid-size and small companies or for divisions within larger enterprises. Siemens is selling systems and so the two product divisions will continue to be maintained as separate entities. However, the company promises to put more marketing oomph behind the Velocity Series.
What Do We Think?
We believe, and we are impressed with Siemens' commitment to Solid Edge this time around. The battle is going to be tougher as Autodesk's Inventor and SolidWorks have become more entrenched. The company is going to have to prove its commitment to Solid Edge over the long haul. We are at the beginning of the return of Solid Edge. Will Siemens commitment to the Velocity Series group feature the same type of full-scale marketing efforts as that which goes into Siemens NX and PLM products?
Come to think of it, is that a relevant question?  Marketing to the enterprise is a completely different proposition than marketing to the mainstream. Culturally, Siemens is enterprise through and through. It's not really good at touchy-feely — at least in our experience with various Siemens divisions. We will see what happens this time.
Siemens says it has revamped its sales force with changes made in over 50% of the regions. The Velocity team is actively re-engaging with users through the blogosphere and reaching out directly to users. Who says they can't do things differently?
The product looks great. Beta users and selected members of the media who have already seen ST3 say it is a powerful update of Solid Edge. The ability to work freely in synchronous or non-synchronous modes is a great addition, and finally brings fullness to the term Synchronous Technology. When design teams figure out how to apply the built-in simulation to work flow, productivity will increase.