The digital content industry is headed to this English-speaking city-nation. Too bad more attendees didn't find their way there.
By Kathleen Maher
Siggraph Asia 2012 touched down in the major Asian crossroads city-nation Singapore. It is a convenient hop to many content creation outsource locations, and English is the official language, making it easy for US-based companies to do business. US studios including Black Magic Design, Disney Studios, Double Negative, Industrial Light & Magic, and Lucasfilm have set up shop in Singapore, as well as the major tool providers.
Singapore is hot, steamy, flashy, and expensive, but the Singaporean government has strong programs to attract the digital media industry. All that said, Siggraph Asia in Singapore saw a much smaller show floor compared to last year's show in Hong Kong; conference attendance was down as well. Last year there were 122 exhibitors and sponsors exhibiting in Hong Kong. The organization didn't even report the final figures for exhibitors for 2012.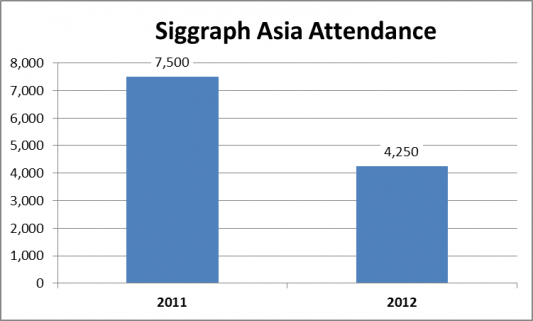 The JPR Luncheon
Jon Peddie Research hosted its 14th Jon Peddie luncheon at Singapore. Given early indications of low attendance, we were nervous. Despite competition for the attention of journalists at the show, the turnout was excellent.
The introductory presentations covered new developments in content creation making it easier for people to create 3D content. An obvious trend is that many young people are using 3D content for fun and/or their jobs. There are probably three generations of computer users now who have worked with 3D tools in some way. Panelist Gavin Greenwalt, an artist with Straightface Studios, is an excellent case in point. He's in his mid-twenties and is very comfortable with 3D tools.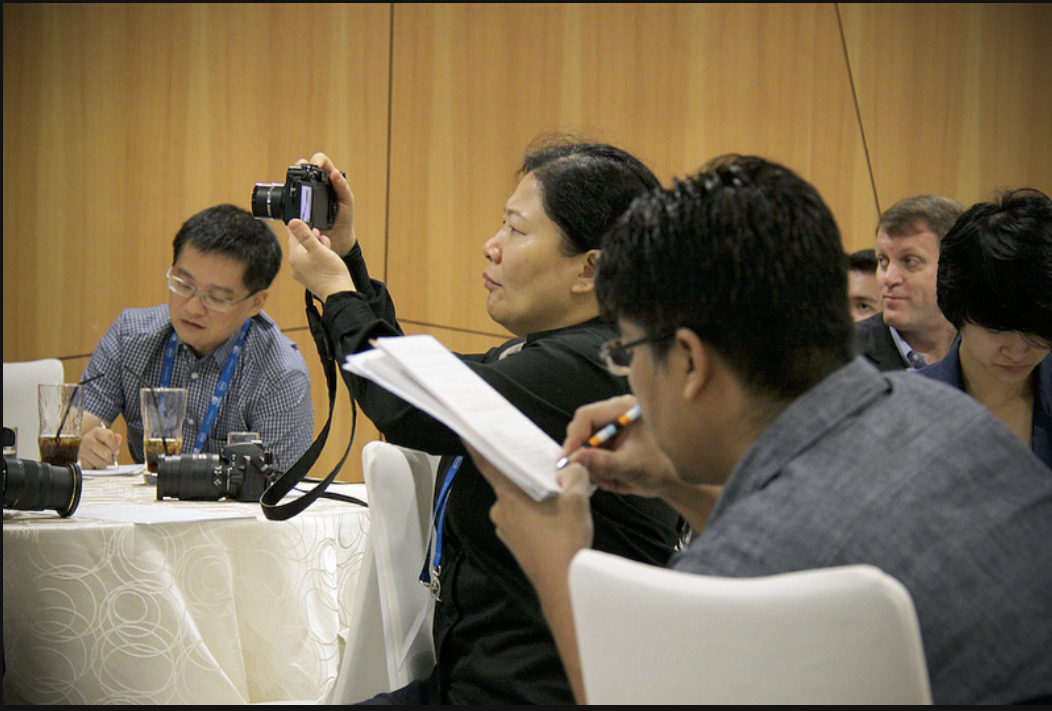 Greenwalt is a professional proud of the work he has done to master difficult tools. In that way he's a bit old school. Some of the new paths towards 3D content creation include pre-created content like that offered by Daz 3D and Poser—they sell models that people can then personalize by adding clothes, environments, etc. Autodesk acquired the Evolver technology which fits into this category as well. Users can create full rigged models by using "parent" models and blending their characteristics to create a new model. On the high end, tools like Autodesk's Mudbox and Pixologic's Z-Brush let users use "good enough" 3D models and then use sculpting tools to create detail and texture. A real-world aid to sculpting might come from tools like Geomagic's Sensable Armature, which lets people sculpt with haptic feedback.
Neil Trevett, representing the Khronos Group, believes that support for open standards like OpenGL, OpenGL ES, and OpenMax will better enable the interoperability of new content including 3D and video. Trevett believes 3D can't become a mainstream technology until there is a common file format like MPEG is for video. Trevett says when social networks such as Facebook and even Twitter enable the user to interact with 3D content then the industry will see democratization take hold. But before we could all get too excited about this grand new 3D world, Greenwalt pointed out that talent is one quality that doesn't really democratize.
Gerry Blank of Intel and Phil Miller of Nvidia are also seeing significant changes coming to 3D creation; they are looking at it from the point of view of tapping into cloud resources for processing power. All the panelists are seeing new leverage coming as a result of cloud resources: better teaching tools, new products using real-world data such as photogrammetry and scanner data. David Forrester of Lightworks—a company that sells renderers to OEM partners primarily in the CAD industry—has also been working with Nvidia on cloud-based iRay rendering. The typical Lightworks customer is a professional, and Forrester sees the professional market as the status quo for some time to come. From his point of view, more 3D models means more 3D renders and he's fine with that.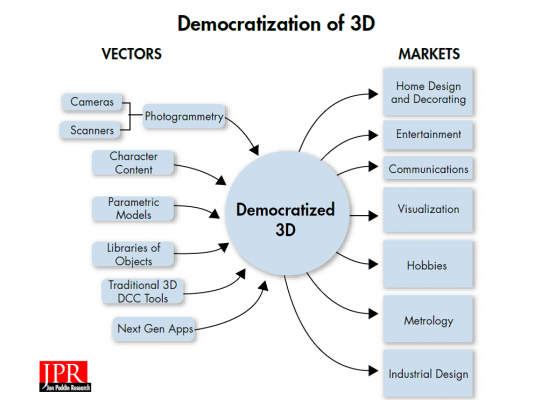 Out on the floor
It was easy to work through the show floor, but that's not to say it was boring. Augmented Reality was an important theme for the conference and the show floor. Eon Reality came to the show to demonstrate their talents in content creation as well as interface design and more. The company has a long history in all aspects of professional 3D content. Eon, now based in Los Angeles, has a major office in Singapore as well. The company was showing several apps and technologies. They have created content for Infinite Z's immersive 3D platform. They have also created an application for shopping that let users stand in front of a camera and choose clothing. A digital image of the clothing would map to the person in the camera's eye. It was cute, but the digital clothing was clearly digital and it was pretty much one size fits all. The idea was cool though.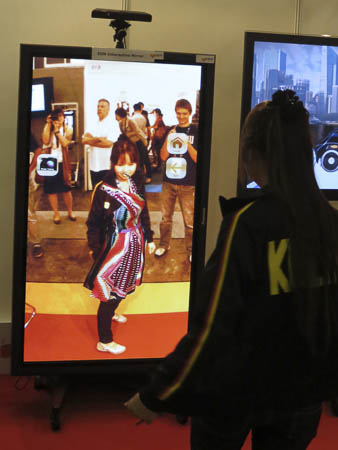 Imagination Technologies had a large presence at Siggraph Asia, which signals a new interest for the company. Imagination brought their new line of products built around the Caustic rendering acceleration technology. They have Caustic Visualizer plug-ins for Max and Maya and they had a ray-tracing accelerator board to show off. (See also the GraphicSpeak article, "Caustic introduces ray tracing accelerator boards.")
The Chaos Group has been a Siggraph Asia stalwart. The company makes the V-Ray renderer for 3ds max and Maya, but it's also been expanding into fluid simulation. The Chaos Group was showing their new-ish Phoenix FD, a fluid simulation tool that can be used to simulate fire, smoke, explosions and liquids, foam and splashes. The rise of fluid simulation tools has given a boost to effects houses and the Chaos Group offers a competitively priced option. Phoenix FD takes advantage of GPUs to calculate its simulations, taking advantage of parallelism. The company's latest version adds more interactive controls and fine detail to "direct" simulations.
Emerging Technologies
Naturally, the Emerging Technologies area was littered with Augmented Reality apps. The field has been growing rapidly the past few years as phones and tablets with cameras make it much easier to create and demonstrate apps. Sony and MIT displayed a tablet app called Second Surface. Two users can play. It's an augmented reality app that uses the tablet's camera to target objects in the field of view and then lets the users add text, 3D and 2D graphics, relative to the image and share their ideas with each other. It's worth noting that we've seen Bentley Systems offer a similar tool for their BIM (building information management) workflow.  What's missing in the commercial products is the ability to interactively share.
There was a certain amount of applications that fall into the just-because-we-can category. Consider the Flying Head application which enables people to control a UAV's (Unmanned Aerial Vehicles) physically, say, with your head. The Japanese team led by Jun Rekimoto of the University of Tokyo demonstrated their system using a Quadcopter. We loved the dancing robot application that also came from the University of Tokyo and was led by Shigeo Yoshida. The app enables synchronized movements from robots and it's darned cute.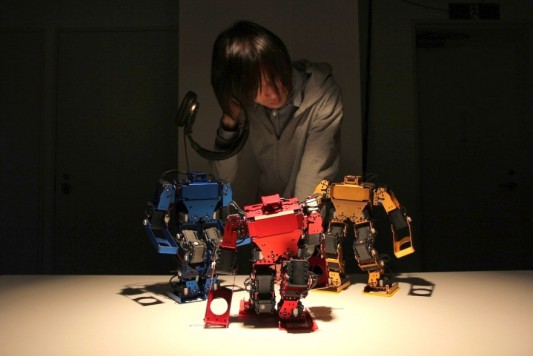 The University of Tsukuba brought their interactive tool 3D stereoscopic tool that enables users to move their cursor around and object and see the volume; Floating Volume also lets several viewers work with an object. We couldn't help but think how cool this tool could be with Infinite Z's 3D visualization tool.
We were also interested in the possibilities of another application being shown in the Emerging Technologies area, the Hapic Editor, also from the University of Tokyo. The Haptic Editor is hardware/software combined technology that lets users create 3D objects and then add textures and detail using a 3D pen with various types of feedback including tactile and audio. A unique feature is the ability to copy textures from the real world to the object.
There was not much Stereo 3D anywhere in evidence. The big studios and the big tool houses gave the show a miss and blessedly there was no Hollywood content in the Electronic Theater festival. Instead, the content was personal and often the curators chose pieces that were more successful at telling a story than they were flamboyant displays of technology. The winning piece was Florian Piento's The People Who Never Stop, (the link is to its trailer) a tribute to the people of Japan that was at once cute, heart breaking, and thoughtful. It used the simplest of 3D models and animation but it was among the strongest pieces in the show.
Likewise, the exhibits and conversation was much more wide ranging touching on issues like democratizing technologies—yes, we talked about 3D, but democratization was also evident in Emerging Technologies as people built their own tools from relatively accessible building blocks.