New modeling tools, including a demolition routine, speed the process of turning a billion points into a 3D model for most plant design products.
It was only last year that the 3D scan data experts at ClearEdge3D introduced their automated tool for finding and 3D modeling complex piping in process plant facilities. Today they release the fourth update to EdgeWise Plant, adding tools to tweak the automated modeling.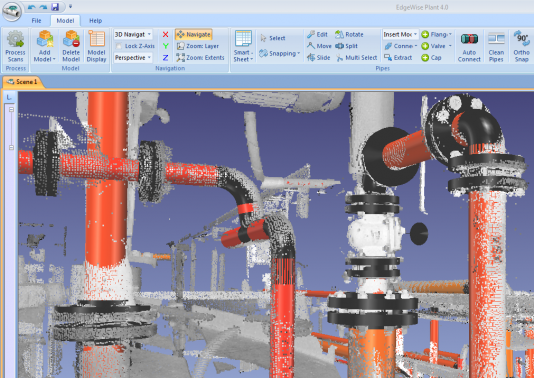 ClearEdge3D was founded in 2006 by a small team with expertise in computer vision, automated feature Extraction, and LIDAR data analysis. Funded by a National Science Foundation grant, it took them five years to sufficiently crack the automated extraction of pipe geometry from the billions of points in a 3D laser scan of a plant. Today their EdgeWise Plant and EdgeWise MEP for Revit are in use by engineering firms worldwide to optimize their scan-to-model workflow.
New features in this release include:
Improved automated pipe extraction algorithms; ClearEdge3D says the improvement now allows the product to automatically model up to 90% of the pipes in a project;
Dimensionally-accurate component placement, based on the software's new specification-driven component  library;
Demolition tool removes pipes and associated points from the point cloud;
Custom specification editor can import or create new specifications;
Billion-plus point cloud visualization engine gives a high-definition view of the project;
New end-to-end pipe editing tools.
EdgeWise Plant integrates with the leading process plant design products, including software from Autodesk, Bentley, Aveva, Intergraph, Leica, and Inovx. 3D scans can be imported from products made by Faro, Leica, Z+F, Optech, Reigl, Surphase, Topcon, and Trimble.
The company's website is filled with testimonials for the value the product brings to the complex job of modeling existing plants. Robert Greenhalgh with Ramboll Oil & Gas used the software on a recent North Sea offshore project. "We reduced our 3D modeling time substantially with EdgeWise Plant 4.0," said Greenhalgh. "Building standard pipe fittings on top of the powerful automated tools makes 4.0 the complete pipe modeling package."
Related
New EdgeWise Plant finds pipes within massive 3D scans