Sixteen works celebrate the 40th anniversary of art as a centerpiece of Siggraph. A reception opens this year's exhibition.
Siggraph 2013 celebrates the 40th anniversary of art as a central element of the work of computer graphics with a theme highlighting scale as a central theme of digital art. "XYZN: Scale" presents 16 widely varied works that share the ability to iteratively scale the digital representation at will: in-out-up-down, back and forth, + and -. These core functions enable the viewer to change size and location over time, and at different degrees of resolution.
The works selected include installations, wall-based, physical/sculptural, and screen-based work. Two camera-based pieces have potential to extend into the wider convention center as well.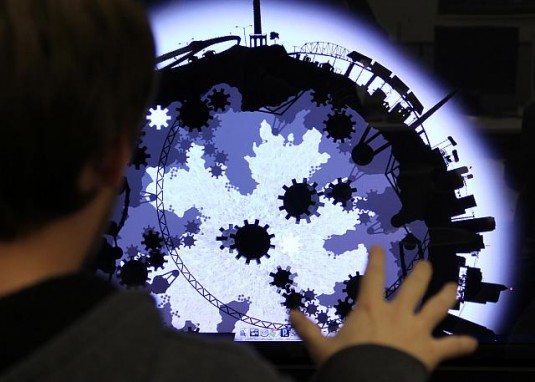 "It is amazing to the see how the artistic and computer graphics talent has evolved over the years," says Victoria Szabo, Art Gallery Chair from Duke University. "To celebrate the conference's anniversary, special acknowledgment was given to work that tied with historical themes, for example the N as a function of time. We received an incredible range of contributors which most definitely will add high quality work to create a coherent and interesting show."
The Siggraph Art Gallery will open with a reception where attendees can meet the artists, designers, and authors whose work was selected for Siggraph 2013. Also on hand will be the editors of Leonardo, the publication of the International Society for the Arts, Technology, and Science, as well as editors from The MIT Press; both organizations are sponsors of this year's reception.
To view all of the art pieces, click here.