Mobile photographers can use one-click editing or select a variety of effects. The app syncs with other version of Express and with Adobe Revel.  
Adobe has ported Photoshop Express to Windows 8 devices, including the Microsoft Surface. Photoshop Express is a free photo-editing app for quick styling to photos, designed for mobile device users who want an easy way to quickly touch-up and share photos.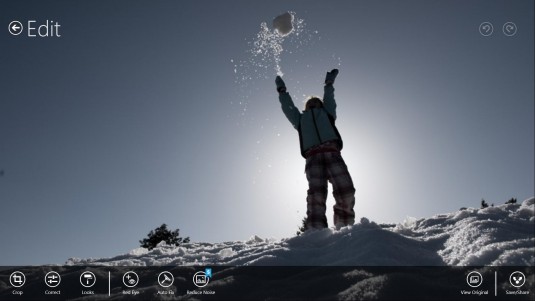 The availability of Photoshop Express for Windows 8 brings similar functionality from the iOS and Android versions to Windows customers, including integration with Adobe Revel. Adobe Revel allows customers to access, edit, and share their entire photo library across Windows 8 devices, iPhone devices, Web browsers and Mac computers.
Photoshop Express features include:
Make basic photo enhancements such as crop, straighten, rotate, flip, or remove red-eye
More than 15 one-touch filters for eye-catching effects
One-tap correction that adjusts color, contrast, and brightness all at once
Slider controls to enhance contrast, exposure, and white balance, or let the app auto-correct
Upload photos to Adobe Revel to sync them across Windows 8 tablet, iPhone, and computer.
Adobe Photoshop Express for Windows 8 is immediately available as a free download from the Windows Store. Customers can also download Photoshop Express for iOS or Android via iTunes or Google Play, respectively.