Five million Teamcenter PLM users are today adding the Apple iPad to their requisition lists. This is the first PLM app to offer more than sketching or a catalog.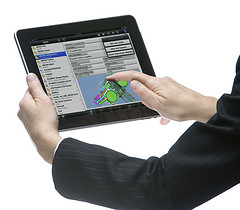 Siemens PLM today released Teamcenter Mobility, a mobile connection tool for use on Apple iPad with Teamcenter PLM. It is the first PLM app that offers heavy-duty access to PDM data, going beyond the sketchbook or catalog apps currently offered by other PLM vendors.
Teamcenter Mobility is available immediately in both free and paid ($19.95) versions. The free version has most features, but allows access only to a sample Teamcenter installation hosted by Siemens. Purchasing the app opens access to a user's servers.
Siemens PLM sees this iPad app as extending the value of PLM's "single source of truth" by making access to data easier across the entire engineering/manufacturing cycle.
Available features include:
Connect to Teamcenter using secure socket layer (SSL) technology
Perform Teamcenter searches, with filter and sort
Change-management dashboard shows changes and issues in pie-chart format
Task Lists and Workflows allow access to all related documents, drawings, and 3D JT models
View 3D JT models directly from a web page
Show revisions and related items for each selected revision
Auto-populate forms with user information
Work in online mode or download content for offline work.
One-touch access to Teamcenter Thin Client
Perform Multi-Select and Sign-off for similar tasks in a single action
Customize attribute display to limit exposure to specific roles or users
Review and Execute task approval/disapproval
Synchronize favorite settings between Teamcenter Mobility and Teamcenter.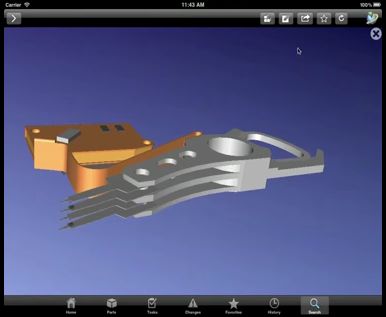 What we think
Teamcenter on the iPad is a game-changer. This is the first PLM app for the iPad that is more than a sketch tool or a catalog. Siemens PLM has raised the bar for what users should expect from their PLM technology. It will take time for the largest manufacturers to wrap their heads around this, but users are ready.
More info: www.siemens.com/plm/mobility
YouTube infomercial: http://www.youtube.com/watch?v=wH-B_2eKxJQ