Business trend lines show industrial growth, and Autodesk sees itself beating its peer group for the new business.
A year ago when Autodesk's Manufacturing Industry Group gathered the press at its headquarters near Portland, Oregon, optimism for the future was tempered by the reality of the present. Autodesk had just come through a gloomy 2009, when sales were the lowest they'd been in years. SolidWorks was beating Inventor—badly—in the marketplace. But the team was confident 2010 would be better.
Last week CAD industry press gathered again, and the turnaround couldn't have been more striking. Senior vice president Robert "Buzz" Kross was the face of a software group that beamed with the confidence of conquerors. In explaining the results of his group and his competitors, Kross compared Autodesk Manufacturing results with the Purchasing Managers Index (PMI), one of the best known tools for tracking the health of American manufacturing on a monthly basis. The magic number is 50, a reading which indicates industry is expanding. As shown on the chart below (See Figure 1), the PMI results for 2005-2010 are the narrow bars in various colors. Autodesk Manufacturing annual revenue each year is represented by the green bars. Autodesk manufacturing revenue dipped with the PMI in 2009, then rose again as manufacturing rebounded and the PMI rose. "We get our share of the market," noted Kross. "We match the PMI pretty closely."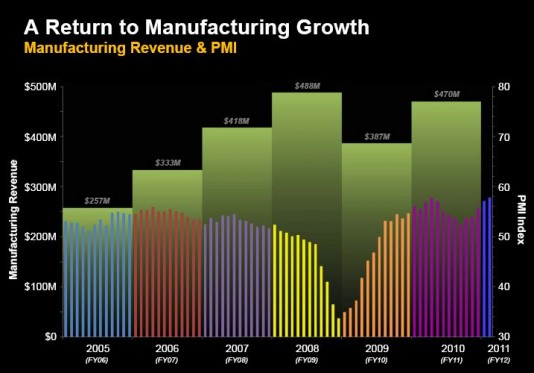 Kross says the $470 million in calendar year 2010 revenue represents only direct division revenue. If his division's share of revenue generated by other divisions were included, the total would be $682 million for fiscal year 2011 (which is off from calendar year 2010 by one month). Not only did Autodesk rebound in 2010, but Kross says current growth is outpacing its peer group. He presented a chart comparing 2010 results for Autodesk, Dassault Systèmes, and PTC. (See Figure 2.) Noticeable by its absence is Siemens PLM Software. The parent company is public but does not release enough information to make meaningful comparison possible regarding its CAD/PLM business. It is generally understood that Siemens PLM Software takes in about the same as all of Autodesk (not just the manufacturing group) on an annual basis. Using data compiled by independent financial analyst Jay Vleeschhouwer (data which GraphicSpeak has reviewed separately from Autodesk's presentation), Kross claims Autodesk Manufacturing's growth significantly outpaces the 2010 results from Dassault and PTC. The results are skewed by Dassault's 2010 acquisition of its largest reseller, IBM PLM.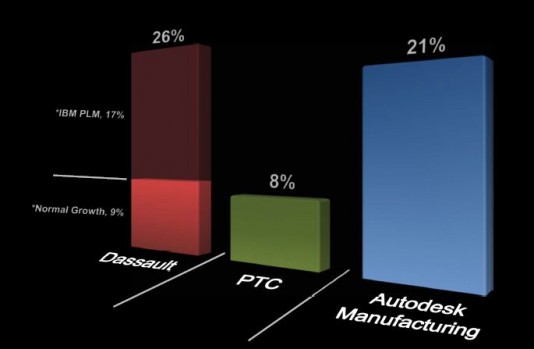 Kross says there is no one segment of manufacturing that is driving current growth, but that Autodesk's acquisitions are a significant part of the growth. "I love acquisitions," says Kross, "as long as we can integrate them well." Since 2003 Autodesk has spent almost $500 million acquiring simulation companies and specific technologies (See Figure 3). "Customer requirements are changing," says Kross." Everybody needs to make sustainable products, more attractive products." Products from the most recent acquisition, CF Design, are now being given an Autodesk user interface overhaul and will be integrated into the new suites later this year.
Looking ahead, Autodesk sees the highest growth coming from the increased use of simulation and from an increase in interest in product data management. The new edition of Autodesk Vault for PDM now works with most of Autodesk's design tools including Revit, Civil 3D, and AutoCAD, and not just Inventor. Kross predicted a 50% growth rate for Vault sales in the coming year.