With more than 500,000 licensed seats in use, Solid Edge is gaining on the top two in mainstream 3D CAD.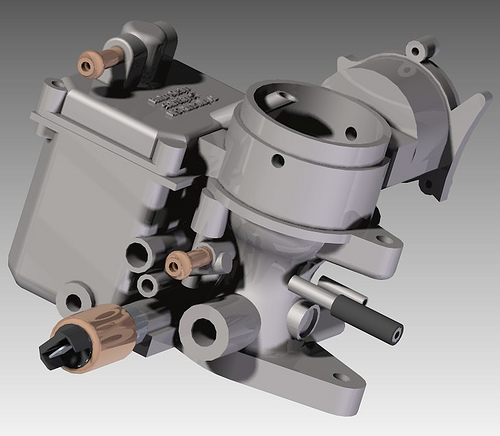 Starting today in select countries Siemens PLM is offering monthly subscription as an alternative to purchasing Solid Edge, its mainstream 3D CAD software. The Solid Edge monthly subscription license is available from the Solid Edge online store where customers can select from four different versions of the software based on the features that best fit their needs. Subscriptions can be purchased on a month-to-month basis.
Subscribers will not be locked into an extended usage period, says Karsten Newbury, Senior Vice President and General Manager, Mainstream Engineering Software, Siemens PLM Software. "The software will be accessible to a much wider audience, regardless of their business size or budget."
The four subscription options (and monthly fee) provide varying levels of function. The four are:
Design and Drafting ($130): Basic 3D CAD capabilities for part modeling and assembly design, including Siemens' Synchronous Technology for increased design flexibility, allowing both direct and parametric design approaches;
Foundation ($220): All of the above plus sheet metal modeling, weldment design, frame design, and exploded configurations;
Classic ($260): All of the above plus motion, photorealistic rendering, standard parts, engineering reference, basic FEA simulation, and data management;
Premium ($350): All of the above plus tube design, piping design, wire harness design, and full FEA simulation.
A 45-day free trial of Solid Edge is also available.  For automatic renewal purchases, an Internet connection is required at some point between the 1st and 10th of each month to maintain activation.
Long-time Solid Edge customer Edison2 was allowed early access to the subscription plan. "The flexibility has allowed us to expand our engineering resources while managing cash flow," says CEO Oliver Kuttner. "Additionally, the new model provides opportunities to improve cost effectiveness in ways that we previously wouldn't have considered. For example, we've been able to accelerate our production process by making Solid Edge available to one of our machinists for editing designed parts." Edison2 also provided Solid Edge to short-term engineering interns, "because now it is more feasible for them to work with the same software that we use during the course of our project," added Kuttner.
Our take
Near the end of the press release announcing the subscription plan, Siemens just happened to mention it now has more than 500,000 licensed seats in use worldwide. Undoubtedly a big chunk of those seats are in education, but this is still the first time in years we have been given even an approximate number regarding Solid Edge units. By comparison, early this year Dassault Systèmes announced it has sold more than 2 million licenses for SolidWorks, but deeper analysis of DS sales reveals only 554,969 seats have been sold to commercial customers, as of June 30, 2013; the rest were sold at deep discounts or given away to the education market.
Clearly the last couple of years have been good ones for Solid Edge. This subscription plan will provide more impetus for companies who thought they were settled on a CAD system to take a second look.
Related
Solid Edge ST 6 brings social media into mainstream engineering