The streamlined version of Maya will be for sale as a perpetual license or by monthly rental.
Today, Autodesk releases Maya LT, a subset of the popular 3D modeling and animation software. Maya LT is aimed at the indie and mobile game development community, and continues Autodesk's plan to bring more affordable tools to the media and entertainment industry.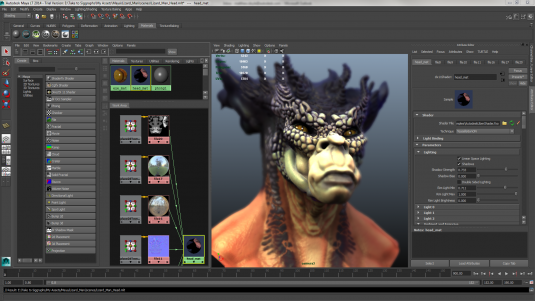 When Autodesk decided it should bring a more focused version of 3D modeling software to the game developer market, it had a choice between Maya and 3ds Max. Of the two, only Maya is cross-platform, available on both Windows and Mac. The next choice was to evaluate what was of most value to smaller game developers. Most game developers on Maya do not use its rendering engine, preferring to use the rendering engine in their game engine. To distinguish the LT version from full Maya, scripting and support for plug-ins has been removed. Also removed in Maya LT are the simulation routines, motion dynamics, and other visual effects most often used by film and TV developers, not game developers.
But not everything about the development of Maya LT is a story of subtraction. The popular Maya plug-in for lighting and content creation, Turtle, will be native to Maya LT. The new product is also shipping with technology not yet available in full Maya, a new Shader FX material to add to assets using a node-based shape editor. Its development came from the realization among the development team there is still too much "round-tripping" of assets. The material can be moved drag-and-drop style between boxes, and the data can be exported to a shader language product, making it possible to use the same shader file to view assets and in the game engine. Shader FX ships with the initial version of Maya LT and will be added "soon" to full Maya.
Unity is among the most widely used game engines today, especially among smaller developers. As a result, Autodesk is  is working closely with the Unity developers. At the same time, the company is careful to say it plans to be as open as possible on the game engine front.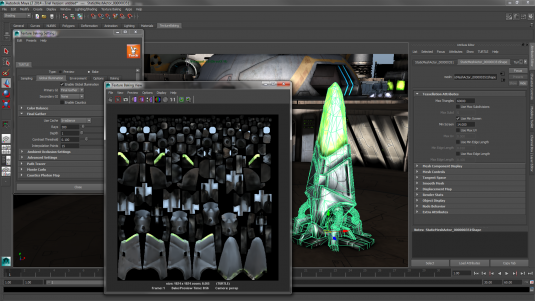 Maya LT supports Unity 3D and the Unreal Engine through the FBX file format for primary data exchange. More important, it also supports  Maya-class asset formats .ma, .mb and a new Maya LT format .mlt, as well as OBJ, FBX, AI, EPS and various texture formats including BMP, PNG, DDS, EXR, TRA, and TIFF.
Autodesk Maya LT 2014 is now available for both Mac and Windows for $795 as a perpetual license purchase. Term licensing will also be available as part of a monthly, quarterly or annual rental plan in the near future, starting at $50, $125, and $400. Autodesk believes rental will be popular with many Maya LT users because it enables them to expense clients to match their use of the software.
A free trial download of Maya LT is now available at www.autodesk.com/mayalt. Autodesk today launches a Maya LT user community at: http://area.autodesk.com/mayalt.
Our take
When Autodesk introduced a streamlined version of its cash cow AutoCAD in 1993, critics said AutoCAD LT would steal customers and lower revenue. Many mocked its lack of programming languages. But AutoCAD LT had the opposite effect. It expanded the AutoCAD sphere of influence by increasing the affordability of "true" AutoCAD use. LT is a key reason why AutoCAD-based 2D drafting still dominates AEC and remains popular in manufacturing. Year in and year out AutoCAD LT is the company's best-selling product; most years AutoCAD LT outsells another legendary 2D product, Adobe Photoshop.
Maya LT could have the same impact in 3D content creation that AutoCAD LT did on drafting. All that said, Maurice Patel, Industry Manager within Autodesk's M&E group, says the company does not want people to think of Maya LT as a "light" version of Maya. Instead, the product will see development specifically for the indie and mobile game developer market. Maya will cover more bases. It just became tougher to compete against.