From editing 2D drafting files to working with monstrous 3D assemblies, NX continues to be a force in CAD.
Siemens PLM Software says its latest release of its enterprise product development 3D CAD product NX introduces new technologies to enhance product design and engineering. In particular Siemens says its new Realize Shape technology, a freeform design toolset, makes it easier to produce products with highly stylized shapes or complex surfaces.
NX 9 also includes new capabilities in 2D for its Synchronous Technology, and updates to its Active Workspace technology for connecting engineering with the larger product development environment through its Teamcenter PLM platform.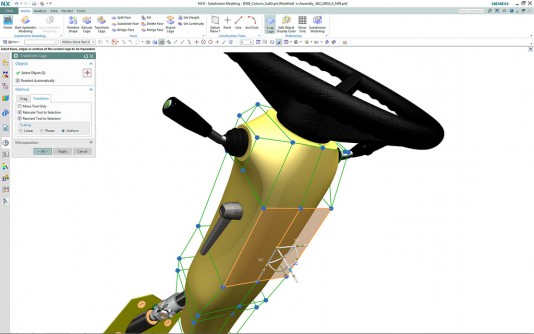 Bringing synchronous technology to 2D should be particularly well-received by NX users. Although 3D modeling has become the standard in product design, 2D drawings and 2D product data – in a wide variety of digital formats – are still used in virtually every industry in some aspects of product development. Data format interoperability often make working with 2D files tedious and time consuming. Siemens says synchronous technology for 2D adds intelligence to 2D data without the need for translation, enabling users to edit multi-CAD 2D files up to five times faster than before.
Siemens says the new Realize Shape toolset in NX provides a freeform design environment for producing products with highly stylized shapes or complex surfaces. The unstated goal is to reduce the need for early stage design tools such as Alias Studio, which specialize in stylistic design. Siemens says Realize Shape will be useful in consumer product development as well as in its primary markets of aero/auto, medical, and marine.
Also new in NX 9 is a new design and data management paradigm Siemens calls 4GD, providing new ways to extend collaboration and design-in-context work practices. Other new features in NX 9 include:
Simulation: A new NX CAE parallel thermal solver offers improved performance on large-scale models. Siemens says enhancements to NX Nastran FEA solver can reduce simulation times for noise, vibration and harshness (NVH) by half.
CAM/CMM: For die/mold machining, a new cut region management capability provides graphical user interaction for more efficient programming; Siemens says it is up to 40% faster for some complex parts. A new multiple-part programming capability lets programmers reuse machining sequences across any number of similar parts in a setup. For example, a setup with six identical parts can be programmed up to four times faster. The new MRL Connect for NX, connects NX CAM directly to the Manufacturing Resource Library (MRL) in Teamcenter to give programmers easy access to a shared library of standard tools, fixtures, and templates. The CMM Inspection Programming capabilities have been expanded beyond solids to support sheet metal parts.