No shipping date has been set. Sales of 
Linux 
BricsCAD have been disappointing. 
CAD vendor Bricsys reveals it is working on a Mac version of  its flagship 2D/3D CAD program BricsCAD. An early prototype was shown at its annual developers  conference this week.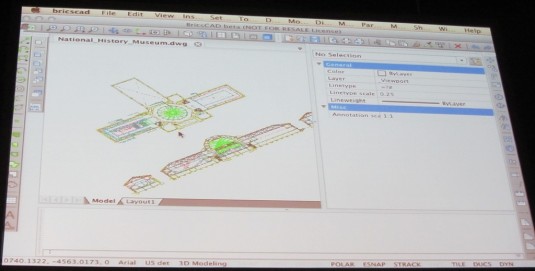 Company representatives stressed the product is in the early stages of development, and will not ship when the Windows and Linux versions of BricsCAD V14 comes out later this month. "It's only two weeks old," noted one developer, talking about the Mac version as if it were a newborn child. "Be nice to it."
Privately held Bricsys does not release specific sales numbers, but it has been common knowledge in the development community that sales of the Linux version of BricsCAD have been disappointing. Macs have maintained their market position, and still carry a strong cachet among technology leaders in Europe, where most of Bricsys sales take place. Quite a few MacBook Pros were spotted among the crowd of about 280 in the audience at the annual developers conference this week in Darmstadt, Germany.