The web-based product sports a completely rewritten global navigation system, replacing text with imagery. There are also new integration with products from Rush and cineSync.
Shotgun Software has released an update to the Shotgun production management and collaboration system, with new features to help visual effects, animation, and video game studios to manage productions and collaborate. There is also new integration with the Rush render manager and cineSync Online.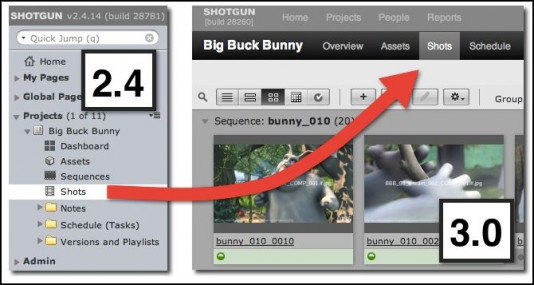 Shotgun's web-based production management system was recently selected by Academy Award-winning animation company Blue Sky Studios. The studio is integrating Shotgun into its pipeline as the central platform for studio-wide collaboration among all of its 400 employees, as well as directors and producers working on productions at Blue Sky.
Shotgun v3.0 features completely re-written navigation that simplifies the way data is organized and explored. A new visual filter tool panel makes it faster for users to understand the big picture and find data, and new advanced layout tools provide studios with more control over how their information is displayed.
The company is also demonstrating two new integration projects. With Rush, which will update Shotgun automatically for each render, storing thumbnails and critical information that can be organized into playlists for review. With cineSync Online, which makes it easier to instantly start a synchronized review session.
More information at the Shotgun software website.