The new version expands the existing production workflow with visual task views and links to popular game asset development tools.
Shotgun Software has made changes to its flagship production management tool, Shotgun, to make it more valuable in game development. Shotgun says the update is the result of over a year of collaboration with more than thirty top game studios including Avalanche, Microsoft Game Studios, and EA.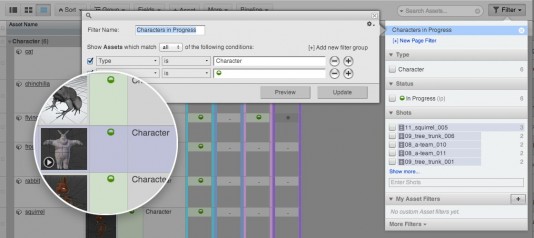 The new games industry-tailored version of Shotgun adds to its existing features for production tracking and collaborative review and approval with new tools more specific to game art workflows. Shotgun says it has specifically designed tools for artists "that provide simple and visual task views" as well as tools to access important project information and collaborate with other artists and supervisors. There are also tools for supervisors to continuously review artist work, annotate images, and provide feedback to creative teams.
Key features include:
Plan, track and manage all game art
Iterate, review and collaborate with artists both in and outside the studio
Web-based playback and annotation tools directly within Shotgun interface
Integrates with other tools to build a complete studio workflow pipeline
Shotgun Pipeline Toolkit integrates with apps like Maya and Photoshop to automate and speed up artist tools and tasks
Integrates with Perforce
Integrates with key engineering tools via Open API
Shotgun CEO and co-founder Don Parker says Shotgun realized game studios deal with the similar pain points as the entertainment business, and that a market existed for a tailored version of Shotgun for game development.
A free trial is available at the Shotgun Software website.