Company offers more models then two of its competitors combined.
Samsung Electronics Co. is the sec­ond-largest maker of tablets after Apple, and that may be temporary. Last week the company announced it is bringing out three new tablets in the Galaxy Tab 3 series in the U.S. in July. The 7-inch version will sell for $199, an 8-inch model will go for $299, and the top-of-the-line 10-inch can be had for $399.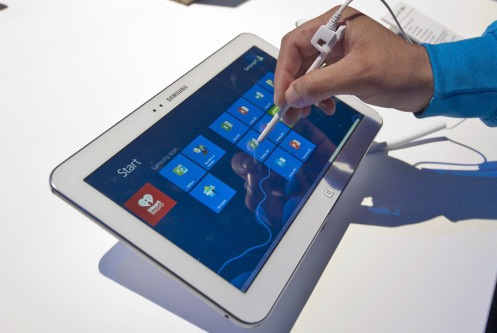 The 7-inch model will feature a dual-core 1.2-GHz processor, 8 GB of inter­nal storage, a microSD card slot, a 1024 x 600 resolution screen, and Android 4.1 Jelly Bean. The 8-inch model bumps up the screen resolution to 1280 x 800 and will include an Exynos 1.5-GHz dual-core SoC, Android 4.2 Jelly Bean, a 5-megapixel camera on the back (720p video capture), 16 GB of internal stor­age, a microSD card slot, and 1.5 GB of RAM.
As for the 10.1-inch model, the tab­let will have Intel's Atom Z2560 1.6 GHz dual-core SoC, a 1280 x 800 resolution, a 5-megapixel camera on the back (720p video capture), 16 GB of internal stor­age, and a microSD card slot but only 1 GB of RAM.
The new tablets come in white and golden brown. They will also have a built-in IR blaster, turning them into a con­venient universal remote, and offer access to Samsung's Wa­tchON service, which recom­mends TV shows and on-de­mand content.
"Our goal is to attract Gal­axy smartphone users, and to make it the ultimate smart­phone accessory," said Shoneel Kolhatkar, director of product planning at Samsung Mobile.
The "Tab" line is Samsung's value brand, undercutting the price of simi­lar Apple models. Samsung's premium tablets are in the "Note" line, which in­cludes styluses. The 7-inch and 10-inch tablets had "Tab 2" equivalents, but the 8-inch model is new and coincides closely in size with Apple iPad mini, which came out late last year.
The new Galaxy Tab 3 tablets are available in the U.S. now.
What do we think?
When companies like Samsung start flooding the market with multiple models, it's a pretty clear indication we've hit the commoditization point in the market. We are starting to refer to YASIT in conversations with our clients (Yet Another Seven Inch Tablet). Running out of ways to dif­ferentiate and trying not to get into a price war (which will be unavoidable, especially in the 7-inch segment), the big brands will revert to actions that are more desperate. Apple, usually ahead of the curve, gets this; hence the Retina screen—unmatched so far. Other suppliers, worried about costs (of, say, a Retina screen) will offer other things. Start looking for bundling deals—would you like fries with that?