Holding it up to your ear may be a more conspicuous act than some are ready for.
If you wouldn't feel like a self-con­scious dork by holding a 7-inch tablet up to the side of your face, and talking to it, you may be a prospect for Huawei MediaPad 7 Vogue phone. Or maybe not.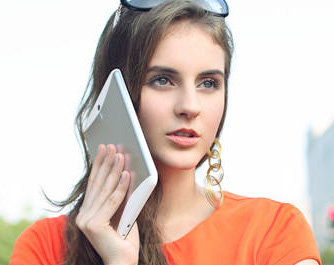 "We're delighted to introduce the MediaPad 7 Vogue, our call-enabled tablet with world-class entertainment capabilities and long-lasting battery power," said Huawei Consumer Busi­ness Group CEO Richard Yu when an­nouncing the big ol' handset.
The MediaPad 7 Vogue has a built-in receiver for phone calls, and you don't need headphones (see photo). It fea­tures a quad-core 1.2-GHz processor CPU and 16-core GPU, 3D gam­ing, and 1080p full HD video playback. The 3G module supports DC-HSPA+, and downlink speed can reach up to 42 Mbps; the Wi-Fi connection supports 802.11b/g/n for streaming movies or videos. The unit has a 4100mAh Li- Polymer battery and Huawei's pro­prietary power-saving technology, which the company claims will allow playback of four HD movies or more than 20 hours of continuous calling on one charge.
Vogue is 9.5 mm thick, weighs 335g (12.5 ounces), and has a 1024 x 600 (IPS) multi-touchscreen with wide-angle viewing.
There are three models of the MediaPad 7 Vogue: S7-601u, S7- 602u, and S7-601w. The Vogue is designed to compete with Apple's iPad mini, HP's Slate 7, and Asus' Nexus tablets. One of the models is designed for entertainment and gam­ing. No price was given.
Our take
It's a new world, and a phone doesn't have to look like what you were taught a phone looks like; after all, we got over rotary dials, didn't we? Huawei needs an angle. The world doesn't need YASIT —yet another seven-inch tablet. So how do you differentiate your late entry into a market segment that has sub-$70 tab­lets coming out of China and India? You put a radio in it—brilliant. Keep your eyes on this one, I'll bet you'll see at least two of them.