Creating real-time stereo 3D HDRI skies that impacted scene lighting was one of many challenges the global VFX firm faced. New in-house GPU-based software is being deployed on several top Hollywood projects.
Gorgeous skies, wide open seas, and a scared young man shipwrecked with a ferocious tiger for a companion are the compelling dramatic and visual setting for "Life of Pi," now in theaters. There was a time when a movie like this would be shot on location and take weeks or months to get all the scenes. Instead, leading VFX house Rhythm & Hues created most of the visual effects including the Bengal tiger, digitally recreated water and skies, Meerkat Island and many additional creatures and effects.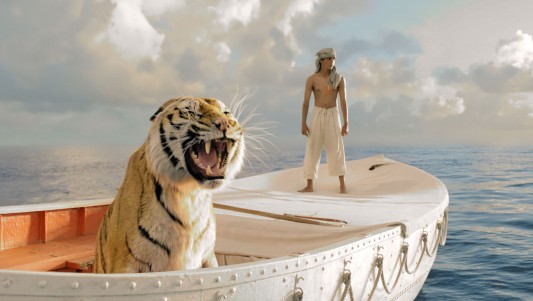 R&H is known for its custom development of proprietary visual effects tools, many of which are written specifically for the GPU. One of those tools, dubbed Rampage, was particularly instrumental in achieving the remarkable skies that set the tone in this tale of an Indian zookeeper's son named Pi, shipwrecked with a Bengal tiger and adrift in the ocean.
Rampage is a 3D projection-mapping program that allowed R&H artists to quickly replace the skies in each shot with custom-made matte paintings. "We wouldn't have been able to do this show without Rampage and Nvidia GPUs. We were generating full HDRI [High Dynamic Range Imaging] skies with an average file size upwards of 3GB, which are the largest matte paintings we've ever done on this scale, not to mention the added complexity of creating them in stereo 3D. That high-resolution level of detail was required because the skies take up much of the frame in many scenes, and were used to light and influence reflections in the CG water," explained Heather Abels, Matte Painting Lead.
From vibrant blue to sun-drenched, magic hour, tumultuous and stormy, over 110 different skies literally set the stage in this movie. With Rampage running on Nvidia GPUs, artists were able to quickly project custom 2D matte paintings onto simple 3D geometry and review in real-time how each sky would look, aligning with the vision of the director and VFX supervisor, and creating immediate lighting reference images to hand off to other teams of artists.
Nathan Cournia, Lead Software Engineer at R&H, took an interest in writing code for the GPU to meet the project's workflow and productivity demands. "The mandate in my department is to make things more efficient so that we can work faster and more cost effectively without compromising image quality. With each new show we create a priority list to guide our development. Oftentimes, as with 'Life of Pi,' those demands drive us toward custom GPU development. For R&H working on the GPU means working with Nvidia."
In addition to Rampage, R&H has several other customized GPU tools that were used on "Life of Pi" including its in-house compositing package, Icy, with several nodes written using CUDA, Nvidia's parallel computing architecture, to enable real-time color correction operations, retiming and optical flow. CUDA has proven to be popular with R&H engineers due to the abundance of easily accessible documentation available online. The CUDA-based optical flow implementation garnered a ten-fold increase in performance over R&H's legacy CPU implementation, enabling artists to converge quicker on the desired look. Likewise, R&H's GPU-enabled proprietary animation and tracking software, Voodoo, continues to enjoy performance increases with each new generation of Nvidia GPUs.
Cournia is continuing to write new GPU tools at R&H and is currently working on a large-scale development effort called Crom. The new platform makes heavy use of the GPU; R&H is using Crom to develop new pre-lighting, lighting and compositing tools. R&H is integrating its current CUDA toolset into the Crom platform, being deployed on the studio's current projects: "300: Rise of an Empire," "The Seventh Sun," "R.I.P.D.," "Percy Jackson: Sea of Monsters." "Django Unchained," "Black Sky," "Grown Ups 2" and "Winter's Tale."