Good performance, good looks; but is Microsoft too late to make an impact in the tablet market? 
By Kathleen Maher
Microsoft's Surface has finally arrived and we have finally gotten around to writing a review of the tablet designed to be an Apple killer. It's just as well; we're late, we're slow learners and we've been using the Surface Tablet as a working tool rather than the traditional, tear open the box, run benchmarks, write the review, and toss the thing aside to review the next thing. We don't think that's a valid approach for the Surface or any tablet devices really. There aren't that many available benchmarks for one thing. Most of the benchmarks available are browser benchmarks, and they're not good tests of the hardware since they're influenced by a variety of issues including UI, the browser itself, and the distance from the server.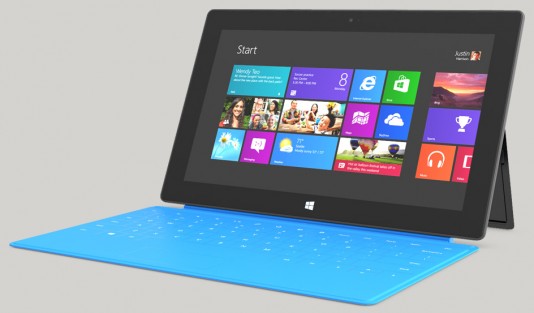 As has been documented elsewhere, the Surface gets awful Futuremark Peacekeeper scores. I got a 334 when I ran the test, which put the Surface's Internet Explorer below the Eee Pad Transformer Prime at 344 and way below the Apple iPad 4th Gen, at 951. My Sony Vaio PCG-41313L came in at 1777, yay. But, as has also been very well documented, the Surface seems to perform pretty well. If you're just totally into benchmarks, Anand Shimpi has published a very knowledgeable discussion of early benchmarks for Windows RT and the first generation tablets including the Surface. But, even he says the benchmarks at this point are fairly meaningless compared to real-world experience.
I can say, I never noticed any significant holdup in working with the Surface. Rather, my problems came with learning the new interface and managing the new keyboard. The Surface comes with a choice of two optional keyboards, for $119 you can have the printed keyboard with slightly raised keys, and for $129 you can have a very thin, but very real keyboard. The printed keyboard, called the Touch keyboard, is a step above the digital keyboards used by tablets but it's not a big step. One can touch-type on the keyboard and can be guided by the fake digital click noises. It's not fun, and I found the best way to use the keyboard is to slow down and type very deliberately. I have not tried the 6 mm Type keyboard, but it's getting much better reviews. Also the Touch keyboard is getting slagged for quality. Some users are complaining the keyboard is splitting. While I haven't had that problem, I'm already finding the keys hard to read as they fade slightly from use. This really will not do. The option is the $129 Type keyboard or a Bluetooth external keyboard. Either way, the $499 Surface plus a $129 Type keyboard puts the price tag at $628. I am  not the first to notice that you can get a fine, full featured x86 laptop for that kind of money.
However, it's worth noting that the Surface comes standard with USB, an SD slot, and support for HDMI. The iPad doesn't have HDMI without buying add-ons such as the new Lightning cable or an Apple TV box, which will add on $50 for the cable or $100 for the iTV. It's easy enough to add USB and SD support via a cheap adapter for the large iPad connector but it is clunky compared a standard connector.
Software
Surface with Windows RT comes with Microsoft Office Home and Student 2013 RT Preview (Word, PowerPoint, Excel, and OneNote)
Size
10.81 x 6.77 x 0.37in
1.5lbs
Storage
32GB, 64GB
MicroSDXC supports up to 64 GB
Display
10.6″ ClearType HD Display
1366×768 pixels
16:9 (widescreen)
5-point multi-touch
Keyboard
3 mm "Touch" cover ($119 option) or 6 mm "Type" cover ($129 option)
CPU
NVIDIA T30
Memory
2GB RAM
Wireless
Wi-Fi (802.11a/b/g/n)
Bluetooth 4.0 technology
Battery
31.5 W-h
Cameras
Two 720p HD cameras, front-and rear-facing
Audio
Two microphones
Stereo speakers
Ports
Full-size USB 2.0
microSDXC card slot
Headset jack
HD video out port
Cover port
Sensors
Ambient light sensor
Accelerometer
Gyroscope
Compass
Power Supply
24W power supply
Warranty
1-year limited hardware warranty
Apps (included)
Microsoft Office Home and Student 2013 RT Preview (Word, PowerPoint, Excel, OneNote); Windows Mail and Messaging; SkyDrive; Internet Explorer 10; Bing; Xbox Music, Video, and Games.
The Surface specs (Source: Microsoft, mostly)
Hardware
When Microsoft first showed off the Surface design, it scared the hell out of the competition including Microsoft's OEM partners in the notebook world. They had reason to worry. The Surface is built with a good, 10.6-inch display with Microsoft's Clear Type format for easy reading. The size is ideal for HD movies.
The casing uses Microsoft's VaperMg technology. VaporMg is yet another magical case material that's no more magical than hiring a marketing firm to invent a snazzy name. It's based on magnesium and can be melted and molded to be as thin as .65mm and still very strong. At the Surface's introduction Microsoft compared it to the casing of a fine watch. It is nice looking and it is fingerprint resistant. The display is made from Gorilla Glass and is therefore study and attractive. Our favorite feature, though, is the kickstand. A flap of metal that pulls out from the back of the tablet, the kickstand eliminates the need for an additional case to make the Surface stand up straight when you're talking to it. It also hides the MicroSDXC slot, and trust me, if you didn't know where to look for it, you could spend quite a bit of time hunting for the slot.
The ability to add SD storage lets you add up to 64GB of memory, which can come in handy for music and photos. Right now the Windows Surface RT OS isn't not totally brilliant about recognizing the memory so it's not going to be a perfect solution for movies, etc. But the added breathing room provided by SD means you can offload content to make room for movies and TV on the tablet and probably someday down the road there'll be better options for dealing with content on the Surface. The nice thing about the Surface being Windows-based is that there is already a good community of people and sites offering tips for short cuts and work-arounds; the information base is just going to grow thanks to the huge base of Windows users who are vitally interested in all things Windows 8.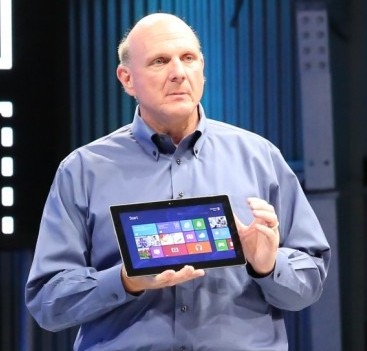 Software
Alright, the Windows 8 interface is the subject of huge debate and most of it comes down to, ewww, it's new, I hate it or ohhhh, it's bright and pretty and colorful, I love it. I'm easily amused; I fall into category B. The Surface interface is easy to learn, especially if you're already acclimated to touch interfaces including the flavors of Android and iOS. The Surface RT is basically the same as the Windows 8 interface formerly known as Metro. The Surface with a keyboard is vastly more capable of working smoothly with the Windows 8 UI than the first touch notebooks and the first round of Windows 8 touch notebooks. It's ridiculous having to reach out to the tablet and also use a keyboard, but that's what those first machines required. Now they're doing a better job of integrating touch pads. The Surface Touch keyboard has a very nice, roomy touchpad area so it's rarely necessary to reach forward, a maneuver called "gorilla arms" on the web. (Wired attributes the term to "designers.") Apple is probably somewhere behind the term.) Blessedly, Windows 8 RT, being a derivative of Windows incorporates a wealth of Windows keyboard shortcuts, as well as traditional Office applications and files.
Otherwise, using the interface is simply a matter of practice. In general if you can't find something try swiping from the right to get search, share, start, devices, settings—the so-called "charms," which can take you directly to apps and other common functions. Swiping from the left gets goes back to previous screens, swiping from the bottom and top get you context sensitive capabilities. It's pretty easy to figure out if you're willing to figure it out. A lot of the irritation is coming from longtime Windows users who don't want to change the way they work. They'll adapt, or they can go straight to the file menu and live in the traditional Windows interface, or stick with older systems, but we'll all probably have to put up with the grumbling for a very long while.
The real problem is Microsoft
What's most frustrating about the Surface is Microsoft's fierce desired to take on Apple and force everyone into its own world. Oy vey, just when we thought Android was successfully changing the argument with support for cloud-based tools. The Microsoft store is very light on productivity apps. Microsoft expects you to use the Office tools along with Microsoft's new SkyDrive to make switching between RT and desktops easier. The Office apps are great. I opened one of our hideous spreadsheets and I could work with it. I can't do that on an Apple or Android machine, because all sorts of things don't come across correctly—most obviously charts. I was able to move between presentations on the PowerPoint apps and the desktop; and Word, of course, is as smooth as silk. But, how do I get to my content if I'm already using something like Dropbox, Sugar Sync, Egnyte, or all the other options out there? Right now, I don't. Either I move everything to Microsoft's SkyDrive or I mail stuff to myself or download the apps thus breaking the synchronization that's the whole reason I pay a monthly fee for the service I use. Microsoft isn't alone in this, Apple wants me to use iCloud, but at least there are apps supporting quite a few of the other cloud sync services.
Sure, this is a symptom and maybe not a big one depending on your workflow, but it's huge for me. I want to be able to get to my content as I move through the house from tablet to PC to mobile phone to iPad and I want to use the service I choose, not the service the device maker or OS company wants me to use. As people add on to their portfolio of devices used in the office and home, this issue is just going to become more annoying.
In general, there just aren't a lot of apps on the Surface and so it does not have the transcendent magic of other devices that can transform them into remote controls, presentation platforms, game consoles, interactive communicators, and so on. Microsoft swears all that is coming, but we're thinking it may be a while before the light bulb clicks on and Microsoft realizes that it wins through openness and support for a wider variety of applications and capabilities than anyone else. Hello, come in Microsoft. Are ya listening? Probably not.
Right now the tablet competition comes down to several Android based tablets, Apple's various iPads, the Windows 8 RT-based tablets and the soon-to-arrive Windows 8 Surface Pro tablets with x86 processors. This is all kind of a train wreck for Microsoft given the timing. The Surface RT competes very well against the Apple iPad and the Android tablets. It's every bit as good looking, it's has a nice sturdy feel to it, the kickstand is just great, and it has true Office compatibility in the RT Office apps. Add to that the expandability offered by USB and the MicroSDXC support and the convenience of HDMI for connecting to the TV set. That should put it ahead of the game, except Microsoft has to compete with itself and Microsoft is not competing effectively in the store.
Worse, Microsoft is promising a new Windows Surface Pro, which is coming very very soon. After an initial flurry of early adopting buyers many of whom are desperate for a tablet that works with Office applications, sales for the Windows RT Surface have dropped off and people are saying they'd like to wait and see how an x86-based Windows Surface Pro compares. At that time, Microsoft could and probably should drop the price on the RT Surface which will sorely irritate those early adopters, but that's never bothered Microsoft, or another other manufacturer for that matter. That's simply business.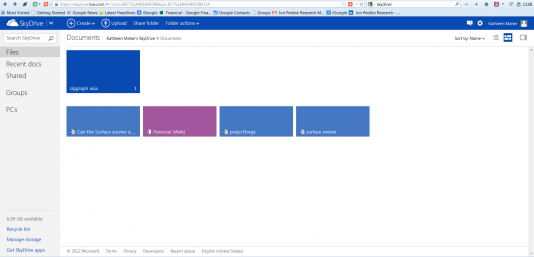 Right now, in the interim before the Surface Pro, we're finding the Surface RT to be perfectly adequate for work. More important, it's the first machine we've been able to use as a travel machine except for the problem that it breaks our office file handling procedures and that problem has already meant the difference between taking the Surface or a notebook on the road. It may be a personal problem but it's huge and I doubt I'm alone.