Monstrous gains for Internet of Things doesn't compensate for lackluster quarter in core businesses.  
By Randall S. Newton
PTC (NASDAQ: PTC) delivered news they would rather have swept under the rug with their third quarter 2015 financial report. It was a down quarter for total revenue, net income, software revenue, earnings per share, and all categories of software except Internet of Things. Some of these categories were down by double-digit percentages. Looking at results in constant currencies softens the blow somewhat.
Total revenue for the third quarter of fiscal 2015 (ending June 30, 2015) was $303. 1 million, down 10% from a year ago, or down 1% in constant currencies (CC). Software revenue was $249.6 million, down 7% from 3Q14 or up 2% CC. Net income was $17.4 million, down 54% from a year ago.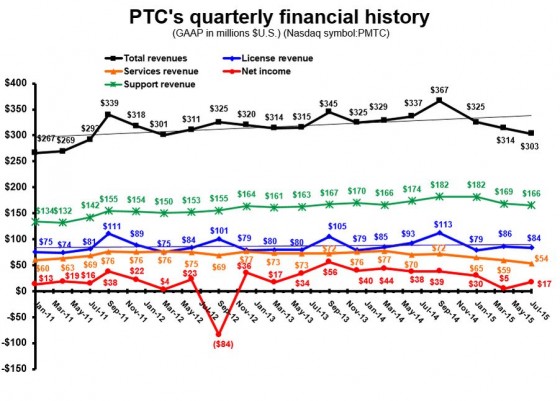 Revenue by category (all in comparison to 3Q14):
License revenue: $83.9 million, down 9%
Service revenue: $53.5 million, down 24%
Support revenue: $165.7 million, down 5%.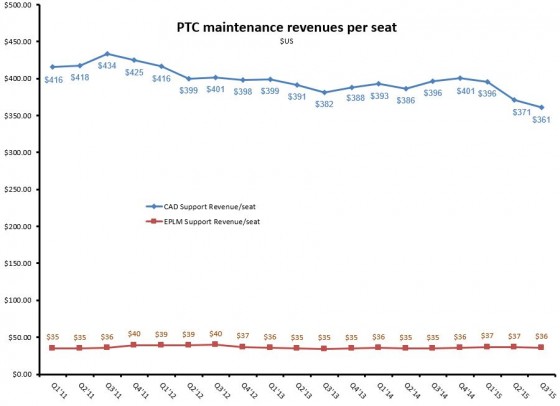 Revenue by regions:
North America: $134.4 million, up 3%
Europe: $109 million, down 16%
Asia/Pacific: $59.2 million, down 22%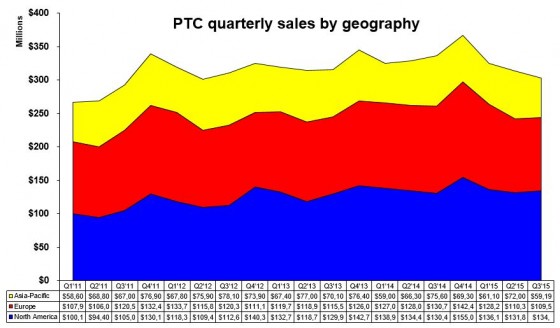 Revenue by software categories:
CAD: $119.7 million, down 20%
Extended PLM: $122.8 million, down 16%
Service Lifecycle Management (SLM): $39.2 million, down 5%
Internet of Things: $21.4 million, up 296%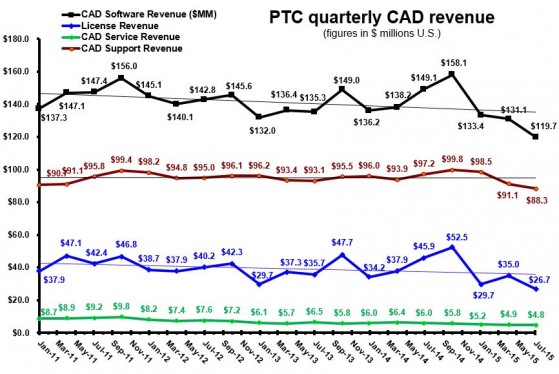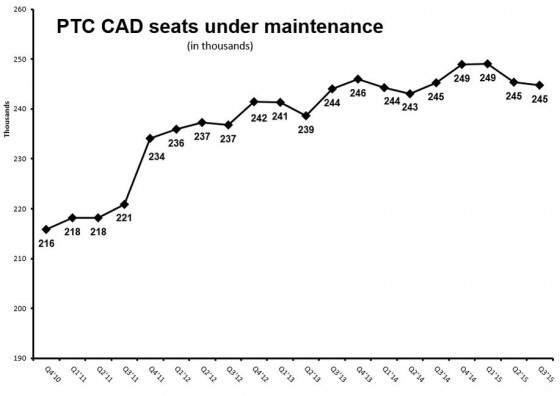 A CEO has to put the best light possible on results during the quarterly updates; PTC CEO James Heppelmann is no exception. Here are excerpts from his presentation to Wall Street analysts:
"We believe that the challenging macroeconomic conditions, particularly in the Americas and China, impacted our ability to close large deals in our core business which, as you know, is sensitive to changes in the manufacturing economy. … the current macro climate is proving to be more difficult to navigate than we had anticipated.
"Despite macroeconomic headwinds, results so far this year have been better than the headlines would suggest. In constant currency, our software revenue has grown 6% for the first nine months of FY 2015. And even with professional services down 9% year to date due to our strategy to shift more of our lower-margin professional services engagements to our partner ecosystem, our total revenue is up 2% in constant currency year to date.
"… there are some political things going on [in China] that make it difficult for US technology companies. So China is a difficult environment for virtually every American technology company right now selling in the manufacturing industry."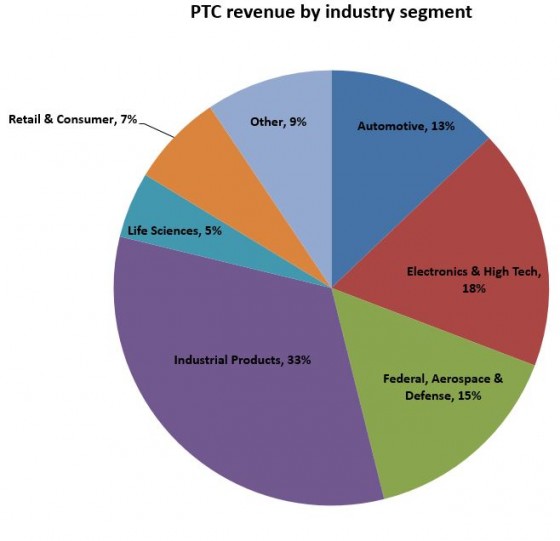 What do we think?
Heppelmann notes the PMI manufacturing index, a measure of the health of the industry, is trending downward, and cites it as one explanation for lower sales. But Dassault Systemes reported gains in all markets, and we expect Autodesk to report similarly next month.
If all you did was follow PTC's marketing, you could easily come to the conclusion the company can only focus on one thing at a time. CAD and PLM bring in 10x the revenue of Internet of Things, but the marketing drumbeat is furious for all IoT all the time.
Recent big wins in PLM (Boeing Helicopter, Airbus) have not gone to PTC Windchill but to Aras Innovator. That little open source competitor only about 20 miles from PTC headquarters is starting to be a thorn in the side of not only PTC but all PLM vendors.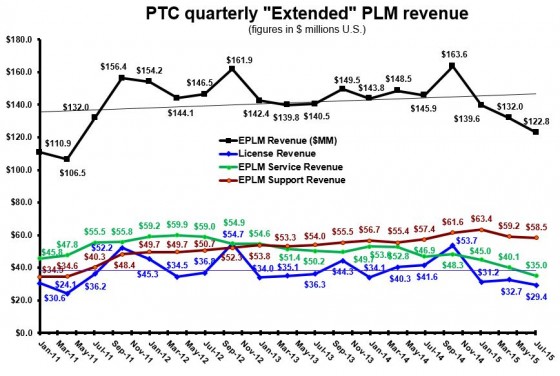 L. Stephen Wolfe, P.E., a contributing analyst for Jon Peddie Research, provided research and his usual legendary insights for this article.