Revenue was $618 million, up 11% but net income dropped 81% on increased spending.
Autodesk today reported a strong third quarter, led by a 17% increase in revenue from the AEC business segment. Deferred revenue topped $1 billion for the first time, and total billings rose 25% from a year ago. For the third time this fiscal year, Autodesk has raised its guidance for full-year results.
Revenue for the third fiscal quarter of 2015 (ending October 31, 2014) was $618 million, up 11% from the third quarter of 2014. Total maintenance, desktop (rental), and cloud subscriptions increased by approximately 121,000 from the second quarter of fiscal 2015, including approximately 25,000 subscriptions related to Delcam, new subscriptions not previously available for Autodesk to count in the total.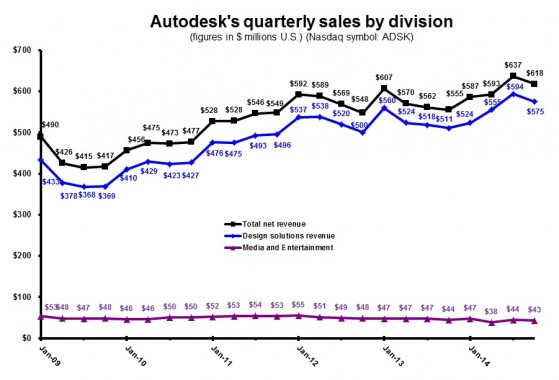 Net income in the quarter dropped massively to $10.7 million, down 81% from $57.6 million a year ago. Autodesk cites higher spending on research and development, and sales and marketing, plus the increase in deferred revenue from new subscriptions.
Revenue in detail
Unless noted, all comparisons are to the third quarter of fiscal 2014.
Revenue from licenses and other revenue was $321 milllion, up 7%
Revenue from subscriptions was $298 million, up 15%.
Autodesk notes third quarter license revenue would have been approximately $26 million higher if the shift to flexible enterprise license agreements had not been in place.
Revenue by business segment:
AEC revenue was $217 million, up 17%
Platform solutions/emerging business revenue was $188 million, up 2.7%
Manufacturing revenue was $170 million, up 20%
Media and Entertainment revenue was $43 million, down 3%.
Autodesk says AEC suites revenue increased 23%, driven by strong results in Building Design Suites and Infrastructure Design Suites. Combined revenue from AutoCAD and AutoCAD LT (across all business segments) was $165 million, up 4% from a year ago. But the increase came at the expense of AutoCAD-based suites, which were down 14% from a year ago. Autodesk says the drop was largely to do slower education sales.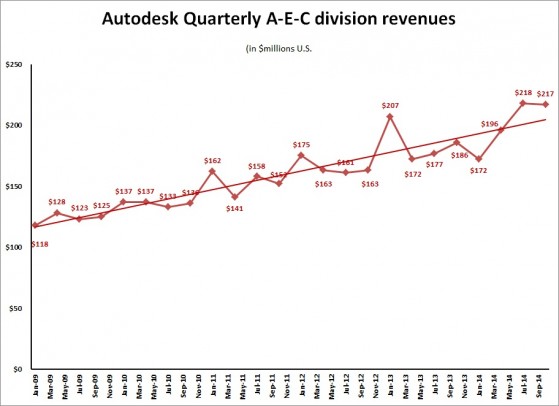 The 20% growth in manufacturing was driven by the inclusion of Delcam revenue for the first time. Manufacturing suites revenue was up 9% (no Delcam technology currently ships in the suites).
Revenue by geography:
EMEA revenue was $238 million, up 27%
Americas revenue was $231 million, up 11%
Asia/Pacific revenue was $149 million, up 4%
Emerging Economies revenue was $95 million, up 13%.
The countries with the strongest revenue gains were the US and China; Autodesk says gains in EMEA were "broad-based in mature markets." Autodesk notes that none of the BRIC countries contribute more than 3% of total revenue. Sales in Russia and the Middle East are "clearly weak," said Autodesk CEO Carl Bass during a conference call with Wall Street analysts. Bass also noted sales in Southern Europe are finally starting to pick up.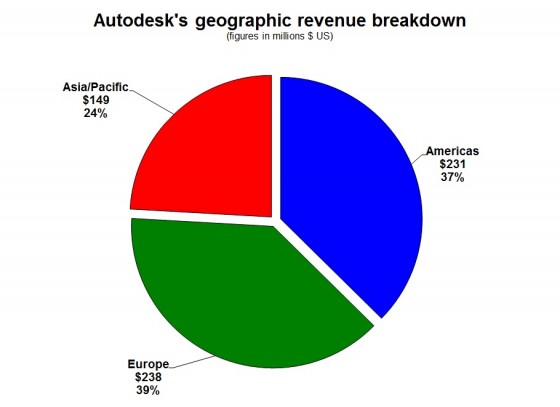 Revenue by product type:
Revenue from Flagship products was $288 million, up 5%
Revenue from Suites was $225 million, up 13%
Revenue from New and Adjacent sales was $105 million, up 28%.
"Flagship products" are a variety of leading titles including AutoCAD, Revit, Inventor, Maya, and 3ds Max. The strongest growth in the group came from AutoCAD LT. Suites revenue in the quarter was 36% of total revenue. Revenue in the New and Adjacent category benefited from the Delcam acquisition.
For the third time this fiscal year, Autodesk is increasing guidance for the end of the year. The company now forecasts fourth quarter revenue in the range of $640 million to $655 million.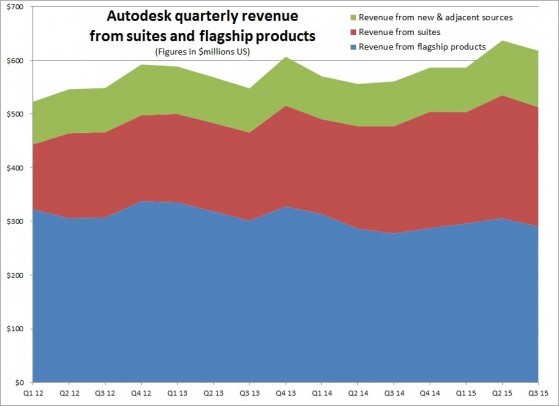 Milestones
During the quarter downloads of the Mac version of Autodesk Fusion 360 cloud mechanical modeler topped the 100,000 mark.
The manufacturing division made its largest sale ever, an "eight figure deal" that included a "significant" investment in Autodesk PLM 360. "They were struggling with legacy PLM and wanted something better," said Bass.  Citing Autodesk's recent successes with PLM 360, Bass added that a new cloud-based product data management (PDM) product will be released early in the new year.
Six more of our custom charts follow. For larger versions of these charts, visit our Facebook page.
L. Stephen Wolfe, P.E., a contributing analyst for Jon Peddie Research, provided research and his usual legendary insights for this article.