North America sales helped overcome soft results in Europe. Ansys continues to buy back its stock.
Ansys has reported a "normal" third quarter—normal for Ansys. For the period ending October 301, 2014 revenue was up 10% from a year earlier, to $234 million. Net income for the period was up 5% to  $65.5 million.
Breaking down revenue further:
Software license revenue was $139.9 million, up 8%
Maintenance and service revenue was $94.4 million, up 12%.
Like most companies in technical software, Ansys is working to get its customers on long-term subscriptions as opposed to periodic purchases. Ansys is succeeding better than most: recurring revenue is now 72% of revenue.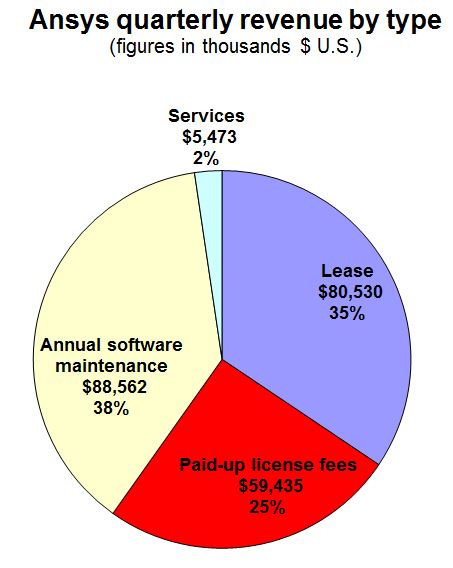 Ansys CEO Jim Cashman says results came from double-digit growth in both North America and Asia-Pacific, particularly in the electronics, semiconductor, and aerospace verticals. Cashman described European business as mixed, with Germany below normal. Cashman also noted that the company's top 100 customers "continue to broaden and expand their simulation investments at a faster pace than the overall base."
Ansys recorded 22 deals for over $1 million in the quarter, including one customer with orders over $10 million for the quarter. This compares to 15 orders over $1 million in the prior year period. Ansys says the average deal size among transactions over $1 million increased more than 50% over the comparable deals in the same period of last year.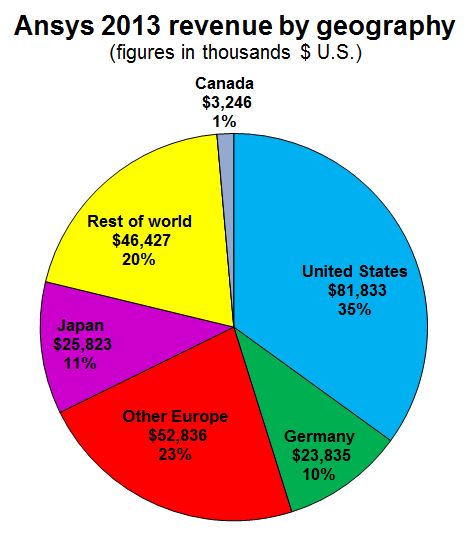 Ansys repurchased 461,300 shares during the third quarter and 1,431,500 in the first nine months of 2014. Generally companies repurchase their stock for one of two reasons: to decrease supply in hopes to drive up the price, or to take advantage of a low price. Cashman says the continued buyback "creates value for our stockholders."
This was the first quarter that revenue from the recent acquisition of SpaceClaim would be included in results. In papers filed with the SEC, Ansys described the contribution of SpaceClaim as "not material," accounting shorthand for less than 5% of revenue. ($11.7 million is 5%).
Three more of our custom charts follow. For larger versions, visit our Facebook page.
L. Stephen Wolfe, P.E., a contributing analyst for Jon Peddie Research, provided research and his usual legendary insights for this article.