The focus on mega-projects and infrastructure leads to a new generation of products better able to serve comprehensive project delivery, from initial design to decommission.
By Kathleen Maher
Bentley Systems is one of the lead­ing companies in software for AEC and BIM, and they've created a strong mar­ket for themselves by concentrating on the infrastructure industry. The com­pany competes fiercely with Autodesk in BIM, where the two companies often meet on large projects. Bentley claims it wants to be a good partner with all the parties in a project and has made col­laboration and format exchange a key part of its message for customers.
Every year, the company reports on its progress at its Year in Infrastruc­ture event. Reflecting the big projects the company has been involved in, the company has been holding the event the past couple of years in London. Bentley Systems is involved in the huge Cross­rail project revamping transportation in London and also the advance of high-speed rail throughout the country in the HS2 product. In addition, the London skyline is punctuated by cranes, which mark the sites of new construction.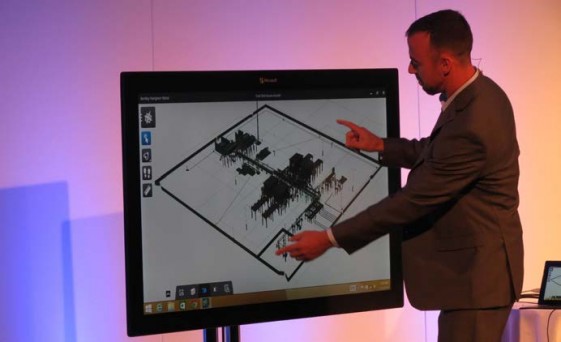 This year was particularly notable for the company on several fronts. It used the event to unveil its new genera­tion of products, the Connect Edition; it showcased an impressive range of mega-projects being planned, designed, and managed by Bentley software; and the privately owned, family-owned com­pany turned 30 this year. At this year's event, the company also provided up­dates on their alliances with Siemens and Trimble and unveiled their next generation of products called the Con­nect Edition. As the name implies, the new products will emphasize the ability to stay connected and access informa­tion, and there is a strong mobile com­ponent to extend connectivity to people in the field. Bentley has also maintained a longtime alliance with Microsoft, and they're building out their connectivity via Azure.
The first Connect Edition products out of the door include MicroStation Connect, some ProjectWise services, and the Navigator Connect applica­tion. MicroStation Connect is already available to customers in the company's Early Access program. The complete line of products will be released through 2015 and 2016.
It is part of Bentley's philosophy to maintain their DGN file format to as­sure interoperability among users, and the Connect Edition will continue that policy. The company is also enabling compatibility with its previous genera­tion of V8i modeling applications.
The idea of connectivity is broad as Bentley continues its integrated ap­proach. The idea is that project mem­bers can easily connect with the tools and information they need wherever it lives and that means across different product lines from different companies as well as products within the Bentley family.
Another vehicle for interoperabil­ity between companies is Bentley's iModels, which is a method of pack­aging data for exchange that enables models to be visualized but also in­cludes relevant data that adds value to the package for everyone sharing it. iModels were introduced by Bentley for use in the plant industry, but Bentley is expanding their use through­out its products, and several important entities are using iModels as a required method of content transfer.
Bentley has been laying the ground­work for interoperability with a restruc­turing of its licensing models includ­ing its Passport subscriptions, which make everything available and is widely used by the company's core group of large companies. Last year the company rolled out its SelectServices model, which lets customers use any tool in the Bentley portfolio. If they stick with it, they can pay as they go. If they only try it out, they're not charged. Such flexibility in licensing makes it easier for companies to get at the tools and data they need and also opens up new workflows for collaboration.
Playbooks and Playlists for work
Bentley has a flexible licensing scheme that makes it easy for subscrib­ers to access the many applications in the Bentley portfolio, and with the Con­nect Edition they've added the Playlist and Playbook. The Playlist is a personal­ized list of the applications, tools, speci­fications, and information appropriate for people involved in a project ac­cording to their role, and also includes personalized learning paths and "just-in-time recommendations." The Playlist enables cloud-provisioning and provides access to functional components (com­ponents of a model that can be reused in a project or for other projects) and managed specifications. The idea is that users can get to every bit of informa­tion related to a project via the network, cloud, desktop—wherever that informa­tion lives. Similarly, the Playbook is a project-oriented tool, so it also includes suggested applications, training, and ac­cess to specifications and catalog com­ponents, but those are going to be based on the requirements of each project. The tools are also good ways to encour­age Bentley users to add on to their tool portfolio.
Bentley has been experimenting with the potential of mobile apps, and they're updating the idea with a fluid approach they call app-lications. Meaning the apps may function as point tools on mo­bile devices in the field, but they might also function as more complete appli­cation tools when used on PCs. For in­stance, one of the showcase apps includ­ed an updated Navigator version, which was demonstrated on a Mac tablet and on a PC including a Microsoft's large-size Perceptive Pixel Screen to enable a touch application to be used for presen­tations or data exploration in groups.
Hybrid and cross-platform
Bentley's strong focus on project management and collaboration has driven its flexible approach to network­ing through its history and through its use of Microsoft's Azure platform. The company is forging hybrid approaches that are likely to expand with time with the potential of more cloud-based power. At the company's press conference, Greg Bentley told the audience that the "number of compute nodes are almost infinite." Companies may access services and information via their own networks or the cloud or as seems to be happening more and more, a combina­tion of those approaches.
Bentley is interested in cloud-based access to software, but so far, the com­pany doesn't see a huge pull in that di­rection, notes Bentley VP Huw Roberts. He asks what problem cloud-based ap­plications solve, suggesting that Bentley will go there when that makes sense. For instance, Bentley makes MicroStation available in the cloud, so when people want to test the program, they don't have to download it.
Primarily, Bentley sees companies using cloud services in a hybrid manner to ensure data is synced and up to date and locally accessible. Roberts believes their partnership with Microsoft takes Bentley to a system that's easier for customers to turn on. Microsoft pro­vides the storage as needed, and Bentley provides the on/off switch and metering.
Extending connections
Bentley describes its new generation of products as an ecosystem of tools that help the people on projects break through silos of workflows and infor­mation. But the work that has been done on this generation of products goes through the entire product line of the company.
The company says its new level of in­tegration enables comprehensive project delivery through common environments including:
Common Project Environment: Tools built around ProjectWise to enable better collaboration and information access. Bentley is assuring a consistent view into the project for every mem­ber on a team.
Common Modeling Environment: Mi­croStation is getting an updated inter­face, which is extended to all Connect Edition modeling tools.
Common Deliverables Environment: Tools for "consistent and combined deliverables across multiple disci­plines," Bentley now has consistent tools for creating submittals, RFIs, and automated workflows to make it easier to publish iModels and stan­dardized content.
Common Data Environment: Built around Bentley's eB Information Management Technology and ProjectWise Engineering Content Manage­ment, the common data environment captures IP and maintains data re­lationships, ensures round-trip data integrity, and standardizes workflows via new forms tools.
Common Performance Environment: This environment provides project performance dashboards, analytics, reporting and accounting tools.
This conference, which highlights the work of Bentley's customers, is primar­ily a showcase for large customers, and Bentley works closely with them in a partnership arrangement. In those cases there are commitment and resources to commit to an integrated system. How­ever, Huw Roberts says this new generation of products also goes a long way toward empowering smaller com­panies because it's easier to get up and running and to turn on new tools. He also mentioned the role of Microsoft and Azure in empowering smaller com­panies because they are handling the management of networking and stor­age tools.
What do we think?
Bentley's strength might also look a bit like a drawback. The company has a multitude of modules customized for every kind of workload. Customers have complained, and the company has responded by making the modules more organized and accessible to the appro­priate users on a project. A little pruning and streamlining may be in order, but Bentley has benefited in comparisons with Autodesk's Revit, which keeps all the information related to a project in a single file. As projects are growing, the participants in BIM multiply, and the files get larger, it becomes much more problematic to centralize data to the ex­tent that Autodesk does.
Still, the management of huge proj­ects is a complex challenge with a long list of requirements and armies of sup­pliers and specializations. It could be argued that the company with the most pieces of the puzzle has the best chance of putting it together—at least that's the argument Bentley is making.