Government mandate is forcing AEC firms to re-evaluate what software they use.
According to results from the fifth annual NBS National BIM Report 2015, Vectorworks Architect is the most popular building information modeling (BIM) architectural software in the United Kingdom. Twenty-nine percent of respondents said they use the solution for designing with a BIM workflow. In second place is Autodesk Revit; 25% of respondents say it is their main BIM tool.
NBS stands for National Building Standards, but it also an agency under the direction of the Royal Institute of British Architects (RIBA). This is the fifth year NBS has conducted the survey and published the report. Requests for AEC professionals to complete the survey were widely circulated, but NBS notes, "We suggest a little caution in taking this as a definitive description of the UK market." For example, an analysis by project costs would put Bentley MicroStation into the top two or three BIM products, instead of showing in seventh place in the NBS survey.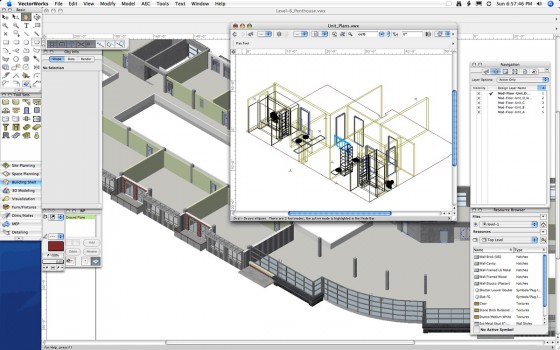 A UK legal mandate requires BIM deliverables for significantly sized, government-funded projects by 2016. As a result, Vectorworks says it has seen significant growth as AEC firms adjust to the mandate. "This year's survey results were a surprise," says the BIM Report. "Last year we noted that 'Graphisoft ArchiCAD and Nemetschek Vectorworks continue to have a loyal user base'. Analysis of the data suggests that this loyalty has translated into a significant increase of respondents to the BIM survey among Nemetschek Vectorworks customers, resulting in it being the most used piece of software among our respondents, with 29% using it."
Since NBS started running the survey in 2010, Autodesk AutoCAD has consistently been the most used software package for building design in the UK. Last year Autodesk Revit took top spot, reflecting the increasing numbers producing fuller information models. "This year's survey results were a surprise," says Adrian Malleson, head of research at NBS and a co-author of the report.
Sales across the Vectorworks family of design software, which includes Architect, as well as Designer, Landmark, Spotlight and Renderworks, have doubled in the UK over the past five years, with over 8,700 new designers choosing the platform as their design solution over the same time period. With the 2016 mandate drawing closer, Vectorworks says it recorded a 44% increase in new UK users in 2014.
"We've witnessed a rapid and widespread adoption of BIM workflows from our customers," says Sean Flaherty, CEO at Nemetschek Vectorworks. "Taking advantage of BIM is an opportunity for Vectorworks Architect users to add value to the design creativity they already lend to a project, as well as work more efficiently and collaboratively across disciplines," Flaherty says.
"We are using 3D modeling from the outset on most projects now," says Robert O'Leary of O'LearyGoss Architects, a 12-person firm in Bristol, UK that uses Vectorworks Architect for residential development, healthcare and community design. "Modeling allows us to examine design solutions in context ourselves… We also enjoy less risk of errors between different drawing types… and the ease of generating plan sections and elevations once a change is made."
Nemetschek Vectorworks was founded in 1985 and has been a part of The Nemetschek Group since its acquisition in 2000. Another Nemetschek brand, ArchiCAD, also showed up in the survey as used by 8% of respondents.