The link allows two ways to bring Rhino models into ArchiCAD. A leading Japanese architecture firm helped build and test the technology.
Architectural software developer Graphisoft has teamed with the popular industrial design tool Rhino to create new connection technology between the two products. The connection enables ArchiCAD users on both the Mac and Windows platforms to import Rhino models into ArchiCAD as GDL (Graphisoft Design Language) objects.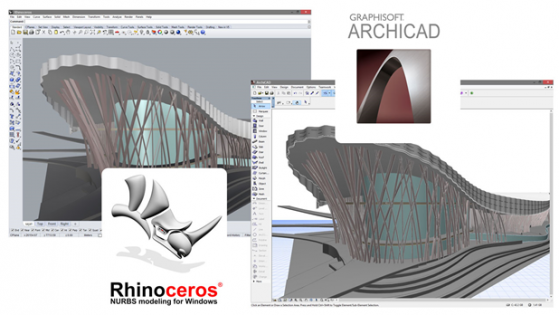 The Rhino-ArchiCAD link converts a Rhino model into ArchiCAD geometry.  The container of the Rhino-based model is GDL, ArchiCAD's generic object format.  For larger and complex models, Graphisoft has introduced the option to convert a Rhino model into a set of (smaller) GDL objects. This process enables the user to retain separate logical parts within the same model while providing a functionality to monitor and update the imported Rhino models in ArchiCAD. The ArchiCAD Library Container File (LCF) option is also available, which enables ArchiCAD's performance optimization algorithm to work on an imported large Rhino model.
The technology has been developed as part of an ongoing collaboration between Graphisoft and international architecture design firm Nikken Sekkei, which has more than 2,400 professional staff in 40 countries. Founded in 1900, Nikken Sekkei has designed more than 20,000 projects over the years.
"We welcome Rhinoceros into the ArchiCAD community," said László Vértesi, Graphisoft Vice President of Product Development. "Rhino provides a robust modeling capability that nicely compliments the ArchiCAD BIM solution."
What do we think?
It is easy to confuse size with influence. Autodesk and Bentley have a large portion of the architectural design software market, but they are not the only significant players. Especially outside North America, Graphisoft's ArchiCAD remains a significant player in architecture.
ArchiCAD was the first true 3D software for architecture to come to market, back in the 1980s. It was BIM before Revit even existed. After seeing a short demo, Apple's Steve Jobs make sure Graphisoft founder Gabor Bojár had the equipment he needed in Soviet-era Hungary to keep working on his architectural software. A few years later the Wall Street Journal ranked ArchiCAD among the ten most important innovations in software. When Jobs passed away, Bojár erected a statue in his honor at Graphisoft Park, along the Danube in Budapest.
As for Rhino, it is everywhere. Creative professionals who need 3D for conceptual design often turn to it. It is only logical that Graphisoft and McNeel & Associates (publisher of Rhino) team up.