North America was up, Europe and Japan down. Next quarter could be just as lean.
By Randall S. Newton
Ansys (Nasdaq: ANSS) has reported first quarter 2015 results that, by its standards, seem unusually timid. Revenue was $217 million, up only 1% year-over-year. Ansys was hit as hard as any vendor we cover by foreign currency issues in the quarter; revenue would have been up 8% if there were no FX issues.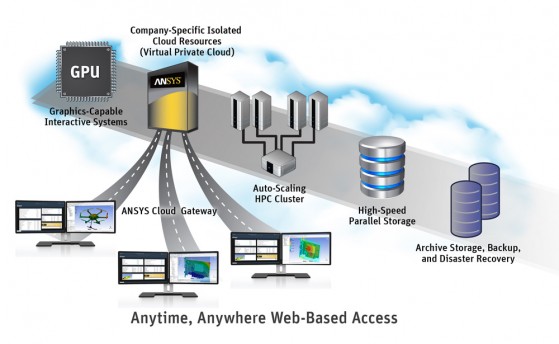 On a geographic basis, revenue was pretty good in both North American (up 10.7%) and Asia/Pacific (up 9% despite Japan having an off quarter), the two regions with currency fluctuations that mostly favored a company based in the US.  Revenue from Europe was down 9%, due primarily to cutbacks in spending as the Euro plummeted.
Net income was $56.1 million, down .7% from 1Q14.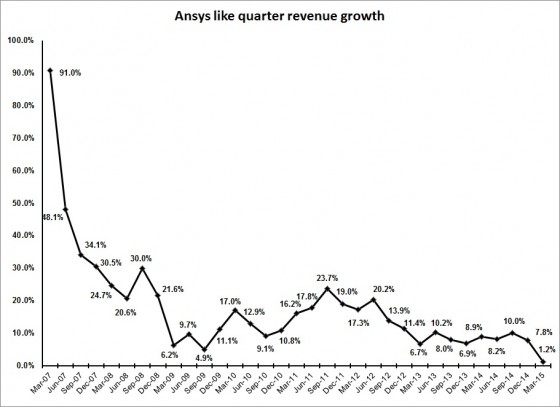 In the conference call with Wall Street analysts, Ansys said that performance in the first quarter was constrained not only by currency issues but also by sales capacity. During the quarter the company added 35 new employees in sales, and intends to hire more during the current quarter. During the quarter Ansys released a major update of its flagship product, Ansys Workbench 16.0, which should spur sales in the second quarter.
Looking at revenue in detail:
Lease revenue, $217 million, down 0.7%
Paid-up license fee revenue, $46.7 million, down 1.9%
Annual software maintenance revenue, $87.6 million, up 5.6%
Services revenue, $5.1 million, down 11.2%
By regions:
North America revenue, $81.5 million, up 10.7%
Germany revenue, $23.2 million, down 7.7%
Rest of Europe revenue, $45.1 million, down 10.4%
Japan revenue, $26.7 million, down 7.7%
Rest of Asia/Pacific and world, $37.9 million, up 10.8%
What do we think?
Ansys is a temporary victim of its own success. Because manufacturers are realizing significant benefits from investing in simulation, Ansys software (as well as the competition) has become deeply embedded into workflows. Buyers can't easily switch from one simulation vendor to another, but they can delay purchases. Having a new version of Ansys Workbench on the market should help in the second quarter, but the business TV network soothsayers are saying currency issues won't favor Americans selling overseas for a while. The third quarter might also be a thin one for Ansys.
Four more of our custom charts follow. For larger versions, see our Facebook page.
Stephen Wolfe, P.E., a contributing analyst for Jon Peddie Research, provided research and his usual legendary insights for this article.