Software is transforming every stage of the manufacturing process. Small companies with niche technologies are being gobbled up.
By Kathleen Maher
May Day is over and the workers of the world are still pretty much wearing their chains. Ironically, the children of workers over in China are driving Ferraris and sporting Prada handbags. And, if wages aren't going up and hours coming down all around the world exactly as they should for workers, wages are going up enough to encourage companies to bring manufacturing back home.
There are benefits to making it at home—transportation costs are less. JIT (just-in-time) cycles are tighter. People have the satisfaction of buying and using products made by their neighbors, or cousins, or at least someone who lives in the same country and, probably, pays taxes.
So, where is the evidence? The U.S. reported slower job growth for March and April compared to earlier months. So far, the government has reported 115,000 jobs for April. This is down compared to February. There are all sorts of reasons given for this some good, some bad, most political. But, slow or fast, the important thing is that jobs are being added in the U.S.—more so than in Europe. And one of the strongest areas of growth is in manufacturing. The "Manufacturing ISM Report on Business" published by the Institute for Supply Management reports that economic activity for the manufacturing sector grew for the 33rd consecutive month. We're still trying to come out of the recession and it could well be that growth isn't so fast in some sectors because it doesn't have to be.
A logical outcome of recession is increased productivity and as it turns out the United States is very good at this. Economics professor Mark J. Perry at the University of Michigan has published a chart showing the gains made by U.S. workers in productivity. He says that in 1950 the average U.S. factory worker produced $19,500 of output. Output doubled to $38,500 by 1976, and doubled again by 1997 to $74,400. (These figures are all calculated in 2011 dollars.) He says that in 2011, manufacturing output reached a record high of $156,500. Perry says, "the average American factory worker today produces more output in an hour than his or her counterpart produced working almost a ten-hour day in 1947."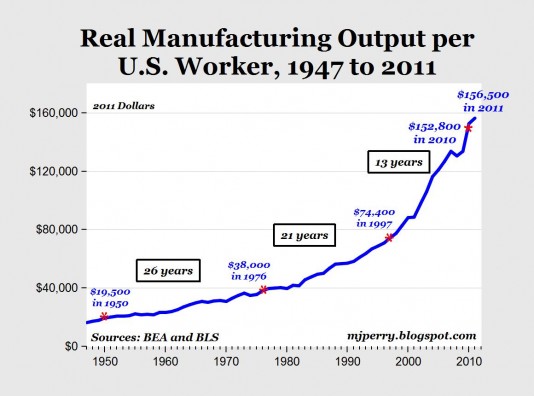 It's going to be different this time
As manufacturing grows in the United States, it is changing from end to end. As a matter of fact, even the ends are changing. As an easy example, as more analysis goes into the early stages of design, then, it is hoped, there is less need for prototypes and redesign and do-overs. And, on the output side, sometimes the nearly-finished product is a model used to create animations. For instance, that famous car driving along the California coastline may not actually be built yet. And, as some of us know about the California coastline, that chunk of it might not even be there any more.
When it comes to manufacturing, some of the steps in the pipeline are being eliminated and new pieces are being shoe-horned in there. Manufacturing, an industry we think of as a heavy metal enterprise, is being redefined by software.
As a matter of fact, this revolution isn't just about manufacturing. Similar workflows are also evolving in building design and construction. The inter-relationship of the real world and the digital world is tightening up. And in fact, let's look at how different companies are building two-way paths between ideas and reality. We're calling this part of the industry Digital Reality and it is the fact that data flows both ways, from concept to reality but also from reality—the thing as it presently exists in the real world—back to a model where the information can be used to maintain a design, update information, or iterate a new design.
Consolidating into a segment
When we say the Digital Reality market is coming together, we mean it pretty literally. The leaders in this new market are emerging as they grow and acquire smaller companies that will move them further towards their vision of what the Digital Reality market is and where the opportunities are. If you weren't really paying attention, the flurry of acquisitions by 3D Systems should serve as a pretty effective 2 x 4. 3D Systems and Stratasys are emerging as the leaders of the additive manufacture business—a business that has also been called rapid prototyping and 3D printing.
Additive manufacture techniques, the process of building a 3D object by adding layers is a linchpin in the Digital Reality workflow but the course of development has been long. Early machines were big as houses and expensive, materials were fragile, and the chemicals used noxious.
3D Systems has been systematically buying up companies in its sphere—mostly little ones. The company is racing to push the 3D printing market down to more mainstream levels and from here it looks like it hopes to sweep up all the adjacent technology it can before its rival, Stratasys does.
Most recently, Stratasys bought Objet just as the Israel-based company was planning an IPO. All three companies, Stratasys, Objet and 3D Systems are making close to about same amount of money, In 2011 Stratasys reported $155 million, 3D Systems reported $230.42 million, and Objet $121 million. That seems shockingly low, especially for a company like Stratasys that has been around since 1990. On the surface, then it would seem that there's not a lot of money in 3D printing.
The truth is there is a lot of money to be made in the whole field of Digital Reality and companies are jockeying for position. The 3D printing companies are improving their revenues through acquisition and 3D Systems has pulled ahead. In the first quarter of 2012, 3D Systems reported revenues of $77.9 million for the quarter, a 63% from the same period a year ago. Organic revenue (from products and services owned for more than one year) was up 26% from a year ago.
Net income for the first quarter of 2012 (ended March 31, 2012) was $6.2 million, down 9.3% from the first quarter of 2011. The company says expenses related to recent acquisitions increased expenses and lowered profits.
Product revenue in the quarter was $49.4 million, up 69% year-over-year. Services revenue was $28.5 million, up 52% year over year.
Clearly, in this business it's not about the machine any more than HP's printer business is about printers. Almost 68% of the company's business was in services and materials. The company made around $24 million or so selling printers. The company said their printer sales were up 153%, an increase of $11.2 million over last year, which means, they had about $12 million in printer sales last year. 3D Systems didn't release unit shipments, but they did say their sales are up on the basis of lower cost products including their new Z Corp printers. As a point of comparison, competitor Stratasys says they shipped 700 printers in the fourth quarter of 2011. Revenue from new products was $23.9 million in the quarter. 3D Systems says they've also been devoting funds to their Cubify division which is making cute little printers for the home market. Priced at $1,299, they're not for every home.
3D Systems is full of bravado. The company says it expects to see revenues of $330 million this year. They're going to be very very busy meeting those goals and assimilating all the companies they've been acquiring. 3D Systems has acquired direct rival ZCorp and along with it Vidar, a deal which extends 3D Systems reach into the medical imaging market. It has also acquired Paramount Industries, for product development systems. My Robot Nation, a DIY toy company, to design-your-own robot, which complements its newly founded consumer division Cubify for the creation of toys. As this is being written, 3D Systems just announced the acquisition of Dutch company Fresh Fiber. Like My Robot Nation, Fresh Fiber gives customers online tools to create their own mobile phone covers as 3D printed one-offs. Just in case you might want to design something other than a robot, 3D Systems also picked up 3D modeler Alibre.
Alibre doesn't even show up as a blip in 3D Systems' financial results. In this case the acquisition of Alibre was not about increasing revenue, it's about building pipelines. With Alibre, 3D Systems can offer CAD as part of a system for original design and reverse engineering.
During its most recent conference call with Wall Street analysts, 3D Systems CEO Abe Reichental emphasized the company's bullish attitude: "We believe the marketplace for our professional and consumer 3D content-to-print products and services is underdeveloped and underpenetrated."
Stratasys stirs
With the acquisition of Objet, Stratasys shows itself to be ready to get into the fight for market share. Stratasys reported record earnings in 2011. The company's acquisition of Solidscape, a New Hampshire company specializing primarily in wax printers which can be used in investment casting and mold making applications added $3.2 million to Stratasys' coffers. Stratasys says they shipped 68 Solidscape printers.
They'll ship even more with the acquisition of Objet. Objet gives Stratasys a lineup of printers and technologies to put up against 3D Systems, including Objet Studio software, which massages STL and SLC files exported from 3D CAD software to ensure better models earlier in the process. The company has what it calls personal printers in the Objet 24 and Objet 30 printers. They'll complement Stratasys' own uPrint printers.
Objet has just announced multi-color capabilities for its Connex printers. It was announced at a special event in Paris at the Pompidou Center. Objet sponsored the annual Multiversités Créatives, which includes work by Neri Oxman, an artist and architect who explores the creation of organic shapes for art and architecture. Oxman's work at the exhibit, Imaginary Beings – Mythologies of the Not Yet, reflects her interest in the human body and how additive processes like 3D printing reflects the way human and animal tissue is created. The exhibit includes 18 human prototypes created by Oxman using Objet's printers.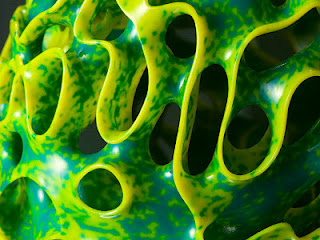 Points and clouds
Okay, so much for the outie end. Let's look at the inny. The companies making data gathering tools have been building up their software expertise and building out their pipeline too. The instrument companies need software to process real world data and render it useful to computer programs but these companies want more than to play nicely with design software leaders, they want to compete or at least own their own share of the market. The melding of point cloud processing software with 3D scanning technology, LIDAR, GPS, photogrammetry is being used to increase the efficiency of factories, milling machines, and steering tractors.

Out there in the field, Trimble has been flying under the radar. Its survey tools are used in construction and civil engineering. So, it would not be exaggerating to say it was a surprise when Trimble announced plans to buy Google's 3D front-end modeling tool SketchUp. But, it does make sense. Trimble deals in volumes. Its products are used in civil engineering and surveying, their products guide big digs and the diggers themselves. If we were the type to succumb to the glib turn of phrase, and we certainly are, we'd say Trimble is looking at its role in design and construction from top to bottom.
In April, Trimble bought Gatewing, a company based in Gent, Belgium, which builds lightweight unmanned aerial vehicles (UAVs) used for photogrammetry and terrain mapping. The machines gather aerial imagery for mid-sized areas to create orthophotos and Digital Surface Models (DSM). In addition to their vehicles Gatewing has Stretchout desktop software for digital image processing and analysis. The company's X100 UAV is an ultralight machine that weighs in at 4.4 lbs. in and includes GPS, inertial system and radio, 10 megapixel camera and battery. Gatewing was working with Trimble using Trimble's Yuma tablet computer. The terrain is mapped through parallel flight paths and consecutive, overlapping camera shots. Image sets are created and tagged with GPS coordinates.
The Stretchout software using advanced computer vision technology converting raw images into georeferenced orthophotos and digital surface models.
Gatewing will be part of Trimble's Engineering and Construction segment.
Earlier in the year, Trimble made a considerably more down to earth acquisition. The company acquired Swiss company Plancal. Plancal makes CAD/CAE, and ERP software for the mechanical, electrical, and plumbing (MEP) and HVAC industries. Its customers are primarily in Western Europe. Plancal's technology will give Trimble more products for its BIM to Field strategy, which Trimble says is a way to enable information developed in the office, during the design and engineering phases to be available to the people and machines working in the field. Plancal, says Trimble, will enable the company to develop a compelling set of dedicated MEP workflows and productivity solutions for contractors. Plancal has its own 3D CAD/CAE engine called NOVA and also an ERP application called Snap/Go.
Trimble Vice President Chris Gibson says "With the addition of Plancal, Trimble continues to reinforce its goal of providing a complete portfolio of building construction solutions while strengthening our commitment to meet the unique needs of the European MEP market. Plancal's strength lies in its ability to offer localized construction software applications and provide users with intuitive work processes for optimal efficiency and productivity in the office."
It has been Trimble's job to help people and companies see where they're going and now we're getting a glimpse into where they're headed. While, on the face of it, the SketchUp acquisition may have seemed a surprise, Trimble has been developing products to for this concept of BIM to Field all along.
Meanwhile, in Sweden, Hexagon has announced the acquisition of the Canadian company MicroSurvey. MicroSurvey develops surveying and mapping software for land surveying, construction, and forensic markets. The company is small, about 30 people, but it has enjoyed very rapid growth. The company's product line includes PointCloud CAD, its tool for processing point cloud and LIDAR data. PointCloud CAD also has rendering capabilities and can automatically extract and draw road lines. Its InCAD software can work within AutoCAD, but they've also built MicroSurvey CAD on the IntelliCAD engine and they have also built on Autodesk's OEM CAD engine for standalone products.
Hexagon CEO Ola Rollen says that Hexagon's data gathering instruments and MicroSurvey's software will expand Hexagon's development capabilities in several key markets including land surveying, construction, and public safety.
Like Trimble, Hexagon is absolutely no slouch when it comes to acquisitions but most of the acquisition work started in the field for data gathering instruments. The company has made 70 acquisitions since 2000. It amassed a great deal of technology, intellectual property, and metrology hardware manufacturers during that time and, with the acquisition of Leica Geosystems, it completed a cycle of consolidation in metrology. Leica acquired long distance scanner maker Cyra, and ERDAS among others. In 2010, Hexagon jolted the CAD world with the acquisition of CAD giant Intergraph. Hexagon says the acquisition enables Hexagon to seamlessly connect the real world with maps or drawings. In addition to being a leader in Process and Power CAD, Intergraph is also very strong in GIS, mapping, and infrastructure design.
Other moves
The consolidation in this industry is seriously picking up stream. This article is being typed quickly in case someone else makes another acquisition and that one has to be added to the story. It's getting hard for the players in this field to find young companies to acquire at this point and they're snatching acquisition prospects away from each other like kindergarten kids. As Bentley Systems started working with PoinTools in 2009-2010, it made a point of wrapping the company up with a first-refusal deal in case anyone else wanted to buy the company. PoinTools was being circled heavily by potential buyers, and so Bentley closed on their option and bought PoinTools. Bentley will integrate point cloud intelligence into several its products. The technology is widely used now in the process and plant industry so that will be an early target but it's also being used on factory floors and as we've discussed, in construction and surveying.
Just before Bentley made their acquisition of PoinTools official, Aveva announced the acquisition of LFM software from strategic partner Z&F UK of Manchester, UK and Autodesk acquired point cloud wizards Alice Labs from the Netherlands.
Aveva is a very strong playing in the process and power industry. At the time of the acquisition the company said the immediate result of their acquisition of LFM will be tighter integration between laser data and Aveva Laser Modeler. The company says it will be able to reduce the time needed to create 3D models using point cloud data. Aveva makes a point about its independence from the hardware used for data gathering. The LFM suite supports data gathered from any hardware vendor. Aveva has developed their own tools, Laser Model Interface, IntelliLaser, and Laser Modeler. As Aveva puts it, the LFM technology "will underpin Aveva's existing suite of solutions." The two companies have been working closely together before the acquisition.
As for Autodesk and Alice Labs, no doubt the company is building point cloud intelligence into its design tools. We had heard the company was trying to develop its own point cloud to CAD technology but Alice Labs helps them get there a lot faster. Someone close to the deal told us that Autodesk has been trying to combine point clouds and photogrammetry. Autodesk wants to have tools that can selectively replace certain areas with dense scan data, and leave other areas, that are less critical in photogrammetry data. And one important trend that's being pursued by most CAD vendors is the ability to integrate point cloud data with 3D model data.
Autodesk is showing a lot of interest in the use of scanning, LIDAR, photogrammetry, additive manufacture, 3D printing, (pick your tag) for cloud consumer applications and for more efficient manufacturing processes. The potential of new manufacturing methods coupled with easy to use design and 3D modeling tools to transform manufacture and, in the process, world economies is an important tenet of Autodesk's view of the future.
Inny, Outy and in between
Geomagic is one of the earliest companies involved in working with point cloud data. Geomagic's technicians are often on-site for amazing projects such as digging a really deep hole for the Long Now clock or scanning the Great Wall of China. Not to be left out of the consolidation party going on, the company is addressing another side of digital reality and one that has been long neglected, the tactile. Earlier this year Geomagic acquired Sensable technology which adds force feedback to enable people to feel an object as they refine a design. This has obvious users for designers who do early stages of their conceptualization in clay, but as we talk more and more about how these technologies become more mainstream, it's worth thinging about what it would be like to feel the texture of a statue, or of the Great Wall, for that matter. What could be more digitally real than digital touch?
Rolling it up
As the companies in the digital reality business transform themselves through acquisition, they are helping to redefine several industries. If ever we were watching an organic process we're watching one now. New workflows are being defined by the paths of least resistance, gravitational pull, and company inclinations, but there is also a deterministic feel to the process. The digital data gathered by cameras, scanners, radar, LIDAR, accelerometers, UAVs, road graders, probes, video, forms a digital circle of life with real world objects. We started out talking about manufacturing, but manufacturing itself will become more of a metaphor as the processes used to design, optimize and build cars will also be used to build a house, or create a replacement part for a child's favorite toy.
It will all be manufacturing and it will all be local.