New website allows anyone to publish interactive 3D content online; all it takes is a WebGL-compatible browser.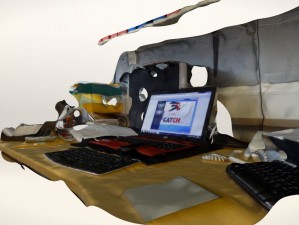 Sketchfab went live today with new technology making it easy to publish interactive 3D content online. The free service does not require any third-party application installed on either the client side or the server. All Sketchfab needs is for the end-user to be running a WebGL compatible browser.
To share a model, upload it to the Sketchfab site; a free account is required. The Sketchfab server will process it and put it on display. To display it at another web site (as we are doing in this article), copy the provided embed code; the process is the same as embedding a YouTube video. Sketchfab users are free to remove models at any time. To upload models with textures, pack all the files in a .zip file before uploading.
There's a Facebook page for anyone who wants to follow the company: https://www.facebook.com/SketchFab
A Sketchfab model of The Athenian Treasury at Delphi. It was constructed by the Athenians to house dedications made by their city and citizens to the sanctuary of Apollo. (Source: Sketchfab)
Sketchfab supports the following 3D content file types:
Blender (.blend),
Collada (.dae),
Wavefront (.obj),
OpenSceneGraph (.osg, osgt, osgb, ive),
3DS (.3ds),
Lightwave (.lwo | .lws),
Polygon File Format (.ply),
Virtual Reality Modeling Language (.wrl),
Open Inventor (.iv),
Shape (.shp),
Standard Tessellation Language (.stl),
Biovision Hierarchy (.bvh),
Open Flight (.flt),
ac3d (.ac),
DirectX (.x),
Designer Workbench (.dw),
3DC point cloud (.3dc),
carbon graphics (.geo),
Generic Tagged Arrays (.gta)
The promise of WebGL realized
When WebGL was being discussed a few years ago as the next generation of browser technology, there was both a sense of "oh yeah!" and "so what?" that accompanied the discussion. Sketchfab is showing the value of having a standard platform for 3D graphics display. No complicated plug-in, no specific creation program. A wide variety of content creation programs can output models to the data formats listed.
Co-founders Alban Denoyel (CEO) and Cédric Pinson (CTO) are no strangers to 3D content, having worked with WebGL since the day the first finalized spec was available for development.
Denoyel says the motivation to start Sketchfab "was to provide 3D artists a great tool to show their work online. Many of them have portfolios on CG communities like Deviantart, but it's all 2D. We want to bring 3D to the Web with a universal 3D viewer."
In the short term, Sketchfab plans to keep adding formats and rendering features, and also work on scripts to export directly from various 3D software products to Sketchfab. A professional version, based on a monthly subscription, is also in the planning stages.
From the Sketchfab library, "Bob," modeled and textured in Blender. Character design © Angry Mob Games. (Source: Sketchfab)