Adobe's big upgrade includes a new stock service integrated with Creative Cloud products. 
Adobe's latest release of Creative Cloud tools and products is a big package with a strong focus on mobile, but the big news is Adobe Stock, a new product built on Adobe's acquisition of Fotolia. Stock is offered as an add-on to the company's subscription services. Members will be able to buy stock art for a reduced price of $29.99 a month for 10 images or $9.99 for one image.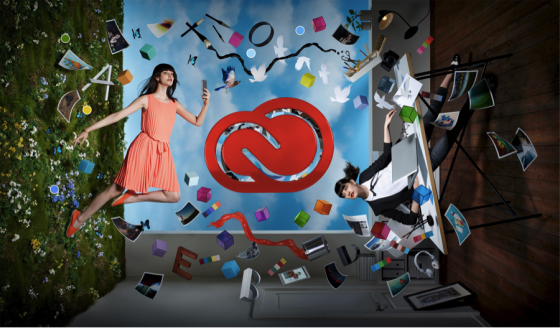 Apparently, Adobe is keeping its options open. Fotolia doesn't go away and Stock will also exist as a standalone site. People who don't have some kind of Creative Cloud subscription can continue to work with the Fotiolia site or they can buy art at Stock. Pricing varies. At a recent visit to Fotolia, art could be purchased for $7.99 or as a packages of images, 5, 10, 50, 100 etc. Over at Adobe Stock, the options are simplified. Customers have the choice of a one-off purchase, monthly, or a bulk option of 750 images for $199 a month. The nice thing they've done for CC members is to enable the images to roll over. If you don't download all 10 images in a month, the leftovers will roll forward to the next month.
In his blog announcement of the service, Adobe SVP and general manager David Wadhwani says that the company has an edge in the $3 billion stock market. "Our customers are avid creators and users of stock content," he says. Adobe figures 85% of creatives who buy stock use Adobe tools and over 90% of stock sellers use Adobe's tools to create images. Adobe is taking some of the friction out of the transactions to buy and sell content. Adobe says it is giving artists a square deal with percentage cuts.
The rest of the stuff
Adobe has been concentrating on cross-platform workflows. The company has been steadily rolling out new products for mobile that interact dynamically with desktop companions. For instance, artists can start a piece on their phone, sketching out a comp and adding images, then finishing it in Illustrator. The company is creating a wealth of mobile apps so people can capture ideas, colors, and shapes wherever they are and incorporate it into their work. With this release, Adobe is making the mobile apps more universal. They're adding on Android apps.
The company has introduced Creative Sync, which will make it easier to share art across platforms and to update changes and to share among teams. As one team member updates art, other members have the option of adopting changes.
Much of what's in the official release is not really news. Adobe has been talking about the capabilities and showed some of them at their user conference Adobe Max last year. The company has been working with Microsoft to take advantage of touch and this release adds more support for touch in Lightroom, Premiere Pro, and After Effects.
Lightroom and Photoshop for instance are getting a Haze filter, which promises to reduce the effect of haze in images. (We haven't tested this yet, but we have plenty of test cases). Photoshop is also getting Artboards, an established feature in Illustrator. Artboards let users create different layouts, say different sized ads, or compositions for business cards and brochures within the same file making it easy to share assets and keep designs consistent.
Adobe says Photoshop is also getting a revamp with Design Space, a work environment for mobile apps and web designers. This is part of an broader initiative to support responsive design.
The Mercury Engine is getting dialed up, and the company says they're offering a 2x speed-up in InDesign, 10x in Illustrator and they've been able to boost some Photoshop tasks up to 120x. The support for GPUs is broad-based because Adobe is using both Cuda and OpenCL.