Google Compute Engine and Cloud Machine Learning services will have FirePro boards as compute accelerators. One more unknown success story for open source code.  
AMD has scored a big win in cloud technology, with the recent announcement that its Radeon GPU technology will be available to Google Cloud Platform users.
Starting in 2017, Google will use AMD's fastest available single-precision dual GPU compute accelerators, Radeon-based AMD FirePro S9300 x2 Server GPUs, to help accelerate Google Compute Engine and Google Cloud Machine Learning services. AMD FirePro S9300 x2 GPUs are designed to handle highly parallel calculations, including complex medical and financial simulations, seismic and subsurface exploration, machine learning, video rendering and transcoding, and scientific analysis. AMD says Google will make the AMD GPU resources available for all users of its services globally.
"Graphics processors represent the best combination of performance and programmability for existing and emerging big data applications," said Raja Koduri, senior vice president and chief architect, Radeon Technologies Group, AMD.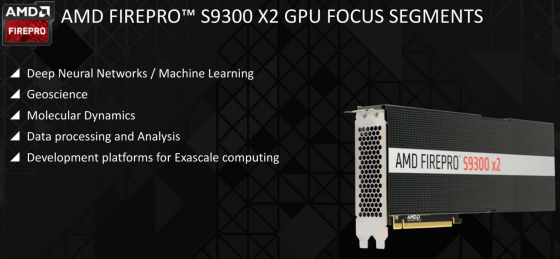 What do we think?
The advantage of AMD's Radeon line over competing models from Nvidia lies in the AMD Open Compute Platform, the only fully open source hyperscale GPU compute platform. One of the secrets of Google's success is its relentless use of open source to create the internal wizardry that makes it so rich and famous. Google can take serious advantage of a resource that is license free and accessible to programmers everywhere.