Qualcomm announces the sale of its AR subsidiary Vuforia to PTC. Most see this as a move to raise value and placate restive investors who are seeking the breakup of Qualcomm. The acquisition will help PTC build its IoT division.
In what seems like a surprising move by both companies PTC has announced an agreement to buy Qualcomm's subsidiary, Vuforia for $65 million.
Vuforia has technology to enable applications "to see," with a variety of targeting technologies including the ability to identify objects, images, and user defined images.
On one hand the deal seems strange because Qualcomm really liked tinkering with its Vuforia division. Last year Qualcomm acquired Envision, a Dutch company with image recognition technologies. Earlier in the year, it acquired Kooaba, a Swiss company with image recognition. Qualcomm has been investing in AR technologies a well as image recognition and depth camera technologies as a way to enhance the value of mobile devices using Qualcomm technology.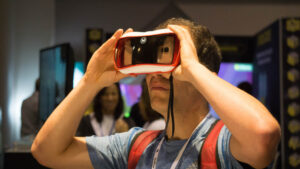 These are dark days for Qualcomm execs. The company's stock has taken a shocking dip as the Apple and Samsung axis have mounted a solid challenge and Samsung  announced it would be concentrating on its own Exynos line rather than buying Qualcomm chips for its phones. Mobile phone sales are down in general, and worse, the Qualcomm Snapdragon 810 was a disappointment for the company. As a result, Qualcomm has been under pressure from investment firm Jana Partners to break up its business. Jana revealed $2 billion in holdings in April 2015 and pushed for a stock buyback to increase value. The pressure for a split has increased since April. Qualcomm has resisted splitting its QTC business which licenses its technology to just about every other mobile phone maker in the world and its QCT business, which is its cash making chip business. Qualcomm executives are resisting the idea of breaking out the chip business but the company began cost cutting including laying off people starting in July, 2015. The goal is to reduce by approximately 10%, or 3,000 to 4,000 people, what one observer said would be equivalent to taking an aircraft carrier out of San Diego.
After all that, Vuforia started looking pretty expendable.
Enter PTC, which is building its IoT business and apparently sees the Vuforia technology and business as just what it needs for smarter things. Vuforia is a well-established platform. It has more than 20,000 apps and the company says there are over 200 million Vuforia application installs worldwide.
PTC says Vuforia has caught the attention of companies who are exploring the potential of augmented reality. The company says, "as part of PTC, Vuforia will allow developers to realize this potential through integration with PTC's industry leading applications and ThingWorx IoT platform."
The Vuforia platform runs across operating systems, it has an SDK and supports developer tools including Eclipse, xCode, and Unity. The Vuforia developer community includes 175,000 registered developers. The brings instant depth to the PTC's ThingWorx platform.
What's interesting is that most of the work done using Vuforia has been around branding and entertainment. Given Vuforia's tools for targeting and image/object recognition, there could be a huge amount of opportunity to improve the ability of machines, devices, cars, phones, PCs to "see."
As it turns out, this is a pretty savvy move by PTC and that $65 million price tag seems pretty reasonable in these unreasonable times. Vuforia gives PTC marketing and branding technology to compete with Dassault's acquisition of RTT, which has become 3DExcite, but also 3D development technology similar to 3DVia Virtools technology as well. PTC has also been building its big data analysis tools around IoT. Siemens and Autodesk have announced new strategies around IoT and big data as well.
The acquisition of Vuforia expands PTC's potential for IoT. It's unclear if PTC will be able to continue to provide the support level, or even have the interest in nurturing Vuforia's smartphone customers. That's not going to help Qualcomm's relationship with its customers.
What do we think?
Qualcomm is probably not going to have much luck trying to buy off Jana with the sale of Vuforia. The investors are looking for a big payday if Qualcomm spins out the chip business.
Qualcomm has other groups in game development, displays, sensors, and specialized chips like the new server chip it announced—they all could be candidates for sell off as the company's management reacts to shareholder pressure.
Meanwhile, it's been amazing to watch the redefinition of PTC. The company has bitten off a lot, but they sure do have the attention of their competitors.