With over 5 million subscribers Adobe's user base represents an attractive target market for tablet and PC makers.
It's safe to say every company involved in digital content has Adobe software somewhere in its system. As a result, the Adobe user base is an important focal point for hardware OEMs. Adobe has been working closely with Microsoft on optimizing the operating system for Adobe's applications and Windows 8 and now 10 – they've concentrated on touch, pen, and natural gestures. For the last two years, Adobe has stressed the importance of working together with hardware partners for optimum performance but which hardware partners? For example, the company has wrung improved performance for its video applications by leveraging the GPU – and again it has worked with the vendors including AMD, Nvidia, and Intel.
So, why were we surprised when Adobe's Director of Design Eric Snowden took the stage and praised the Apple iPad Pro and its new pencil? We shouldn't have been. The message at this year's Max was that people use all kinds of devices to get their work done and people use all kinds of devices to interact with content created with Adobe's tools. Snowden praised the ability of the iPad Pro Pencil to create custom effects and manipulate those effects. The iPad Pro and Pencil, for instance is pressure sensitive so lines drawn in Sketch can be thicker or lighter according to the pressure used to create them – sort of like a pencil … but better. At Max, Snowden delighted in the ability of Pencil and Sketch to mush around colors for effects and color washes.
Heck, even Microsoft Office has been optimized to work with the iPad Pro. The message from the medium these days is that it doesn't pay to build walled gardens. What pays is making people's lives easier.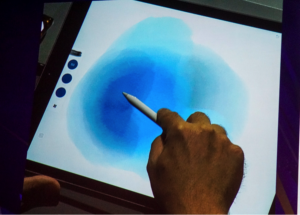 Meanwhile, Microsoft returned to its front and center position on the Max exhibit floor. Last year the company gave away free Surface Pro machines to Adobe Max attendees. In fact, Microsoft gave away and sold a lot of Surface machines and the seed program is starting to sprout. Those Surfaces given away last year were showing up on desks and in backpacks at Max this year. The Microsoft Booth attracted plenty of people who wanted to get a look at the brand new machines from Microsoft including the new Surface Book and Surface Pro 4. The Surface Pro 4 features a new keyboard with a better look (new colors) and feel (roomier key layout, solid response).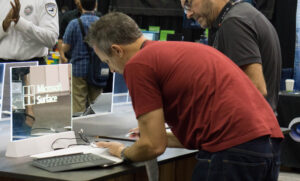 As for the Surface Book, it looks like Microsoft looked at all the 2-in-1s out there including Lenovo's ThinkPad Yoga, the Asus Flip, and the Dell Inspiron, found the features people seemed to like the most, and put it together in the Surface Book. The new laptop is light and the screen can flip over, or it is detachable. What makes it really interesting is that is has the benefit of an addition GPU in the keyboard. That's right, the GPU in the keyboard gives the Surface an additional boost when it's in laptop mode but it gets by just fine as a tablet with its own 6th Gen Intel (Skylake) Core i5 or core i7.
What do we think?
There were two big hardware companies trying to get the attention of Adobe users. As usual, Apple stayed in the background, but it has done its work with the Adobe engineers. A big, big part of the message at Adobe Max was that mobile workflows are every bit as important as desktop and Adobe is more or less conceding that most users are coming at mobile with iPads and iPhones in their hands. (Android is supported but coming later in the case of many apps.)
Meanwhile, Microsoft has made a huge leap in its battle to become a mobile PC supplier. Reporters scoffed at the Surface just two years ago, now they're carrying them.