The combination of cloud services, collaboration apps, and QuadriSpace Publisher 3D shares more contextual data than geometry-only solutions. The platform is designed for downstream use of 3D data in manufacturing, marketing, sales, and field service.  
3D documentation specialist QuadriSpace has introduced a new cloud-based distribution and collaboration service for 3D content. Share3D goes beyond sharing simply the geometry of 3D models, by providing a platform for also sharing the contextual data associated with most models. A Share3D account includes access to QuadriSpace Publisher3D, which supports many common 3D file types, including models from SolidWorks, Autodesk Inventor, PTC Creo, Rhino, SketchUp, DWF, STEP, IGES and other exchange formats.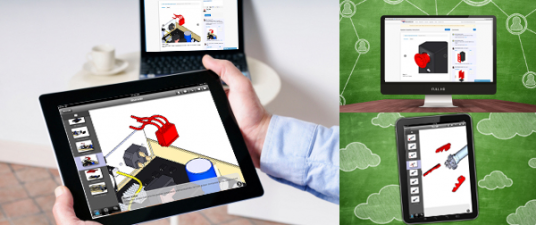 QuadriSpace sees their new platform as better suited for downstream uses of 3D model data than existing solutions that focus on design collaboration. By using QuadriSpace Publisher 3D to add value, shared models can include descriptive text, pre-captured and illustrated 3D views, step-by-step procedures, exploded views with balloons, and custom parts lists. In addition to the cloud service, apps are available for iPad/iPhone and PC.
During collaborations, the specific model view and newly created markups and other context are associated with a comment.  Submitted comments are captured in the cloud, shared with other participants and archived for future reference.  Recalling a comment with one of the Share3D apps sets the 3D view to the viewpoint and applies the markups present when the comment was submitted. QuadriSpace says their ability to share more than 3D geometry makes it a better solution for downstream uses including manufacturing, marketing, sales, and field service.
Most new collaboration services keep all communications inside the system, but Share3D uses an "email in the loop" feature to keep those not using the Share3D web page or apps to engage in collaboration by simply replying to an automatically generated email. The emails are captured, shared, and archived in the same manner as other comments, extending the collaboration chain beyond the Share3D cloud.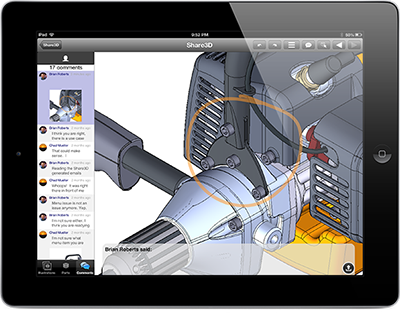 Share3D publishes lightweight 3D views, not native 3D CAD files, making original design data secure. The service is hosted on the Amazon network, which uses bank-trusted AES-256 encryption.
Security is strengthened because native 3D CAD files remain local and only lightweight 3D information is published to the cloud, guaranteeing that original 3D CAD files are not available. Share3D is hosted on Amazon's highly secure network where user files are encrypted using the AES-256 standard, which is the same encryption standard used by most banks to secure customer data. All content is shared privately and can only be viewed by those specifically invited to participate in a project.
Share3D is available as a free plan, allowing users to collaborate on up to 3 projects using a subset of the full Share3D platform. Paid plans for Share3D enable more projects, more collaboration tools and more content creation features. More information:  www.share3d.com/accounts/new