The Be Inspired Awards will go to winners in 22 categories, selected from many of the world's largest and most complicated infrastructure projects.
A panel of industry experts, engineers, and designers has selected finalists for honors to be announced later this month at the annual Bentley Year in Infrastructure conference.  The Be Inspired Awards honor the work of Bentley users in building, improving, and sustaining the world's infrastructure.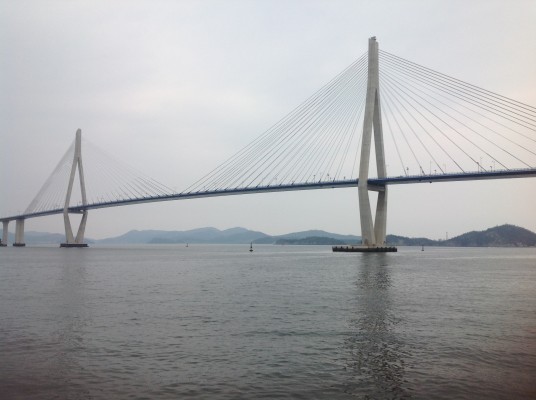 Six independent panels of jurors, comprising accomplished Bentley users and distinguished industry experts, selected the 65 finalists in 22 categories from nominations submitted by organizations in 43 countries. The winners will be announced at The Year in Infrastructure 2013 Conference, taking place Oct. 29-31, in London, U.K. This gathering of executives in the world of infrastructure design, construction, and operations features a series of presentations and interactive sessions exploring the intersection of technology and business drivers, and how they are shaping the future of infrastructure delivery and investment returns.
Guest keynoters for the conference include Sir John Armitt, chairman of the Olympic Delivery Authority for London 2012 and chairman of National Express; Andrew Wolstenholme, OBE, CEO of Crossrail Ltd.; Peter Hansford, chief construction advisor to the U.K. government; and Pedro Miranda, corporate VP, Siemens AG, and head of the Global Center of Competence Cities.
The Be Inspired Awards finalists for 2013 are as follows:
Innovation in Asset Lifecycle Information Management
Crossrail Ltd – Information Mobility for the Crossrail Smart Railway – (London and South East England, United Kingdom)
JSC Neolant – Information Support System for Decommissioning Kursk Nuclear Power Plant – (Kurchatov, Kursk Region, Russia)
Suncor Energy Inc. (Edmonton Refinery) – Information Plant – (Edmonton, Alberta, Canada)
Innovation in Asset Performance Management
ArcelorMittal – ArcelorMittal U.S.A. World Class Equipment Reliability Project – (United States)
Bellwood Systems Ltd. – RCM2 at Siberian Power Generation Company – (Abakan, Khakassia and Barnaul, Altai Krai, Russia)
ScottishPower – ScottishPower Strategy for Asset Management and Process Safety – (United Kingdom)
Innovation in Bridges
Bloom Companies, LLC – Rawson Avenue Interchange Reconstruction – (Milwaukee, Wisconsin, United States)
GS Engineering & Construction – Mokpo Cable-stayed Bridge – (Mokpo, South Korea)
LCW Consult, SA – The Corgo River Valley Viaduct – (Vila Real, Portugal)
Innovation in Building
China Shipbuilding NDRI Engineering Co., Ltd – China Communications Construction Company Limited Southern Headquarters – (Guangzhou, Guangdong, China)
Morphosis Architects – Perot Museum of Nature and Science – (Dallas, Texas, United States)
Rogers Stirk Harbour + Partners – Cancer Treatment Center for Guy's and St Thomas' Hospitals – (London, United Kingdom)
Innovation in Collaboration Using i-models
CB&I Power – AP1000 Nuclear Power Plant i-models – (Jenkinsville, South Carolina and Waynesboro, Georgia, United States)
Imarati Engineers & Consultants – IEC BIM-based Program Management – (Abu Dhabi, United Arab Emirates)
Innovation in Construction
Consolidated Contractors Company on Behalf of TCAJV – Midfield Terminal Building – Abu Dhabi International Airport – (Abu Dhabi, United Arab Emirates)
Intelliwave Technologies Inc. – Alberta Oil Sands – (Alberta, Canada)
Kellogg Joint Venture Gorgon – Gorgon Project – (Barrow Island, Australia)
Innovation in Generative Design
Ian Simpson Architects – One Blackfriars Road – (London, United Kingdom)
Jawor Design Studio and LabDigiFab – Parametric Pavilion – (Wroclaw, Poland)
LAB Architecture Studio with SIADR – Wujin Council Offices – (Changzhou, Jiangsu, China)
Innovation in Geospatial Networks
AEM Gestioni Srl – District Heating GIS System – (Cremona, Italy)
EPCOR Water Services Inc. – WALRUS – Water and Land Related Utility System – (Edmonton, Alberta, Canada)
Precision Valley Communications – Impossible Obstacles Achieved with Innovative and Accelerated Design – (Washington, D.C., United States)
Innovation in Government
Crossrail Ltd – Crossrail Ltd – (London, United Kingdom)
Innovación Sistemas y Proyectos – Cancún Federated Geospatial Information System – (Cancún, Mexico)
Sydney Trains – The Virtual Planroom – (Sydney, New South Wales, Australia)
Innovation in Land Development, Engineering, and Management
Foth Infrastructure & Environment, LLC – Lower Fox River, Operable Unit 1 – (Neenah, Wisconsin, United States)
HNTB Corporation – M-1 RAIL Streetcar Project – Advanced Utility Investigation – (Detroit, Michigan, United States)
Mortenson Construction – Senate Wind Farm – (Graham, Texas, United States)
Innovation in Metals and Mining
China ENFI Engineering Technology Co., Ltd. – Qian Bayin Molybdenum Ore Selection in Mongolia – (Erdenetsagaan, Sükhbaatar, Mongolia)
China Nerin Engineering Co., Ltd. – Upgrading Projects of Smelting Technology of Tongling Nonferrous Copper – (Tongling, Anhui, China)
Hatch Associates Pty Ltd – Qinghai Magnesium Smelter – Dehydration Facility – (Golmud, Qinghai, China)
Innovation in Offshore Engineering
CNGS Engineering – Central Process Platform – V. Filanovsky Oil Field – (Caspian Sea, Russia)
L&T-Valdel Engineering Ltd. – OSX-3 FPSO Project – (Santos Basin, São Paulo, Brazil)
TECON S.r.l. – Costa Concordia Wreck Removal Project – (Isola del Giglio, Grosseto, Italy)
Innovation in Point-cloud Processing and Management
Avineon India Pvt Ltd – Creation of 3D City Model for City of Brussels Using LiDAR Point-cloud Data – (Brussels, Belgium)
J.L. Patterson & Associates, Inc. – Cascade Tunnel Study – (Stevens Pass, Washington, United States)
Steuernagel Ingenieure GmbH – Restoration of St Leonhard's Church in Frankfurt, Germany – (Frankfurt, Hessen, Germany)
Innovation in Power Generation
Beifang Investigation Design & Research Co. Ltd – Parametric Design Application of Hydropower Engineering – (South Region, Cameroon)
Eskom Holdings (Pty) Ltd – Kusile Power Station – Virtual 3D Plant Simulator for O&M – (Witbank, Mpumalanga, South Africa)
Southern Company – Plant Yates Units 6 and 7 – (Newnan, Georgia, United States)
Innovation in Process Manufacturing
CPC Corporation – Residue Fluid Catalytic Cracking Project – (Kaohsiung, Taiwan)
Pall India Pvt. Ltd. – Jet-pulse Blowback Filtration System (Gas Solid Separation System-GSS) – (Panipat, Haryana, India)
Profarb Grupa Chemiczna Sp. z o.o. – Installation for the Alkyd Resin Production – (Smolensk, Russia)
Innovation in Rail and Transit
Hatch Mott MacDonald and NORR Architects – Northwest PATH Pedestrian Tunnel – (Toronto, Ontario, Canada)
Ineco – HS2 Birmingham Delta Junction – (Birmingham, United Kingdom)
L&T Construction Equipment Ltd. – Hyderabad Metro Rail Project – (Hyderabad, Andra Pradesh, India)
Innovation in Roads
Bergmann Associates – NYS Route 17 at Exit 122 – (Wallkill, New York, United States)
Hanson Professional Services Inc. – Jane Addams Memorial Tollway (I-90) Widening and Reconstruction – (Boone, McHenry, and Kane Counties, Illinois, United States)
URS Corporation – Stockholm Bypass, FSK06 Akalla – Häggvik Design Contract – (Stockholm, Sweden)
Innovation in Structural Engineering
L&T Construction Equipment Ltd. – Tata Consultancy Services Customer Care Center – (Chennai, Tamil Nadu, India)
Shibanee and Kamal Architects – Bhau Institute of Innovation, Entrepreneurship and Leadership – (Pune, Maharashtra, India)
Taikisha Engineering India Limited – Car Manufacturing Plant – (Gurgaon, Haryana, India)
Innovation in Transportation Asset Management
Graphic Engineering Solutions and Services (Pty) Ltd and African Consulting Surveyors – PRASA Depot Modernization – (South Africa)
Territory and Municipal Services ACT Government – Integrated Asset Management System – (Australian Capital Territory, Australia)
Utah Transit Authority – Transit Asset Management – (Salt Lake City, Utah, United States)
Innovation in Utility Transmission and Distribution Infrastructure
China Power Construction Corporation Jiangxi Electric Power Design Institute – Duxiling 220 Kilovolt Substation – (Pingxiang, Jiangxi, China)
Gujarat International Finance Tec-City Co. Ltd. – Integration of Urban Infrastructure through Utility Tunnel – (Ahmedabad, Gujarat, India)
iSAT Networks Engineers Pvt. Ltd. – 132 Kilovolt Substation – (Dehradun, Uttarakhand, India)
Innovation in Water or Wastewater Treatment Plants
Black & Veatch – Legacy Document Management System Migration – (Kansas City, Missouri, United States)
CH2M HILL – City of Las Vegas Wastewater Pollution Control Facility (WPCF) Infrastructure Replacement – (Las Vegas, Nevada, United States)
MWH Americas Inc. (Taiwan Branch Office) – Taoyuan County Sewage System BOT Project of Taiwan – (Taoyuan, Taiwan)
Innovation in Water, Wastewater, and Stormwater Network Modeling and Analysis
Barwon Region Water Corporation – Optimizing System Yield and Operational Cost with Hydrology and Hydraulics Modeling – (Colac Shire, Victoria, Australia)
Maynilad Water Services, Inc. – Remote Leak Detection through Hydraulic Modeling – (Malabon City, Philippines)
Power and Water Corporation – Optimization of Pumping Schedules in Remote Communities – (Northern Territory, Australia)
Launched by Bentley in 2004, the Be Inspired Awards competition has showcased excellence and innovation in the design, construction, and operations of architecture and engineering infrastructure projects around the world. The Be Inspired Awards is the only competition of its kind that is global in scope and comprehensive in categories covered, encompassing all types of infrastructure projects. In the awards program, open to all users of Bentley software, independent panels of industry experts select finalists for each category. For additional information, visit www.bentley.com/BeInspired.
The Year in Infrastructure 2013 Conference will include:
The Innovations for Buildings Summit
The International Rail and Transit Summit
The Project Delivery Summit
The Power Delivery Summit
The Asset Performance Management Summit
The Be Inspired Awards
CIO Workshop – An invitation-only workshop for CIOs and business executives focused on the asset information management needs of infrastructure owner-operators.