Up to E-size color prints and scans in a tight footprint.  
HP extends its Designjet line of workgroup large-format printers with a new multi-function model, the HP Designjet T2500 eMultifunction Printer (EMP). Designed for AEC and GIS firms as well as government agencies and enterprise customers with wide-format needs, the T2500 EMP puts an all-in-one workgroup device into a tight footprint.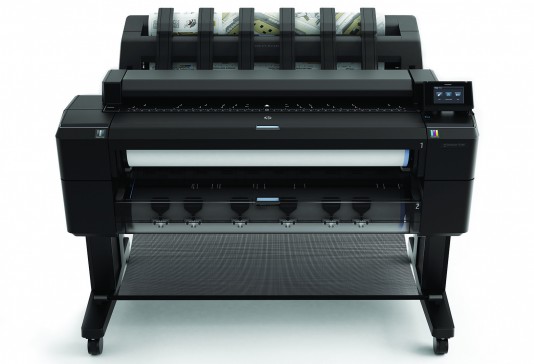 The use of large-format color documents has largely taken over from monochrome. The typical workflow still includes hand mark-up and wide-format scanning, which is generally done on a separate device. The T2500 provides an integrated scanner as well as two paper rolls, an output stacking tray, and a touch screen for operations and to monitor job progress. HP says the T2500 EMP has a 30% smaller footprint than its predecessor.
The T2500 EMP can print up all popular wide-format sizes up between A (8.5 x 11 inches) to E (34 x 44 inches), including borderless images if using photo paper. Both the print rolls and stacking trays are computer-controlled, allowing for two paper types to be used in one project and for collated stacking.
"We are in constant communication with our clients as projects develop, and we often work through multiple rounds of reviews before a plan is final," said Debbie Garcia, project coordinator, Inland Engineering Services, Inc. "Previously when clients provided changes, we had to scan in sections at a time. With the HP Designjet T2500 eMultifunction Printer, we can now easily scan large plans that include hand-noted changes and immediately update the design file, which helps move projects forward faster and also allows us to work with our clients in real time."