Competitors come together at the JPR luncheon with standards and cooperation at customers' behest. 
By Kathleen Maher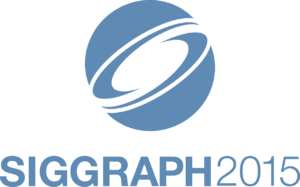 Siggraph in Los Angeles is usually a boost for the organization devoted to all computer graphics, but which has come to depend on the film industry in an uneven  co-dependent relationship. This year it's paying off.
The film industry has its own co-dependency issues. For instance, it never quite knows how it wants to deal with the game industry. According to Siggraph chair Jeff Jortner, this year saw a significant uptick in registrations for the conference. The official count is not in, but Jortner thought it was even higher than the usual uptick the conference sees for coming to L.A.
There was real excitement at the show for a number of reasons. As many predicted, Siggraph is the year of VR, and suddenly all those hot young things from a few years back have cooled down. For the last couple of years, 3D printing has been the magnet for computer graphics conferences, but honestly, it's been a bit of an awkward fit. The job of 3D printing doesn't really task the mechanics of digital computer graphics so much as it is an infrastructure problem, which is rapidly getting solved as the industry works its way around to standard formats and interfaces. 3D printing and the makers are still an important component of Siggraph because they represent the kind of grassroots involvement in art that touches every aspect of content creation. 
For years,  we have argued that there is practically no consumer market for 3D content creation because the tools are so hard to use. That is changing as the tools are changing, and it's the makers who are changing it. But I would argue that all that is nothing compared to the change that is being wrought by VR. No matter how the huge surge in interest plays out in the long run, VR is stimulating content creation in 3D.
It's easy to see it all as so much hype, but VR has traction—there is infrastructure for content creation, there is a base model in games and VR adds value (for some gamers), and perhaps even more important, VR is stimulating the development of new media forms. In addition, content creators are finding VR to be a useful tool to create content, and last but absolutely not least, interest in VR is broad and crosses many markets from games, to movies, to design, architecture, and manufacture.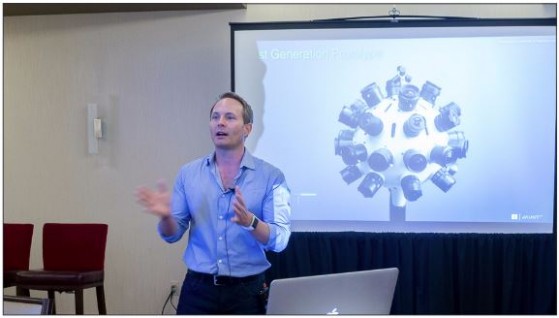 The rise and leveling off of stereoscopic 3D for movie theaters is a perfect case in point. Certainly, there was just a teensy bit too much enthusiasm for 3D movies. As it turned out, there was limited demand for 3D, and it has failed repeatedly to make its way out of theaters and into the home market, which I'm pretty sure is not breaking the hearts of theater owners who still benefit from the occasional 3D blockbuster.
Stereoscopic 3D is not going away. It may have plateaued in some markets, it is growing in others, but most of all it is finding itself as a medium, and the lessons learned in stereoscopic 3D are helping developers and content creators as they explore this brave new world of VR, again.
The Foundry chief scientist Simon Robinson points out that all the tools and the work that has gone into developing 3D content provide a base for creating VR content. The demand for 3D content meant that tools were created to work with and conform massive amounts of data to create stereoscopic views. All that work now flows into VR, which is adding new demands and changing the way people think about movies.  We're also seeing VR being used as a tool for content creation.
JPR buys lunch
The annual Jon Peddie Research luncheon reflected Siggraph overall. Attendance was up, and while the topic was primarily virtual filmmaking techniques, the talk was heavily around VR. That's actually pretty logical. Virtual filmmaking has become a cousin to VR, and some filmmakers are taking advantage of headsets to get a better idea of what the immersive effect would be. Even more interesting for this year's Siggraph discussion is the almost rabid interest Hollywood is showing in VR for storytelling.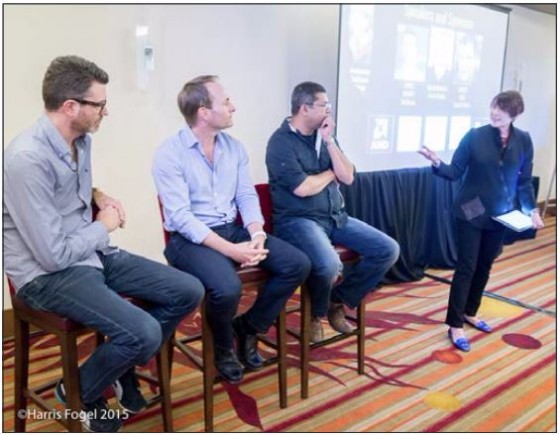 Hollywood has been experimenting with VR experiences to complement movie releases. Twentieth Century Fox Studios is heavily into its VR experiments. One of the first of these short movie companion VR pieces was for Reese Witherspoon's Wild, and it was a set piece that imagined a conversation between Witherspoon and Laura Dern, who plays Witherspoon's mother. Ted Schilowitz, who as a co-founder was one of the showmen behind the Red camera's high-profile founding and rollout, is heading the Fox exploration into new storytelling techniques. The team is working on a VR piece to accompany Ridley Scott's The Martian starring Matt Damon. The Sundance Film Festival also featured new VR pieces (and now we're wondering if there will be some VR at Telluride; we'll report back.) The LA Times has a very good piece on Hollywood's exploration of VR.
The speakers at JPR's luncheon all have deep experience in the film industry and more than a passing interest in new VR and new filmmaking approaches. 
James Knight of BluStreak media has worked on many of the big special effects hits of the last ten years, and as a member Bafta and the Scientific and Technical Achievement Committee of the Academy, he has seen the ways technology is redefining how people make movies. His thesis is that the divisions between pre-viz, production, and post are all but disappearing, leading to a more fluid creative flow for everyone on the set. Making better use of assets created in pre-viz throughout the production is a huge topic of interest for the film industry, and we're seeing the software companies invest heavily in the technology.
Directors like James Cameron and Steven Spielberg famously demand a first-person view of what's happening on the digital side of production. We are willing to heavily bet the kids' college fund that The Martian, which is opening in November, and Star Wars the Force Awakens, which opens in December, have  made deep use of virtual filmmaking techniques including VR.
Knight tells us the result is, obviously, a more efficient use of effects that shows up on the screen but also a more immersive effect for the movie audience. Sanjay Das is the COO of Tippett Studios. As a medium-size company, Tippett Studios has been buffeted by the cataclysms that have swept the 3D industry, but the company has survived.
The studio is a major house for character creation, especially creature character correction, so Tippett has been instrumental in the creation of familiar and marketable characters including the bad raptor gangsters from the original Jurassic Park movie, Teenage Mutant Ninja Turtles, the even scarier monsters of Jurassic World, and Ted, the foul-mouthed teddy bear. Movie studios and their partners are now looking at ways to reuse those characters. Das says Tippett is looking at all kinds of technologies to extend the lives of their iconic characters. They have already licensed characters for use in apps, and VR is a logical step given the interest in mobile VR and thanks to free VR for phones.
An example of Tippett's foray into consumer apps is the popular Jurassic World MovieMaker app. Das and Knight are not so sure about VR for movie-length projects, but the people at Jaunt VR have no such reservations. Grant Anderson, who is head of studio at Jaunt Studios, came to the startup from work in effects. He's not involved in the development of content for Jaunt, which has also developed a camera for capturing 3D content. Anderson agrees that VR is ushering in a new era of media, but he is convinced there are no limits on how VR can be used in the future. Obviously, he says it is great for recreating real-world experiences like travel and remote presence, but he's very excited by the potential for studios to explore a new medium, and even if long-form VR does not materialize in the way Jaunt expects, Anderson is confident that there's plenty of opportunity for short-form VR and for consumer-created VR.
The Foundry is heavily researching virtual filmmaking techniques. 3D cameras like Jaunt's are already playing a role in creating environments, whether for tests, games, or a base for a digital world, and The Foundry is investing in research to stitch, meld, and manipulate the content for practical use in production and post.
On another front, HP brought a ZSpace machine to the luncheon. The company has been nurturing this technology and building practical apps to enable the development of 3D content that can be experienced and manipulated as 3D in a floating plane via stereoscopic glasses and pointer peripherals.