New product sales rose dramatically but the company took a net loss of $13.4 million in the quarter due to tax issues involved with income repatriation, and a lawsuit settlement in Japan.
By L. Stephen Wolfe, P.E.
Contributing Analyst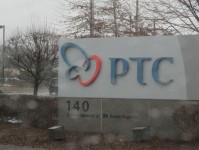 The sales rebound at Parametric Technology Corporation (NASDAQ: PMTC) continued in the fourth quarter of fiscal 2010, ending September 30, 2010. New license sales of what PTC calls enterprise products rose 27% compared with the same period a year ago. This growth is slower than the previous three quarters but still respectable. More surprising was the 25% year-to-year surge in new desktop licenses that include Pro/Engineer, CoCreate, MathCAD, Arbortext, and Mechanica. Desktop license sales have been relatively flat since the end of 2009 when they fell by half.
PTC's overall revenue growth was not as robust as license sales, rising 9% compared to a year ago. Highly lucrative software maintenance fees edged up less than 1% year-to-year. Low-margin consulting and training services grew 5% percent. However, when new license sales rise, maintenance and services are almost certain to follow.
Hit by tax anomaly
Despite rising sales, PTC lost $13.2 million in the quarter because its tax rate rose to 135% of pretax income. There are two reasons for this anomaly. First, according to Jeff Glidden, PTC's new finance chief, the company restructured its international operations in order to bring cash profits that had been held overseas back to the US. This reorganization increased PTC's 2010 tax rate to 70% because US taxes had to be paid on those foreign profits.
Secondly, PTC settled a lawsuit filed in August 2007 by GE Japan alleging that the GE subsidiary was fraudulently induced to provide more than $60 million in financing to Toshiba Corporation for purchases of predominantly PTC products during a period from 2003 to 2006. The suit was adjudicated in a Tokyo district court.
According to Glidden, PTC had established a $57 million reserve for probable costs of the lawsuit. With the settlement, PTC sent GE Japan $48 million in cash, booked a $9.036 million profit, and had to pay the tax man. Had PTC not reorganized its tax liabilities and settled the suit in the current quarter, it would have earned about $28.7 million pretax and about $21.5 million ($0.19 per share) after taxes, assuming a normal 25% tax rate that PTC projects for the next several years.
What about the stock?
PTC's financial prospects are unquestionably looking up. But is its stock a good value?
For the fiscal year ended September 30, PTC earned $0.21 per share. Its stock currently sells for just over $21 or more than 100 times earnings. In a statement accompanying its financial reports, PTC executives wrote, "We intend to deliver 20% non-GAAP EPS growth annually through FY'14… primarily through accelerating organic revenue growth coupled with modest margin improvement." Non-GAAP earnings per share is corporate-speak for profits that exclude costs that accountants and normal people would recognize, such as stock-based compensation, amortization of intangible assets, income tax adjustments, and the effects of lawsuits.
PTC claims its non-GAAP earnings in the current quarter were $0.32 per share versus $0.30 a year earlier. For the current fiscal year, the non-GAAP figure is $1.00 versus $0.80 for FY 2009. If PTC's earnings were to rise by 20% for four years, it would earn $2.22 on a non-GAAP basis and a good deal less when all the costs are included. In other words, if everything proceeds according to plan, PTC will earn something less than 10 times its current stock price four years hence. Yet a look at PTC's annual sales and revenue chart suggests it hasn't grown sales or profits in 13 years.
Today, any investor can buy Intel Corporation for less than 11 times and Microsoft for 12.4 times current earnings. Which do you think are the safer investment? Both Intel and Microsoft have commanding shares of their mature segments of the computing market. PTC's rivals in the CAD and PDM business all have roughly twice its revenues. Mechanical engineering software is at least as mature a business as microprocessors, operating systems, and business software.
Unlike Intel and Microsoft, PTC pays no dividend, and given its history seems unlikely to do so. The only income investors can hope to make is to sell their shares to greater fools in the future.
These concerns didn't seem to faze shareholders who bid PTC's share up 3% following its earnings call on October 27. Perhaps these are the same financial geniuses who bought mortgage-backed bonds and CDOs.
Cash per share on September 30, 2010 was $2.08, up considerably from $1.88 three months ago. PTC has approximately 25% as much cash on hand as either Dassault Systèmes or Autodesk.
Seven charts follow
GraphicSpeak Managing Editor Randall S. Newton contributed research for this article.