The company that invented contemporary mechanical CAD looks to re-invent itself with a suite of apps that solve "the lingering, unaddressed problems of CAD."

By Randall S. Newton
Managing Editor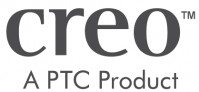 A common complaint about mechanical CAD products is that they force users into the computer equivalent of "when all you have is a hammer, everything looks like a nail." PTC says it is taking this problem to heart with the introduction of Creo, a suite of scalable and interrelated tools for product development. In essence Creo is the metamorphosis of PTC's Pro/Engineer for the 21st Century, with a recognition that product development requires more than a fat 3D CAD program with its roots in the 1980s.
PTC executives at the product launch extravaganza in Boston on October 28, 2010 often used the word "apps" to describe what PTC is bringing to market with Creo. They were quick to point out the popularity of targeted point tools in smart phones, particularly as advanced by Apple.
The new products will start to appear in the first part of 2011. Initial apps in the Creo line will address seven phases of product design and development. All Creo apps will operate using one common and "open" data architecture. PTC Executive Vice President Brian Shepherd says this underlying configuration kernel in Creo is the key to connecting CAD and PLM in the future. "Open" to PTC means published and available for development partners, of which it hopes there will be many. Software publishers appearing at the launch and planning to offer apps for the Creo environment include SYCODE, Vistagy, and Luxion. "Some of the tools will come from a partner ecosystem," says Shepherd. "It is an important part of our strategy."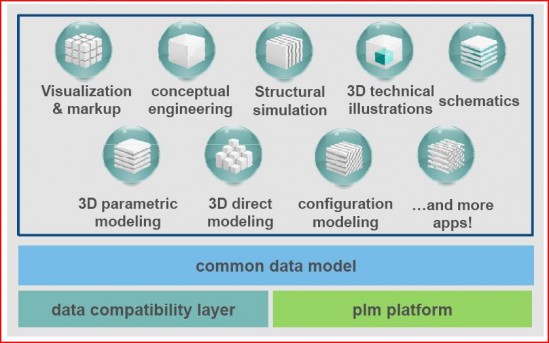 Creo is built from foundational elements from Pro/E, CoCreate and ProductView. PTC says Creo also includes new patent-pending technology for multi-paradigm design, the open command data model, and other parts of the underlying technology. PTC's existing CAD products (Pro/Engineer, CoCreate, and ProductView) have been immediately renamed to reflect the new Creo branding:
Pro/Engineer becomes Creo Elements/Pro

CoCreate becomes Creo Elements/Direct

ProductView becomes Creo Elements/View
Development of these legacy products will continue in the near term, as PTC over time merges their capabilities into the Creo suite.
PTC has not yet settled on much of the go-to-market strategy for Creo. Pricing and availability are not set, and they are not sure if third-party apps will be sold directly from developers or offered through some sort of Apps Store as Apple does with software for the iPhone/iPad. Heppelmann and Shepherd both said they are eager to hear from customers with suggestions for how to distribute and price Creo apps.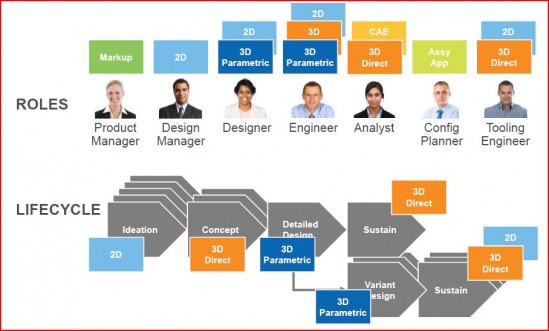 Nagging issues in design technology
PTC says Creo is its response to the "lingering, unaddressed problems that have plagued CAD for decades." As articulated by new PTC CEO James Heppelmann, those problems are usability, interoperability, assembly management, and technology lock-in. The suite of Creo applications are meant to be tools that solve these problems by providing a set of application-specific tools for all stages of product development, using a common data model and managed by PTC's existing—and increasingly popular—Windchill data management platform.
PTC is counting on Creo to be the rebirth of Pro/E that propels the company forward for the next 20 years. Advancements in technology will be tailored to serve the reality of product development business processes, instead of today's approach of offering one CAD tool and hoping everyone will use it no matter their role. Such an approach from the largest CAD/PLM vendors has given many smaller companies the opportunities they needed to succeed. More than once during the Creo launch, company executives made reference to such products as Rhino 3D and Autodesk Alias Studio.
Several CAD/PLM analysts were given previews of the technology before the product launch. One was Sanjeev Pal, research manager at IDC: "Historically companies have made significant investments in CAD applications that bind them into inflexible business processes and design practices dictated by the specific visual authoring or simulation application that they pick. PTC's game-changing vision to release a highly flexible CAD application in a new code base, while sticking to existing file formats under the Creo portfolio, is expected to rejuvenate the mature CAD market and open up a path for non-PTC CAD users to move easily on a flexible visual design platform."
What about the geometry?
Ever since PTC acquired CoCreate in 2007, everyone in the CAD industry has assumed there would be a melding of the two very distinctive approaches to 3D CAD as offered in Pro/E and CoCreate. Pro/E is the original parametric solids modeler, the product that launched a revolution in mechanical CAD when it was introduced in 1987. CoCreate was originally an HP product, but spun off in 2000. It pioneered an explicit, free-form approach to 3D mechanical modeling that ignored the need for locked-down geometry as modeling progressed. The ability to quickly revise a model for reuse made it popular in high-tech and medical.
Creo offers a hybrid approach to 3D modeling, using aspects of both parametric and explicit modeling. Part of the Creo launch was devoted to showing how both types of modeling can be done; the key is the new common data model. There will be a Creo parametric modeler and a Creo direct modeler, with both apps able to work on the same file. The direct modeler can edit any part of a model created in the parametric app and send it back to the history modeler; the internal feature tree will either stay intact or accept modification as necessary.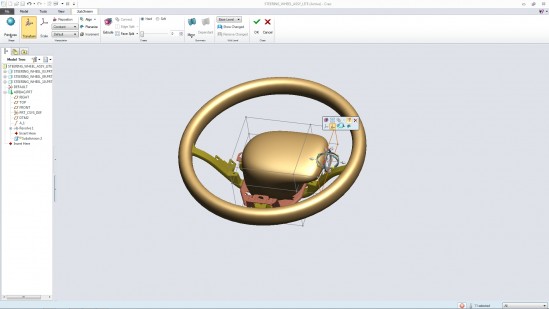 PTC and the four big problems
PTC says there are "four big problems" regarding CAD for manufacturing: ease of use, interoperability, technology lock-in, and assembly management. Of course PTC says Creo offers a solution to each problem:
Ease of use—Pro/Engineer and its competitors are complex programs requiring time and training to master. This is fine for the engineer or technician who will use the program hours per day, but not for the design manager who only need 2D markup or the analyst who only needs a simplified version of the model. PTC will offer Creo apps that match need with user. A product manager will have a Creo app that makes it easy to annotate the model, the industrial designer will have a Creo app that makes it easy to import and edit models from Rhino or Alias.
Beyond customizing the user interface to be task specific, PTC says that existing CAD tools are an extension of the modeling paradigm (2D, 3D direct, 3D parametric) and that UI tweaks are not enough. Creo's new common data model, with its dual fluency in 3D direct and 3D parametric editing, gives the suite the flexibility required to offer the right tools to the right user.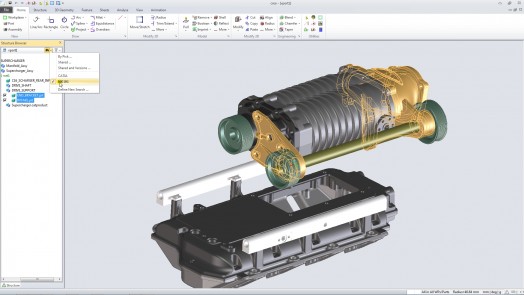 Interoperability—Discussions of interoperability often feel like talking about the weather; everyone talks about it, but nobody does anything about it. PTC says Creo will "incorporate and edit data from any CAD system." In a demonstration at the launch event, parts created in NX and Catia were assembled in Creo. The assembly was edited, then round-tripped back to the original CAD environments.
Supply chain interoperability is a huge problem for larger manufacturers, and for the smaller manufacturers who try to win a place in the large company's supply chain. A truly full-featured CAD application that can be all things to all CAD users will be a great leap forward. None of this in-and-out with STEP or IGES, but actual interoperability between native formats. This bears close watching as Creo apps become available.
This flexibility of use—if realized as promised—also means it won't be necessary to keep licenses current on a wide variety of CAD programs only for editing legacy data. And it means potential Windchill customers no longer have to choose between sticking with a CAD program that might not be a best fit for Windchill or switch to the rather long-in-the-tooth Pro/E.
Technology lock-in—"Technology lock-in" is another way of saying "standardized on one CAD platform." It's great if you are the winning vendor, not so great otherwise. Pro/E has not been on the winning end of CAD standardization decisions for several years. Look at the recent flap over Chrysler moving from Catia to NX as an example; Pro/E was never a consideration. A new CAD program that truly works with all file formats equally well gives PTC new life in the CAD marketplace.
Assembly Management—I've sat through countless briefings with CAD vendors on the capabilities of their products, but precious little is ever said about assembly management for products with a large number of configuration options. For designing relatively simple products with few variants, a pure CAD-based assembly modeling approach is sufficient. For more complex products that may have many hundreds or even thousands of configurations, a CAD-based assembly approach is not be scalable or feasible. In these cases, a PLM-based approach is required. Siemens PLM and Dassault Systémes offer the tight coupling between data management and CAD, but are largely focused on a CAD-based approach to product configuration and BOM management. PTC says Creo will have the ability to use Windchill as the configuration kernel, to define products and variations, and to then move back to the design environment with a fresh product configuration, "down to the serial number." As PTC's Michael Campbell (VP, product development) says, "The end user can see a car never specifically created in CAD."
PTC stresses their "AnyBOM" assembly management system is an optional capability, recognizing the push-back Dassault is receiving from customers by requiring Catia V6 users to also use its Enovia V6 data management software.
The "Any" apps
PTC is presenting the Creo approach of 'all things to all product development players' using four key themes:
AnyRole Apps—Customers get the right tool, for the right user, at the right time.
AnyMode Modeling—PTC says Creo will provide "the industry's only true multi-paradigm design platform, enabling users to design in 2D, 3D direct, or 3D parametric." Data created in any mode will be fully accessible and reusable in any other mode.
AnyData Adoption—Users can incorporate data from any CAD system, and share it back out again.
AnyBOM Assembly—Product development teams creating highly configurable products can use BOM-driven assemblies and PTC's Windchill PLM software to "design" hundreds of unique configurations.
"We believe Creo could be significant and a positive advance in PTC's product offerings." said Mike Galbraith, Global Engineering Systems & Services, Tyco Electronics. "Creo could allow the teams involved in designing new products and bringing them to market…across different functions, different locations, etc… to productively use the same toolset throughout the product life-cycle process. We're looking forward to working with PTC and their other partners in shaping these new capabilities."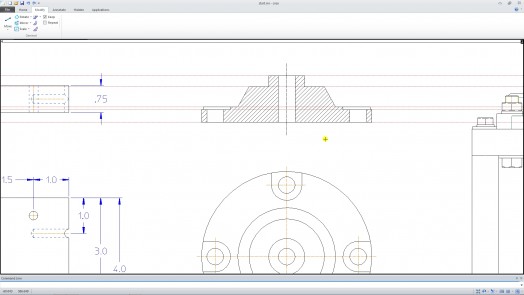 What we think
For several months PTC marketing has been pumping up the volume about Project Lightning, the code name for the R&D now revealed as Creo. Some have called the marketing campaign excessive, but we disagree. How else do you get the attention of a jaded marketplace that believes CAD tools are a mature commodity? How else do you get people to focus on what you truly believe is a new approach to product development? We give the PTC marketing team an "B+" for the Project Lightning launch only because the live-streaming video of the event failed. Otherwise it would have been an "A."
PTC is the last of the big three MCAD vendors to introduce next-generation technology. Dassault was first with V6 in 2008, then Siemens PLM earlier this year with its HD initiative. Of the three, PTC's Creo approach is the most revolutionary and the most far reaching. It offers new technology and a new approach to software delivery. It addresses interoperability head-on, and acknowledges the inability of traditional CAD tools to serve all product development roles equally well.
PTC now has a software developer as a CEO instead of a salesman. James Heppelmann came to PTC with the acquisition of Windchill, the PDM product that has proven to be the salvation of PTC. Unless PTC fails to deliver as promised, Creo will be the new wind in PTC's sales for many years to come.