Unexpected cutbacks in China make PTC even more accurate when it said June quarter results would be disappointing.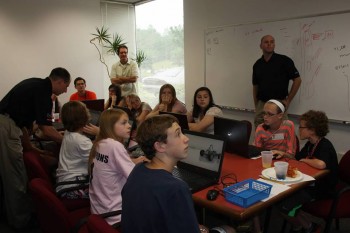 Three months ago PTC (PMTC: NASDAQ) warned of weakening markets when it delivered its second quarter 2013 results. This week PTC announced its third quarter results (for the period ending June 30, 2013), and the gloomy forecast from April was spot on.
As CEO James Heppelmann noted during the conference call with Wall Street analysts, "It's clear from our results, and from those of our peers, that we've not seen any meaningful improvement materialize yet. In this past quarter, we saw an additional macro headwind develop as the Chinese manufacturing economy suffered an unexpected setback, which translated into a more difficult selling environment and disappointing results in our Asia Pacific business." In other words, we told you so.
Overall, PTC's CAD revenue continued its long-term downward trend, support revenue is running flat, and overall license revenue is falling about 1% per quarter long-term.
Total revenue for PTC's fiscal third quarter (ending June 30, 2013) was $314.9 million, up 1.3% from $310.9 million a year earlier. Revenue by categories:
License revenue of $ 79.9 million, down 4.6% from $83.8 million a year earlier
Service revenue of $72.5 million, down 3% from $74.8 million a year earlier
Support revenue of $162.5 million, up 6.6% from $152.4 million a year earlier.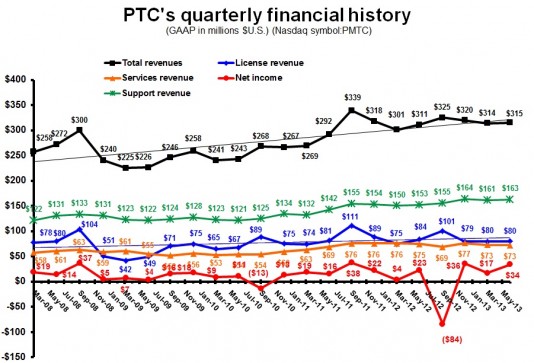 Despite the gloomy prognostication, net income jumped 50% to $34.5 million. PTC cites its continued internal emphasis on streamlining execution as contributing to the bottom line.
Revenue by regions:
North America, $129.9 million, up 15% from 3Q13
Europe $115.5, down 3.9% from 3Q13
Asia Pacific $70.1 million, down 10% from 3Q13.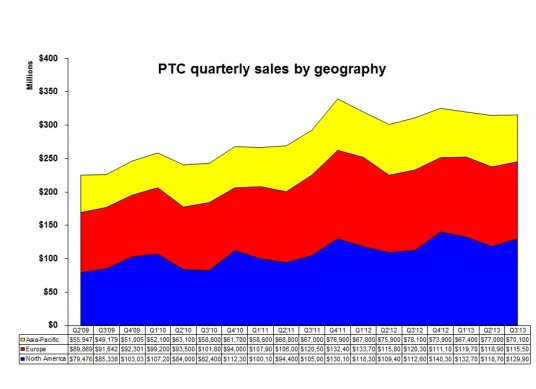 For the past couple of years PTC has been expanding its focus from the mature markets of CAD and PLM into service management. During the quarter it signed a long-term deal with Renault to restructure its after-market service systems and processes. "As the first major automotive OEM win for our SLM business, this represents a watershed event for PTC in automotive, which is the largest vertical in manufacturing," said Heppelmann. PTC noted with glee that the deal gives it a foot in the door of a major Catia (Dassault Systemes) customer.
Four more of our custom charts follow. Larger versions of these charts are available at our Facebook page, https://www.facebook.com/GfxSpeak
L. Stephen Wolfe, P.E., a consulting analyst for Jon Peddie Research, contributed research for this report.