PTC says it is on track to meet its goals for growth by 2014. The company is rebuilding, and continuing its strategy of targeting major competitive accounts.
By Kathleen Maher, with reporting and analysis contributed by L. Stephen Wolfe, PE.
In their announcement of results for their fiscal first quarter of 2011, ending January 1, 2011, PTC (NASDAQ: PMTC) highlighted gains for desktop licenses and several big enterprise wins, but overall, the results were not spectacular. The company has seen a fall-off in PLM revenue and flat service revenue. Still, CEO Jim Heppelman pronounced himself and his fellow execs to be well pleased with the year's results.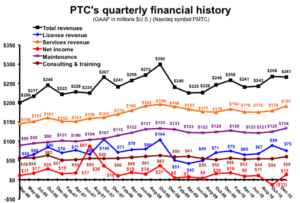 The company announced total revenues of $266.6 million in the quarter, a modest 3% increase year over year, when the company reported $258.4 million and a 1% decline compared to the previous quarter when it brought in $268 million. That's flat in anyone's book.
However, the company has reason to crow. The company says it has won three major accounts with the largest being a Windchill win with Hyundai Motor Company and Kia Motors Corporation (which are one corporate organization). PTC says that although they have done preliminary work on the deal no income was recognized in the company's quarter ending in January.
Jim Heppleman told investors that the drop in PLM revenues for the quarter compared to last year is actually a relative condition. He said the company chalked up several big wins for PLM in the first quarter of 2010 throwing off the comparison.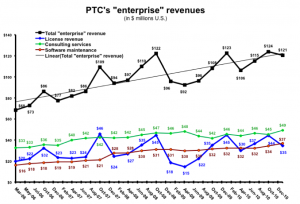 The desktop segment includes CAD sales and this is where there is some real enthusiasm being shown. PTC saw a surprising 36% increase in desktop sales. Heppleman interpreted the increase as an indication that customers are optimistic about PTC's Creo initiative, which is essentially a re-launch of its CAD platform. The increase has come in maintenance deals, which does suggest long range confidence on the part of customers. However, we can't help but think that some of them might reflect a desire to be set up with the latest of the Pro/E generation in case the transition to Creo is rocky.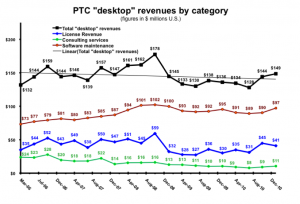 Looking at the bottom line, PTC saw a profit of $13.3 million, that compares nicely to the company's loss of $13.2 in the previous quarter, but it's 26% less than the company's revenue of $17.9 million in the same quarter last year. The company, and the industry, has a way to go before complete recovery.
PTC has outlined a strategy focused on winning large enterprise accounts it describes as "domino" accounts. The company says that wining these accounts, usually in the context of a competition with other companies, is a strong indicator of the superiority of its technology. In addition, these kinds of wins help influence other companies. Since the announcement of the company's domino strategy PTC says it has won 22 domino accounts including the Hyundai & Kia deal. The company says it hopes to win 30 domino accounts by the end of 2011, that's 8 to go. PTC says it's seeing substantial gains for Windchill through its big enterprise accounts.
What do we think?
PTC has told investors that 2010 would not be a big comeback year compared to 2008, a record breaking year for all of the CAD industry. The company has managed expectations, and there's nothing all that grand here, though it's heartening to see desktop seats on the rise. That suggests to us that companies are once again investing in their employees and planning for new business.
PTC believes that the long term growth opportunity is going to come from SMB (small/medium business) companies. The low hanging fruit will come from gaining CAD seats in this segment and, the company hopes, to parlay desktop wins into PLM wins as companies seek to better manage product data.