Last October when PTC announced plans for the Creo line, replacing Pro/Engineer and other CAD tools, it only hinted at what the replacement products would be named.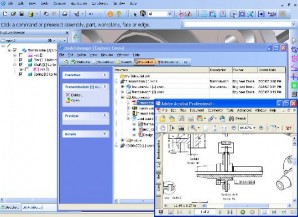 PTC this morning released a list of names for the first new apps coming to market later this year under the Creo banner. Creo is the  over-arching brand name for PTC's design tools, replacing Pro/Engineer, ProductView, and other existing PTC applications.
The first products to be named are:
Creo Parametric—For parametric modeling. PTC says it will have "All the capabilities of Creo Elements/Pro aka Pro/Engineer."
Creo Direct—For direct modeling, "when you want to interact directly with the 3D geometry." This app does not replace Creo Elements/Direct, previously known as CoCreate.
Creo Simulate—For structural and thermal simulation.
Creo Layout—An app for early concept layout work in 2D, with the intention of ultimately evolving the design to 3D.
Creo Schematics—An app for creating 2D routed systems diagrams, like cabling and piping.
Creo Illustrate—An app for communicating complex service information concepts graphically in 3D.
Creo View MCAD—PTC says this is a "lighter weight app for those who want to view, interrogate, and mark up MCAD geometry."
Creo View ECAD—A viewer tailored for electronics.
Creo Sketch—An app to capture design ideas in 2D.
PTC first introducted Creo with a splash October 2010, (see "PTC launches the Creo era"). At the time, the company implied that in addition to its established products like Pro/Engineer or CoCreate, it would also concentrate on creating variants on its products to reach address the requirements of its users in specific industries and help the company respond more flexibly to the demands of its customers. The new product names provide further hints to the way PTC plans to move forward in the future.