Apple Watch haptic feedback, big fast SSD, and a real GPU.
If you do video editing in Final Cut Pro X, or rendering of 3D images in pro graphics apps, Apple feels your pain and has updated the popular 15-inch MacBook Pro with Retina display. The new MacBook comes with a new Force Touch trackpad, faster flash storage, longer battery life, and faster discrete graphics to drive the 2880-by-1800 resolution 220 PPI IPS 178-degree view screen.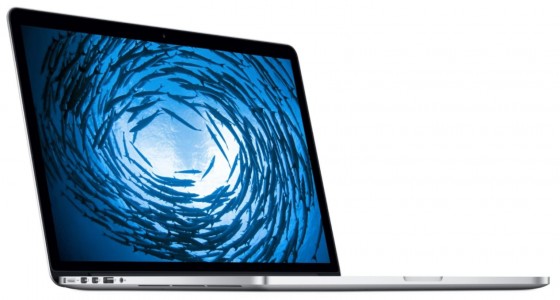 The updated 15-inch MacBook Pro with Retina display claims to have up to 2.5 times faster flash storage than the previous generation, with throughput up to 2GBps, and offers an additional hour of battery life, with up to 9 hours of wireless web browsing and up to 9 hours of iTunes movie playback. In addition, Apple claims the MacBook Pro with Retina display and discrete graphics delivers up to 80% faster performance using the new AMD Radeon R9 M370X GPU.
This updated MacBook Pro also features the Force Touch trackpad introduced in the 13-inch MacBook Pro earlier this year.  It comes with force sensors and a "Taptic Engine," the same haptic feedback technology in the new Apple Watch. Apple claims the Force Touch trackpad allows you to click anywhere with a uniform feel and can customize the amount of pressure needed to register each click. The new trackpad also supports a range of new gestures, including the new Force click, and APIs are available for third-party developers to incorporate Force Touch capabilities into their apps.
There are plenty of holes in the laptop for you to plug: two Thunderbolt ports (up to 10 Gbps); two USB 3 ports (up to 5 Gbps); one HDMI port; a headphone port; and a SDXC card slot.
Size? Apple MacBook Pro 15-inch is 1.8cm thick and weighs 2 kg (4.4 pounds).
Other specs:
5th Generation quad-core Intel Core i7 at 3.7GHz,
16GB 1600MHz memory,
512GB PCIe-based flash storage,
Price: $2,499 and up.