Nagin Cox noted for her ability to energize listeners to the possibilities awaiting humanity.
One of the lead engineers for some of NASA's recent spectacular planetary missions will be the keynote speaker for Siggraph 2016.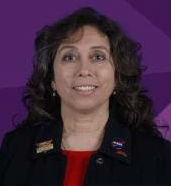 Z. Nagin Cox is Spacecraft Operations Engineer with the NASA Jet Propulsion Laboratory (NASA JPL). For Siggraph, Cox will share stories of NASA missions, including the Mars Exploration Rover, which cut through earthly political and cultural issues to redefine persistence in engineering and technology.
A graduate of Cornell University, Cox also attended the Air Force Institute of Technology where she received a master's degree in Space Operations Systems Engineering. After leaving the Air Force to pursue civilian space applications, she joined NASA JPL in 1993 and began her time on planetary missions working in outer solar system projects. She served as the Deputy Team Chief of the engineering spacecraft fight team for NASA/JPL's Galileo mission to Jupiter until the year 2000, then moved to inner solar system exploration as the Deputy Team Chief of the Spacecraft/Rover Engineering Flight Team.
Cox has spoken to audiences around the U.S., in Europe, and in the Middle East on the stories of the people behind these missions. Additionally, she is also involved with the Women's Rights Committee of the Human Rights Watch. According to a statement from Siggraph, Cox is known for "making listeners rethink their place in the universe and reminding them that robotic explorations of the solar system and beyond symbolize all that humankind can do."
Siggraph 2016 is July 24-28 in Anaheim, California.