Razor and Lenovo are among the vendors shipping notebook computers with the new chips.
By Jon Peddie
Nvidia is rolling out the new GeForce GTX 8xxM series just in time for this week's Game Developers Conference and Nvidia's own GPU Technology Conference next week. The new chip is designed for gaming laptops and other portable devices.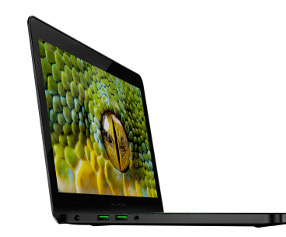 The GTX 880 is the most powerful of Nvidia's new GPUs. It and the GTX 870 are based on the 28-nm Kepler architecture. The new GTX 850 and GTX 860 are based on the newer Maxwell architecture. Alternatively, the GTX 860 can also be supplied using the Kepler design, depending on the customer's requirements.
And to round out the product line, the company also announces three smaller GPUs: the Maxwell-based GeForce 840M and GeForce 830M; and the GeForce 820M, based on Nvidia's older 28-nm Fermi architecture.
Nvidia is timing the announcements to coincide with the issue of new notebooks from the OEMs. Both Nvidia and the OEMs think it is time for folks to replace their two- and three-year old notebooks with new thin-and-light versions. To help people feel good about making such a decision, Nvidia offers some performance comparisons from an older version mobile GPU.
Nvidia thinks the sales of gaming notebooks will continue to rise as the systems become thinner, lighter, and have higher-resolution screens. Three years ago, according to Nvidia, a typical notebook with a notebook GPU running an AAA game at HD resolution and acceptable frame rates would be two inches thick. Today, says Nvidia, a notebook using a GTX 850M can be as thin as 0.82 inches, and will play games at that resolution 30% faster.
The product line now stretches across six mobile GPUs. Maxwell and Kepler cores implement some but not all of the DX 11.1 features, and Nvidia has modified the hardware in the new GTX 800M chips to support a feature called Battery Boost. With it Nvidia claims notebooks should be able to provide decent (>30 frames per second) gaming performance while delivering 50% to 100% more battery life during gaming.
Battery Boost requires Nvidia's GeForce Experience (GFE) software. Along with Battery Boost, the GTX class of 800M GPUs also supports Nvidia's GameStream and ShadowPlay technologies. ShadowPlay can automatically broadcast your gaming sessions on the Twitch video platform.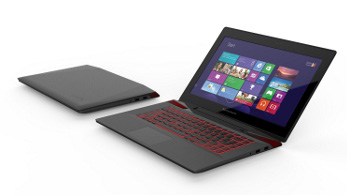 What do we think?
The new notebooks being introduced this year range from Chromebooks to All-in-ones with screen sizes from 10.5 inches to 23 inches. Nvidia's notebook GPUs can run that entire span, although it's unlikely they will ever be used in a Chromebook. Nvidia has done a good job of adding clever features to their notebook GPU line as well as driving down the power consumption. The next generation of mobile parts from Nvidia will be based on TSMC's 20-nm process, which just wasn't ready in time for this round. That will lower power consumption even more, while maintaining performance levels.